This year in its infinite 'wisdom', the Academy of Motion Picture Arts & Sciences has opted to have only TWO Best Original Song nominees this year:
Man or Muppet
from
The Muppets
and
Real In Rio
from
Rio
. This is the result of rather odd rules imposed on or by the Music branch where to be nominated, a song had to receive an overall average of 8, or some nonsense like that. The end result is that where I, simple film reviewer, found five songs quite easily, those who actually write the songs struggled to find just two. This bizarre and nonsensical rule left out some good songs and has made a mockery of this category.
However, it did make me wonder what other songs were left on the cutting room floor. The Best Original Song category has been a hit-and-miss affair: some Oscar-winning songs are beautiful and have become part of world culture (
Over The Rainbow, White Christmas
), while others are frankly forgotten. When was the last time YOU sang
In the Cool, Cool, Cool of the Evening
from
Here Comes the Groom
or
It Goes Like It Goes
from
Norma Rae
? Curiously enough, the songs that lost to these particular ditties are the ones that have stood the test of time (
A Kiss to Build a Dream On
from
The Strip
for the former and
The Rainbow Connection
from
The Muppet Movie
for the latter).
With that in mind, I decided to run down a list of fifteen songs eligible for Best Original Song consideration but for whatever reason did not get a nomination. As far as I know, the listed songs were written for the films, but if I'm mistaken please let me know. With that, let us begin with the first eight songs I would have suggested.
Silver Bells
The Lemon Drop Kid
Like
White Christmas
from
Holiday Inn
,
Silver Bells
has become a holiday standard. It's a curious thing that while Andy Williams'
It's
The Most Wonderful Time of the Year
is considered the song that best describes the Christmas season in the city (usually in an ironic manner comparing Williams' ode to joy to the chaos of shopping),
Silver Bells
makes the holiday season in the urban jungle a gentle, beautiful thing. The gentle song about something almost all of us have come across (those silver bells ringing for donations) and how beautiful the city can be at Christmastime now is wrapped in the American psyche and is one of those inescapable songs during the season.
1951 Best Original Song winner:
In the Cool, Cool, Cool of the Evening
(
Here Comes the Groom
)
Jailhouse Rock
Jailhouse Rock
Rock was bursting out, and I figure the stodgy Academy would never adopt a rock song for consideration (any more than it would adopt hip-hop/rap for consideration...at least for several years). While
Jailhouse Rock
was Elvis' third film, this song and dance number is the one that really made the first big impact on American culture. It's one of those songs where just hearing the first two notes (and the next two almost in response) we know what song is going to be played. The dance number is now iconic, and the song itself is a standard (especially for any self-respecting Elvis impersinator).
1957 Best Original Song winner:
All The Way
(
The Joker Is Wild
)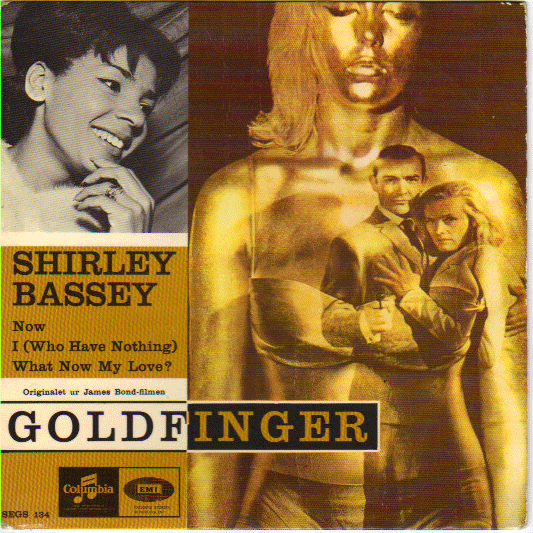 Goldfinger
Goldfinger
The James Bond opening theme song has now become part of a Bond film. However, of the 20 James Bond themes* only three have been nominated for Best Original Score:
Live and Let Die, For Your Eyes Only
, and
Nobody Does It Better
from
The Spy Who Loved Me
(all lost by the way). While some of the Bond theme songs are awful (
Another Way to Die
from
Quantum of Solace
and
Die Another Day
among them), some Bond songs are really excellent. Almost always ranked at the top of the Best Bond Songs is the title theme from
Goldfinger
. Those powerful horns, that amazing vocal from Dame Shirley Bassey, and lyrics that actually make sense (how difficult must it have been to rhyme Goldfinger and make it sound natural), this is another song that is instantly recognizable.
A Hard Day's Night
A Hard Day's Night
How many bands have tried desperately to copy the opening to
A Hard Day's Night
. I'm going to make a bold and daring declaration: the Beatles are genius. I hope that doesn't shock anyone. Now, we can make an argument that
A Hard Day's Night
did receive a nomination for Best Score Adaptation, when musicals were prevalent in film. HOWEVER, at the moment, I'm dealing with songs. Truth be told, you could have had other songs from
A Hard Day's Night
for consideration, such as
Can't Buy Me Love
or
And I Love Her
, so one is rather spoiled for choice. I can't say I would know the difference between adapting a musical score and writing a song specifically for a movie, so I can't say whether or not any of the songs from
A Hard Day's Night
would have been eligible. I think they should have been.
Viva Las Vegas
Viva Las Vegas
Just as The Beatles were genius, so was Elvis. The quality of his films wasn't always the greatest, and I don't think he was a great actor (although one of the great lost opportunities was when Colonel Parker got him to decline the co-starring role in Barbra Streisand's remake of
A Star Is Born
), but when he performed, he PERFORMED. Any time someone goes to Sin City, how easy is it to hear this song in their head? The flashy nature of Las Vegas appears to be echoed in the title song to
Viva Las Vegas
, and I get the sense that the song is remembered more than the film itself.
1964 Best Original Song:
Chim Chim Che-ree
(
Mary Poppins
)
1964 Best Score Adaptation:
My Fair Lady
Mrs. Robinson
The Graduate
And here's to you, Simon & Garfunkel, writing a song that offers sympathy for a seductress. I wonder if
The Sound of Silence
could have qualified, and if it did it certainly should have received consideration. However,
Mrs. Robinson
sounds almost sweet when the subject matter is anything but. The soundtrack to
The Graduate
is now so ingrained into our culture that people who've never seen the film recognize what is meant when someone calls a woman a Mrs. Robinson-type. As a sidenote, I would have loved to have seen Doris Day as Mrs. Robinson, but I understand why she turned down the role.
1967 Best Original Song winner:
Talk to the Animals
(
Doctor Doolittle
)
Money
Cabaret
Cabaret
is one of the great musicals, and unlike other musicals, it's a rather dark film.
Maybe This Time
, a haunting love song that's about the only spark of optimism in the story, was apparently not written for the film. However, two songs were:
Money
and
Mein Herr
. Either one would have been worthy of a nomination, but I suggest the former because the flow between Liza Minelli and Joel Grey works so well when they perform the song. Now all those songs, not part of the original Kander & Ebb musical, are included as though they were there all along.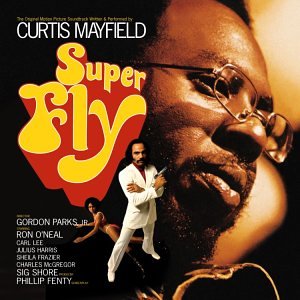 Freddie's Dead
Superfly
Maybe it is because the
Theme from Shaft
won the year previous and the Academy didn't think another 'urban' song should get the Oscar, or because a lot of
Freddie's Dead
is instrumental. However, I think the song is A.) brilliant (how can one go wrong with Curtis Mayfield) and B.) written for a film (
Superfly
). Certainly the song talks about a character in the film, and deals with the story in
Superfly
. Besides, how can one argue with Mayfield's beautiful instrumentation (especially those flutes)? The song is now iconic and I think people forget
Freddie's Dead
is from a movie. I too offer 'love, love'.
1972 Best Original Song winner:
The Morning After
(
The Poseidon Adventure
)
Time presses on me, but on another post, I offer my next seven songs that somehow failed to get a Best Original Song nomination from the Academy.
* Two Bond films (
Dr. No
and
On Her Majesty's Secret Service
) did not have opening songs. If you count two unofficial James Bond films (the spoof
Casino Royale
and the non-canon
Never Say Never Again
), the Oscar count goes up to four given that
The Look of Love
from
Casino Royale
earned a nomination.