Sidney Poitier:
Best Actor for
Lilies of the Field
TUESDAYS WITH OSCAR: 1963
The 36th Academy Awards has one memorable historic moment: it was the first time a black man had won the Best Actor Oscar and the second time that a black person had won any competitive Academy Award.
The second time a black man would win the Best Actor Oscar was a mere 38 years later.
Sidney Poitier, the man who broke this color barrier, was never nominated for an Oscar again. I guess maybe they thought it was a 'one-and-done' type situation. Despite some remarkable performances throughout his career, the most the Academy could muster was an Honorary Oscar.
In a curious turn of events, the second black man to win the Best Actor Oscar happened to win the same night Poitier won his Honorary Oscar under circumstances that made me think the winner won for the wrong film and his closest competition lost due to his own bullish manner.
In other Oscar notes, we had a comedy win Best Picture, a rarity in Oscar Annals.
Tom Jones
also went 0 for 5 in terms of acting wins, not surprising since three out of the five nominees were in the same category. What do I keep saying about nominees from the same film cancelling themselves out? No wonder Miss Marple won.
You had a couple of mini-scandals this year. Patricia Neal won Best Actress despite having a total of 25 minutes of screen-time in
Hud
out of 112 minutes total (which begs the question as to whether she should have been a Supporting Actress nominee instead). We also had that behemoth
Cleopatra
up for nine Academy Awards.
Cleopatra
is in a category by itself in terms of cinema. This epic remake of the Theda Bara silent film (sadly lost) became a byword for excess. The production costs were staggering: star Elizabeth Taylor was paid $1 million dollars, the first time anyone was paid that much for one film. Chump change given the overall cost of the film itself. Adjusted for inflation,
Cleopatra
cost over $340 million dollars in today's money...officially.
The financial costs were so shocking that this one film nearly bankrupted 20th Century-Fox, the studio teetering on total extinction due to the money
Cleopatra
was sucking up. The production was chaotic: originally set to be filmed in London, the weather proved uncooperative. For some reason, foggy London-town made for a poor Alexandria. Elizabeth Taylor became so ill she nearly died. The delays forced a recasting of the two other leads (Julius Caesar and Marc Antony), and the studio was limited in choice of director thanks to the Taylor contract.
The eventual director, Joseph L. Mankiewicz, became the
de facto
producer, and the scale of the production was so great that he had to have daily injections to keep him going. There were fears that the project might literally kill Mankiewicz, who had to be producer, director, and screenwriter...all with virtually no time as he was forced to do all three on the fly.
Even that wasn't as downright scandalous as
Le Scandal
: the affair between the very married Taylor and her equally married costar Richard Burton. The affair became so brazen that there were actual press notices detailing that there was NO Burton-Taylor news to report. The scandal was so great even the Vatican got into the act, calling Taylor an 'erotic vagrant' (the most elegant way of saying 'whore'), with Congressmen suggesting Taylor be stripped of her American passport due to her dual British-American citizenship.
Oh, and did I mention
Cleopatra
never had a final script?
Mankiewicz tried to write one, but the pressure to get things rolling was so great that he sometimes had to write scenes between takes or at night after an exhaustive day of shooting. 20th Century-Fox tyrant Darryl F. Zanuck, who retook power at the studio due in large part thanks to the mismanagement of
Cleopatra
, fired Mankiewicz before its director could edit the film together. Zanuck, however, found he had to get Mankiewicz back because even he, no stranger to film, could not make sense of
Cleopatra
as it stood.
The reviews were mixed and some feel that
Cleopatra
is one of the worst nominees for Best Picture, up there with
The Alamo
and later,
Hello, Dolly!
or
Doctor Doolittle
. We'll see about that.
As always this is just for fun and should not be taken as my final decision. I should like to watch all the nominees and winners before making my final, FINAL choice. Now, on to cataloging the official winners (in bold) and my selections (in red). Also, my substitutions (in green).
THE 1963 ACADEMY AWARD WINNERS
BEST ORIGINAL SONG
So Little Time

: 55 Days in Peking
Charade

: Charade
It's A Mad Mad Mad Mad World

: It's A Mad Mad Mad Mad World
More

: Mondo Cane
Call Me Irresponsible

: Papa's Delicate Condition
I think it's clear which song among these has stood the test of time (sorry,
So Little Time
). Call Me Irresponsible (apart from being a good Donald Trump theme) is a charming song that meets one of the criteria for being chosen: it is still remembered.
Charade

: Charade
From Russia With Love

: From Russia With Love
Higitus Figitus

: The Sword in the Stone
It's A Mad Mad Mad Mad World

: It's A Mad Mad Mad Mad World
Call Me Irresponsible: Papa's Delicate Condition
I think it is a safe bet that most people don't remember the film
Papa's Delicate Condition
, but
Call Me Irresponsible
has become an American standard. It's amusing that while the Academy chose to consider songs from films hardly anyone remembers, at least two songs from more remembered films were not.
From Russia With Love
is interesting in that the release dates make it hard to pin down. However, I got tired of trying to fit things perfectly.
And for the record, I find Michael Buble VERY difficult to tolerate now.
Federico Fellini: 8 1/2
Elia Kazan:
America, America
Otto Preminger:
The Cardinal
Tony Richardson: Tom Jones
Martin Ritt:
Hud
I think it's amazing that out of what appear to be very serious, dramatic films, the usually stodgy Academy chose a risqué comedy for Best Director. That is not to say I think they made the right choice. I can see why
Tom Jones
was seen as so out-there, but for my eyes, I did not find it amusing or raunchy. I actually found it a bit stodgy.
For me, there is only one name on this list that towers over all the others, one whose work is still seen and loved and studied and held as a high point in cinema. I confess that when I first saw
8 1/2
, I thought the whole thing bonkers. However, I saw it again with an open mind and clearer eyes, and found that it is beyond amazing, truly, one of the greatest films ever made.
Federico Fellini: 8 1/2
Alfred Hitchcock:
The Birds
Stanley Kramer:
It's A Mad Mad Mad Mad World
Joseph L. Mankiewicz:
Cleopatra
Robert Wise:
The Haunting
Now, while giving Mankiewicz a nod might shock people today, given how
Cleopatra
was pilloried when it was released (and still held in a bit of contempt now). However, I think no director could have done any good with a film so clearly out-of-control as
Cleopatra
. There are certain moments that are still memorable (Cleopatra's entry into Rome is a SPECTACLE that perhaps only De Mille could have topped). Still, only one of these directors could really be the choice, and while there were better choices that year, Fellini it still is.
Diane Cilento:
Tom Jones
Edith Evans:
Tom Jones
Joyce Redman:
Tom Jones
Margaret Rutherford: The V.I.P.s
Lilia Skala:
Lilies of the Field
There was no way any of Tom's girls could have won. This was the first time three actresses from the same film received a Best Supporting Actress nomination...and as such, they kept to the general rule of cancelling each other out. That leaves us with two possibilities: the nun and the eccentric duchess. It's clearly no contest, as it looks like comedies or comic performances were winning out.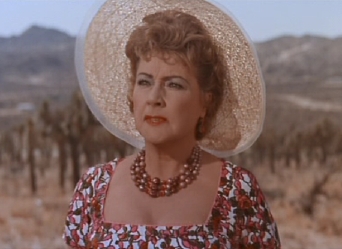 Claire Bloom:
The Haunting
Ethel Merman: It's A Mad Mad Mad Mad World
Patricia Neal:
Hud
Suzanne Pleshette:
The Birds
Margaret Rutherford:
The V.I.P.s
A few weeks ago, I took my friend Fidel Gomez, Jr. to see
It's A Mad Mad Mad Mad World
. He did not like it, and in particular did not like Ethel Merman's performance as the loud, overbearing battle-ax who pushes everyone around. However, I think that was exactly the way the character was suppose to be, so in that sense, she played it correctly. She was also the only real female of note in the film, and the one that stands out in a group dominated by all-time great performers. Maybe Fidel is right in it being one-note, and maybe my original choice of Pleshette would be better. For now, though, I think she'll be great...
Nick Adams:
Twilight of Honor
Bobby Darin:
Captain Newman, M.D.
Melvyn Douglas: Hud
Hugh Griffith:
Tom Jones
John Huston:
The Cardinal
My goodness but am I thrilled they didn't give Hugh Griffith another Oscar. ONE for his turn as the most fake Arab sheik in history was bad enough, but TWO would have been unforgiveable. Moreover, Griffith had if memory serves correct exactly one scene. Bucking the trend of comedies, the Oscar went for a drama like
Hud
, and to Douglas, who slipped from the dashing men-about-parts like in
Ninotchka
and into more serious fare. I really don't see him having much if any competition.
Pedro Armendariz:
From Russia With Love
Bobby Darin:
Captain Newman, M.D.
Melvyn Douglas:
Hud
Roddy McDowall: Cleopatra
Robert Shaw:
From Russia With Love
Sad to say that McDowall got majorly screwed over. In the disaster that was
Cleopatra
, most everyone agreed that McDowall was one of the few good things in it as the plotting Octavius (the future Caesar Augustus). However, the bungling 20th Century-Fox accidentally submitted his name in the LEADING rather than SUPPORTING Actor category, and as such, he was shut out of the running. It was so horrifying that the studio took out an ad to apologize to McDowall. As a result, a good chance for him to have won was lost.
What makes this even more bizarre is that Fox not only was able to push Rex Harrison to a nomination despite his own lack of screen-time, but that the Academy went along with it.
Leslie Caron:
The L-Shaped Room
Shirley MacLaine:
Irma La Douce
Patricia Neal: Hud
Rachel Roberts:
This Sporting Life
Natalie Wood:
Love With the Proper Stranger
I don't think anyone has a real argument against Patricia Neal's performance in
Hud
. I think the argument comes from whether, like McDowell, it was a Leading or Supporting performance. She was on screen for twenty-five minutes, far shorter than any of her competition in their respective films. I actually wonder whether Douglas, the Supporting Actor Oscar winner, was in the film longer than Neal, the Leading Actress Oscar winner. While part of me thinks maybe Wood or MacLaine might be better choices, for now I'm sticking with Neal.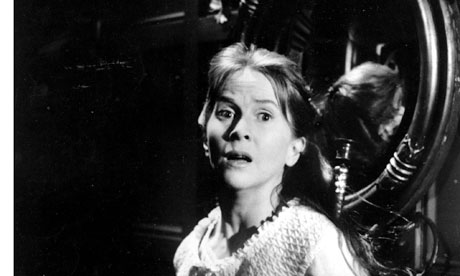 Judy Garland:
I Could Go On Singing
Julie Harris: The Haunting
Audrey Hepburn:
Charade
Tippi Hedren:
The Birds
Maureen O'Hara:
McClintock!
Horror or suspense isn't as well recognized by the Academy as a 'serious drama'. However, I think we had some good performances in that genre. I think Hedren did as good a job as possible given her non-existent acting experience, but right now, I am leaning strongly towards Harris' much-frightened woman in
The Haunting
.
Albert Finney:
Tom Jones
Richard Harris:
This Sporting Life
Rex Harrison:
Cleopatra
Paul Newman:
Hud
Sidney Poitier: Lilies of the Field
Seriously, Rex Harrison? It isn't that he gave a BAD performance, it's just that the man is dead before the movie is half-over! People talk about Caesar (sometimes to an annoying degree), but he's gone before we get to intermission. How is THAT considered Leading?!
Out of all the nominated performances, I think the real battle is between Newman and Poitier. I didn't laugh at Finney's take on the randy Tom Jones, and while I think Harris would be a good choice, I think he got crowded out by these two other acting titans. Right now, I think to myself, let's go for Poitier.
Stathis Giallelis:
America, America
Marcello Mastroianni: 8 1/2
Steve McQueen:
The Great Escape
Paul Newman:
Hud
Sidney Poitier:
Lilies of the Field
I am surprised that Giallelis, on whom
America, America
hangs on (and from the clips, hangs quite well), was overlooked in favor of Rex Harrison. I think he would make an excellent choice. However, I guess the Academy wasn't in a particularly generous mood to outsiders, as one of the most realized performances was also overlooked. For me, Marcello Mastroianni's performance as Guido, the brilliant yet lost film director, Mastroianni makes this complex man endlessly watchable.
America, America
Cleopatra
How the West Was Won
Lilies of the Field
Tom Jones
Look, we don't exactly have a great slate to pick from this year. I didn't like
Tom Jones
, and I figure it's pretty much forgotten now, what was considered daring in 1963 now a bit trite and slow. I don't have an objection to
How the West Was Won
. It IS sprawling if nothing else, but I can't bring myself to call it the Best Picture of 1963.
Out of the list, my mind tells me
America, America
is probably the logical choice. However, since when was the Academy ever about logic (just ask those who thought Eddie Redmayne was actually good in
The Theory of Nothing,
let alone
The Danish Girl
)?
I'll say this about
Cleopatra
: it is if nothing else, entertaining. Whether it is entertaining in a 'it's really lavish' way, or in an almost camp way, or in a 'what were they THINKING' way, I leave to you. I've always enjoyed it (sometimes for all three reasons), and while there is a lot that could be said against it, I still find myself entertained by it.
As such, with some trepidation, I pick
Cleopatra
as the Best Picture of 1963.
8 1/2
The Birds
The Great Escape
It's A Mad Mad Mad Mad World
Jason and the Argonauts
Fortunately, there were better films in 1963 that the Academy, in their infinite wisdom, overlooked. At the top of that list is the brilliant, perhaps bonkers,
8 1/2
, a film that defies convention, perhaps logic, but is still among the most extraordinary, amazing, and simply brilliant films. A movie about making a movie (or not making a movie), where dreams and reality collide,
8 1/2
should be seen twice. The first time to get over the shock of it, the second time to appreciate its brilliance.
As such, I pick
8 1/2
as the Best Picture of 1963.
Next Time,
the 1964 Academy Awards
.