And Then We Danced
was surrounded by controversy and scandal in Georgia (the country, not the state) where it is set due to its subject matter. The mere suggestion that traditional Georgian dance could have any homosexuality either in its rhythms or performers is too obscene to even consider, at least openly. While
And Then We Danced
may not break new ground in gay representation, it does have strong performances and insight into another culture that makes it worth a look.
Merab (Levan Gelbakhiani) is still working to be part of his family's tradition of traditional Georgian dance. He faces several obstacles: the hostility of his tyrannical instructor Aleko (Kakha Gogidze) who has a disdain for Merab's family, Merab's more talented but less driven brother David (Giorgi Tsereteli) and now Irakli (Bachi Valishvili). Irakli is a newer, more rebellious but talented dancer whom Merab takes an instant dislike to.
However, they soon become fast friends after Irakli helps Merab with his technique and shows himself a nice guy, albeit one who like David also drinks to excess. There's a sudden opening for the main troupe after another dancer is sent off when his same-sex attraction is discovered, and both Irakli and Merab find themselves on the audition shortlist.
Things between them culminate though when they go out of Tbilisi to celebrate the birthday of Merab's longtime dance partner Mary (Ana Javakishvili). One night, they stimulate each other, the next it is a full-on sexual encounter. Irakli suddenly departs, leaving Merab confused and conflicted, plunging into dark areas. What will become of Merab, his dancing dreams, and perhaps his own life?
And Then We Danced
brought to mind other gay-themed films such as
Brokeback Mountain
and
Call Me By Your Name
in that there seems to be a common thread among so many of them. It is that of "young or youngish man, perhaps unaware of or unwilling to admit his true sexuality, is sexually awakened by a more assertive/open man that comes into his life". I can't say whether this is how things usually go when a gay man discovers his same-sex desires, but there it is.
Like
Brokeback Mountain
and
Call Me By Your Name
, Merab gives no indication that he has any homosexual desires or interests until Ikarli comes, and even that comes about slowly. He doesn't show any desires (romantic or sexual) towards Mary or any woman, but neither towards any man. Merab may even be closer to asexual, and Irakli's appearance at first seems more hindrance than lustful.
It's to writer/director Levan Akin that he drew strong performances from his cast, in particular from Gelbakhiani making his acting debut as Merab. There are subtle moments that slowly indicate that Merab may be finding in Irakli someone more than a friend: a smile when Irakli puts his head on Merab's shoulder, him smelling Irakli's shirt (again, a nod to
Brokeback Mountain
?). Gelbakhiani has an almost innocent face, one that fills with conflict, even guilt, until in his climatic dance scene, where his dancing may not be "masculine" but it is authentic to himself.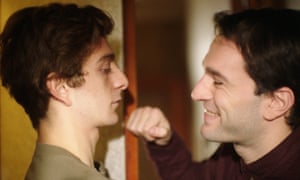 As Irakli, Valishvili has that devil-may-care manner that sets him out as more rebellious to tradition (for heavens sake, he wears an earring!). They work well together, showcasing the differences between the dancing goals of Merab (who wants technique) and Irakli (who wants joy).
This is not to say though that as I watched
And Then We Danced
, some things did puzzle me. I find that there is a sharp difference between love and sexual desire, and try as everyone did I did not sense that there was genuine love. Perhaps it is because I saw both men as people who were perhaps closer to "friends with benefits" than genuinely in love.
It is also due to how Merab exploring his same-sex desires after Irakli's sudden departure came across as almost dark, plunging metaphorically if not literally into a demimonde of drag queens and flamboyant men.
Other elements, such as Merab's holding and eventual returning of Irakli's earring as almost a talisman of love seemed if not a bit cliched somewhat predictable.
On the whole though,
And Then We Danced
dares explore a forbidden world, at least forbidden in Georgia. I think it's a bit structured in how it all plays but it works well enough.
DECISION: B-