NOTORIOUS (2009)
R.I.P. to the B.I.G...

In Notorious, Faith Evans (Antonique Smith) asks Christopher Wallace aka The Notorious B.I.G./Biggie Smalls (Jamal Woolard), "Are you a good guy trying to be bad, or a bad guy trying to be good?" That question is at the heart of this biopic on the brief life of the rap superstar. A criminal, a masterful lyricist, a womanizer, a loving son, a frightened man? Biggie Smalls was apparently all those things, sometimes all at once, a man conflicted between what he wanted to achieve as a rapper and what he wanted to achieve as a person.
The film begins and ends on March 8, 1997, the night of Biggie's death. In between, Wallace narrates his life story. We begin on the streets of Brooklyn, where young Chris (played by Wallace's real-life son Christopher Jordan Wallace) is shown as a bright but insecure boy jealousy guarded by his Jamaican-born mother, Voletta (Angela Bassett). Even though she does everything she can to bring him up on the straight and narrow, the lure of the streets and the promise of easy money is too great a temptation for Chris. Even though Voletta throws him out and he has already fathered a child, he still continues to sell crack cocaine.
However, he also has tremendous talents and skills spinning rap lyrics on the streets. Eventually his talents catch the attention of an ambitious record producer named Sean John "Puffy" Combs (Derek Luke). His two worlds collide when he and his friend D-Roc (Dennis L.A. White) get busted for illegal weapons. D-Roc takes the fall, allowing Biggie to pursue a rap career.
In the ensuing years, he continues to have an unmanaged life: though he falls hard for his future wife Faith Evans he can't let go of his protégé/mistress Lil' Kim (Naturi Naughton). He also begins a friendship with fellow rapper Tupac Shakur (Anthony Mackie). Their friendship is broken however after Shakur is shot outside the studio where Biggie is recording. Shakur blames B.I.G. with Combs' rival Suge Knight (Sean Ringgold) fanning the flames of an East Coast (Combs' Bad Boy Records)/West Coast (Knight's Death Row Records) rivalry that soon spins madly out of control.
Eventually, Shakur is shot at again, this time fatally, tearing Wallace apart. He decides to take the step of going to California (Death Row territory) to promote his own album. Just before he leaves for the album release party on March 8, Biggie calls his mother, his baby mama Janet, his wife Faith and his mistress Lil' Kim and makes peace and amends to all of them before going to his fate.
Notorious
is more than just a biopic of a rap star who died at 24. It is the story of the growth of one Christopher Wallace, how he grew to be a man. The film not only allows us an entry into the rap world but also into Wallace's conflicted life. That is what makes the film work: we don't just get dry details about what he did but also what motivated him: his desire to fit in, his need to be creative, his lusts for women and money which came in conflict with his wish to be a good son/husband/father/man.
Notorious
lets us see the evolution of Wallace, one who has no trouble treating Lil' Kim badly but who also tells his daughter to never let any many call her a "bitch".
Some of the performances are brilliant. Woolard captures the charm and self-confidence that Wallace had, making him irresistible to women but also making him quite sensitive and protective to those he loved. He also gets Wallace's remarkable gift in rap: even when his mother has him recite the 23rd Psalm there is a rap lilt in his recitation. Though he isn't perfect (his treament of Lil' Kim is rather harsh) Woolard doesn't make him a monster but someone who only late in his life realizes that his actions have consequences.
Smith's Evans is also excellent as a woman who loves Wallace and falls for his charms but who is not afraid to stand up for herself.
That being said, the rest of the performances don't quite make it. Bassett's Jamaican accent comes and goes, and that was becoming a distraction. Not knowing what the real-life Lil' Kim is like, Naughton's version came off as slightly crazed and obsessed with Wallace. Derek Luke neither looks or sounds like Sean John "Puffy/Puff Daddy/P. Diddy" Combs and didn't quite capture Combs' real-life excessive swagger and brashness, though he did get Combs' dance momements well. Mackie also neither sounded or looked like Shakur, though thanks to Reggie Rock Bythewood and Cheo Hodari Coker's script did create someone who could be playful one minute, serious the next. Director George Tillman Jr. could have brought more consistancy to those performances, but in his directing of the two leads, he did a masterful job.
Notorious
brings to mind a line from a Mahalia Jackson song. "I'm going to live the life I sing about"--that could be said of both the Queen of Gospel and Wallace...with tragic circumstances for the latter. At the end of the film, you do mourn Wallace's death, not just because at 24 he was terribly young or because his death was truly meaningless. We mourn because we have come to know and like Wallace, in spite of all his flaws. We have seen his growth into a man. We have gotten to know him and to have him taken so violently, so needlessly, and so young just compounds the tragedy.
In regards to Evans' question, Wallace responds, "I'm just someone trying to make it". Throughout
Notorious
, we seem try: as a drug dealer, a rapper, a human. In the end he, to quote the film, took Combs' advise. "Don't chase the paper (money). Chase the dream". Words to live by, and unfortunately, words that cost Wallace and not only those around him but also his fans, dearly.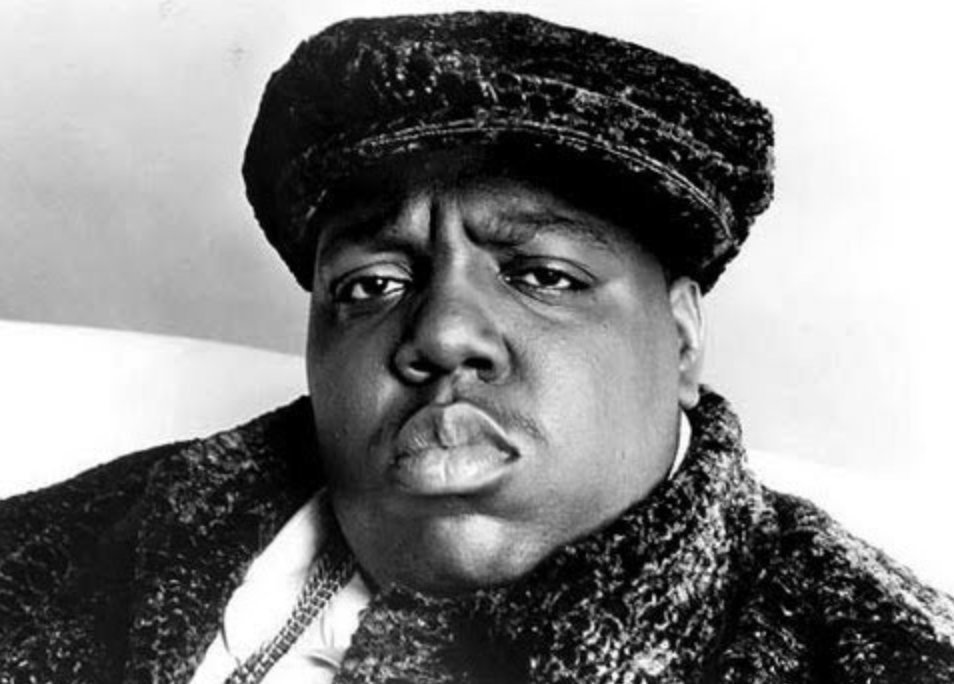 1972-1997
DECISION: B+