Claude Rains:
Most Nominations for Best Supporting Actor
Without a Win
(Four, tied with Arthur Kennedy)
The fourth of a seven-part retrospective on the 2016 Academy Awards nominations. Today, the Best Supporting Actor.
The nominees for Best Supporting Actor of 2016 are:
Mahershala Ali:
Moonlight
Jeff Bridges:
Hell or High Water
Lucas Hedges:
Manchester By the Sea
Dev Patel:
Lion
Michael Shannon:
Nocturnal Animals
Mahershala Ali
It is a small part. Juan is there just in the first part of a three-act film. However, as the drug dealer who is a mentor to a troubled young man, Ali brings that mixture of kindness, even love, to a person who is also, perhaps wittingly, bringing misery to Chiron's life. The wisdom that Juan gives to Chiron, the kindness, speaks to the desperate need for mentorship and fatherhood for all men, not just African-American men. It's a brilliant, heartbreaking performance.
Jeff Bridges
What is THIS doing on the list? Bridges has been essentially giving the same performance he gave in
Crazy Heart
. Bridges in
Hell or High Water
is the same as he was in such clunkers as
The Seventh Son
and
R.I.P.D.
(particularly
R.I.P.D.
). It was essentially the same performance in a variation of what he's been doing for many, many years. It was hysteria that got Bridges a nomination over his
Hell or High Water
costar Ben Foster, who was robbed of a rightful nomination. Out of all the nominees, I stubbornly maintain that Jeff Bridges was the worst and weakest of them all.
Lucas Hedges
Hedges is starting out his career, and this is a strong calling card to bigger and better things. As the son and nephew who finds his life upended by the death of his father and his uncle's closed manner, Hedges is not the typical grieving teen. He can be selfish, moody, even unpleasant. However, Hedges also brings those moments of pain, of anger, of confusion, and of a desperate effort to hold on to what he knows.
Dev Patel
I read somewhere that Patel is essentially cursed to play the adult version of traumatized Indian children (in
Slumdog Millionaire
and now in
Lion
, which earned him his first Oscar nomination). It is a hard performance, to express a lot of Saroo's confusion and regret without verbalizing them often (though at one point he did lash out). Patel did best in the quiet moments, when he has to speak to his adopted mother. He's done bad work in bad films (I offer
Chappie
as evidence), but give Patel credit for doing a good job in
Lion
.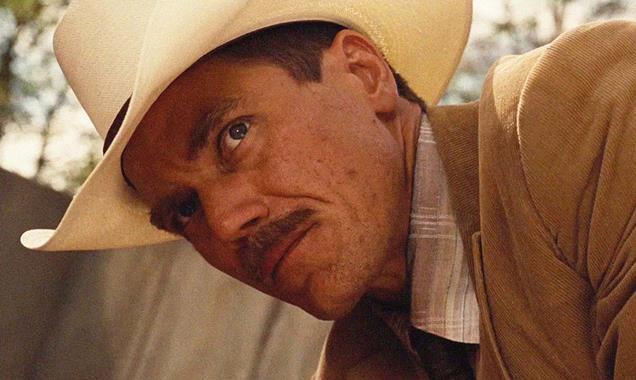 Michael Shannon
The somewhat surprise nominee in the bunch (his
Nocturnal Animals
costar Aaron Taylor-Johnson having temporarily overshadowed the previously nominated Shannon). I haven't seen
Nocturnal Animals
, so I cannot say whether Shannon is good or bad. However, actors love Michael Shannon, and it would be foolish to dismiss his chances.
Closing Thoughts:
I will maintain that Jeff Bridges shouldn't be on this list. It's a curious thing that three of the five are first-time nominees, and this category really is a competitive one. I think Patel's win at the BAFTAs doesn't indicate a sudden groundswell of support for him. Right now I see it as a battle between Ali and Hedges, with Shannon as potential spoiler. I think Bridges is essentially an also-ran. Again, Shannon's nomination isn't to be dismissed, but I still hold that the winner will win on his first Oscar nomination.
My Prediction: Mahershala Ali
My Rankings:
Mahershala Ali
Lucas Hedges
Michael Shannon
Dev Patel
Jeff Bridges