Despite being an adaptation of a 1970's Broadway musical,
Chicago
was still pretty prescient then and still prescient now about the intersection of crime and fame, the celebrating of infamy, even evil if wrapped in an attractive enough box. The film version of the Kander & Ebb musical keeps that hard, bitter edge while keeping that
Razzle Dazzle
, even if I was not altogether pleased by some of the end results.
Vixen Roxie Hart (Renee Zellweger) dreams of a showbiz career despite lack of any talent apart from the performances she gives between the sheets. One fateful night, she pops Fred (Dominic West), a furniture salesman she's been cheating on who promised her an entry to the stage. Her schmuck of a husband Amos (John C. Reilly) at first was willing to be the fall guy until he eventually figures out he's been simultaneously screwed and not screwed.
Now potentially facing the death penalty, Roxie gets wise to the advise prison matron Mama Morton (Queen Latifah) offers: get lawyer Billy Flynn (Richard Gere). Flynn, however, not only charges a lot but is currently occupied with a more famous murderess: Velma Kelly (Catherine Zeta-Jones), who doesn't take kindly to this interloper stealing her spotlight. Flynn however does take Roxie's case and has a brilliant strategy: painting Roxie into an innocent lured by jazz & liquor.
Kelly now tries to make an ally of Roxie but no dice. More duplicity comes around as the trial comes, and while both Roxie and Velma get off they find their careers stalled, Chicago moving on to newer, prettier scandals. What are a couple of unrepentant killers to do? Do a double-act of course, and the Merry Murderesses Roxie Hart & Velma Kelly find that
Nowadays
you can have it all: fame, fortune and a not guilty verdict.
Chicago
is all rotten at its core and unapologetic about the darkness behind all the bright lights and flashy production numbers. This is not damning with faint praise. Far from it: it's a perfectly straightforward compliment given that is how
Chicago
was crafted: a cynical celebration of the lurid and sleazy world the Jazz Age was. It is meant to use its vibrant colors and great songs to display a very cold world.
It did it brilliantly for the most part.
From my understanding the original production of
Chicago
was more in the style of a review than a straightforward musical and the film version keeps to that with generally good results. The musical numbers are in the style of Roxie's imagination versus the more traditional manner where the characters sing and dance their thoughts and feelings. Only the opening and closing numbers
All That Jazz
and
Nowadays
stem from something more realistic in that they are presented as actual staged numbers.
As the rest of the songs are in Roxie's mind, I still after a second viewing find that I'm of two minds on them. The staging of the numbers are impressive: lavish and reflective of their revue roots, but also a bit jarring when director Rob Marshall and screenwriter Bill Condon try to integrate them into the non-musical parts. To me, the best musical numbers are the ones that don't have interruptions with the non-musical sections.
Take
Roxie
, where our title heroine celebrates her impending fame. It's brilliantly staged despite it being the simplest number in terms of lavishness. The sparkling costume Roxie wears and the cacophony of mirrors perfectly capture Roxie's narcissism, but from what I can remember we didn't get moments where we shifted from the musical productions.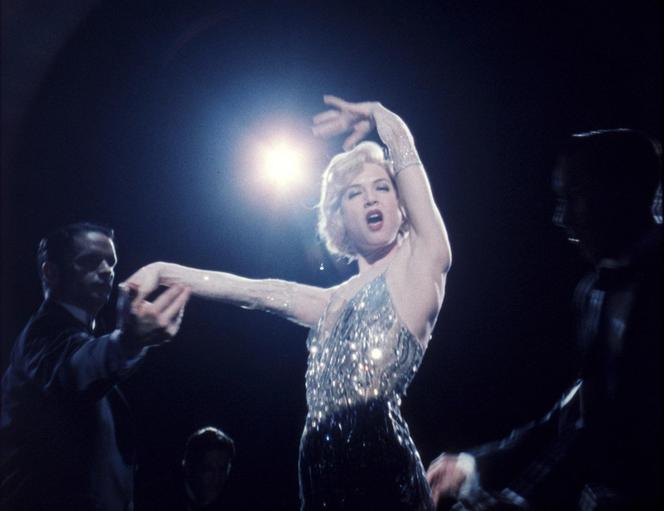 This can't be said for something like
Cell Block Tango
, where each girl signs her story but then gets to 'act' certain sections too. This 'song-and-speech' manner in retrospect did not work quite as well as I think it did before because I kept getting taken out of the musical numbers. We see the various women sing/recite about their crimes, then shift to the prison where they are talking about their crimes, then back again to the production number.
More often than not, I kept thinking that even with that 'musical numbers in Roxie's imagination' structure Chicago had to make it more 'sensible' for people to be singing and dancing, perhaps it would have been better to have kept the numbers intact versus cutting in. Sometimes it worked, such as with
We Both Reached for the Gun
where we had only one or two cuts. Other times, like with
Razzle Dazzle
, the dialogue seemed like needless interruptions.
This to my mind is especially true when we get what should be solo numbers such as
When You're Good to Mama, All I Care About is Love
and
Mister Cellophane
(the numbers for Mama Morton, Billy Flynn and Amos respectively). Cutting between Latifah belting out what she'll do for you and Amos bemoaning his neglected self to scenes of others talking seemed out of place.
Compound that with the actual staging of the numbers. There is nothing wrong with the Kander & Ebb score:
Chicago
is filled with brilliant songs including the one they wrote for the film,
I Move On
. My issue is in the manner they were shot. Take again
All That Jazz
, a signature song in the score.
The editing was frenetic, sometimes chaotic, and for me it didn't allow for us to fully appreciate the dancing and staging of the number. Pretty much all the numbers save perhaps
Roxie, We Both Reached for the Gun
and
Razzle Dazzle
had this same type of cutting to where I think a little less would have been good. However, in the latter two they were meant to be grand, so I cut them some slack.
I think many people were surprised to see Zellweger, Gere and Zeta-Jones in Chicago as none of them were known to be musical performers. However, I think they all did excellent work (and it's surprising Gere was not nominated for Best Actor while Zellweger, Zeta-Jones, Latifah and Reilly were nominated for Actress, Supporting Actress and Supporting Actor, with only Zeta-Jones winning).
Zellweger was cold and even a little loopy as Roxie, a mix of unrepentant and a little clueless. Zeta-Jones more than matched her as Velma, shallow but shrewd. Gere wasstrong as the cynical, manipulative Flynn.
And those are their non-singing and dancing performances, though I thought Gere's voice was a bit high.
Latifah and Reilly too did well, though I think they were better in the singing part than the acting part. It's a pity Christine Baranski was underused as Mary Sunshine, though she came off as too jaded to be this gullible crusader who believes the very best in people.
Chicago
was a good film, with great songs, strong performances and big, splashy numbers. I think some of the musical numbers were short-changed to make it seem more 'realistic' but on the whole I find that
All That Jazz
was worth it.
DECISION: B-
2003 Best Picture: The Lord of the Rings: The Return of the King