GIRLS! GIRLS! GIRLS!
I don't care if people think I'm sexist: they are Bond
GIRLS
!
Period.
End of Discussion.
I'm not going for this Bond Woman thing. I'm not going to pretend that the women in a James Bond film are just vehicles for erotic fascination (thought they can be).
Honestly, what's wrong with having a bevy of beauties? I don't think it diminishes them as people to appreciate them for their physical appearance.
For me, the collection of females who romance or antagonize our 007 will always be...
Now, we get to the crux of the matter: the ranking of all the bathing beauties who have appeared in a James Bond film. First, what exactly IS a Bond Girl?
That's a bit like making a list of
Doctor Who
companions: no one is quite sure what constitutes one. We know some of the better Bond Girls (such as
Dr. No
's Honey Rider,
Goldfinger
's Pussy Galore, and
Live and Let Die
's Solitaire), but could someone like
A View to A Kill'
s May Day or
The World is Not Enough
's Elektra King also be found in Bond Girl lists?
I think a Bond Girl is someone who actually sleeps with James Bond, or at the very least is partnered wit him in some way (either as help or hindrance). Also, this Retrospective has found there are Two types of Bond Girls, whom I've dubbed Primary and Secondary. The main difference is that the Primary Bond Girl has a more dominant role in the Bond film (and almost always gets to the end of the film with Bond beside her), while the Secondary Bond Girl usually (but not always) ends up dead before the closing credits.
In this retrospective I have found only THREE instances when the Secondary Bond Girl actually gets to live to the end, and TWO cases when the Primary Bond Girl dies before the film's over. More on that later.
Now, before we count down our Top Ten List, I think I will take this opportunity to single out two women who, strictly speaking, don't qualify as Bond Girls, but who are still highly important women in the Bond mythos. With that, two Honorable Mentions: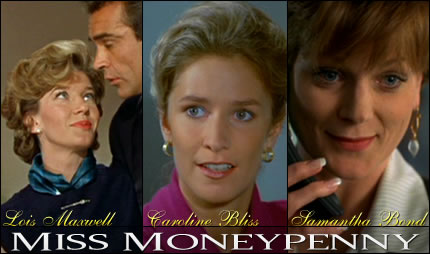 One of the
BIGGEST
mistakes the new James Bond producers have made is to leave out our Miss Moneypenny. It just isn't a James Bond film without our ever-efficient personal assistant at MI6. It is wrong to disassociate the series from one of the more stable and amusing characters.
Skyfall
has rectified the situation...slightly...by bringing Miss (Eve) Moneypenny back (as the hideous River Song would say, "Spoilers"), and leaving her safely ensconced in M's office at the end of the film. I question whether we need a tough Miss Moneypenny rather than the ever-bright, slightly flirtatious office agent. Still, it's a step in the right direction (although I STILL can't bring myself to call this particular incarnation of Moneypenny an actual Bond Girl. Sorry).
Miss Moneypenny is the antithesis of the Bond Girl: she is professional, intellectually mature, and highly efficient. Her only flaw appears to be perpetually waiting to be turned into Mrs. Bond, but one imagines she enjoys the flirtations with 007 and that they probably do (or will) have some kind of relationship between missions. She also happens to work on the right side.
This isn't to say most Bond Girls are stupid or out-and-out criminals, but few hold reputable jobs. Miss Moneypenny has an important role to play in the life of James Bond: truth be told, she's been the only woman who has stuck by him in all his comings and goings. At the beginning (and one presumes, at the end) of every mission, there she'll be, forever flirting with Bond, but intelligent enough to know that perhaps that is ALL she will ever do.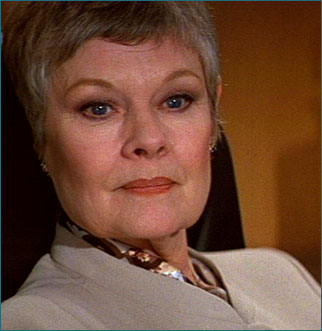 One of the things the newer Bonds HAVE gotten right is the selection of Dame Judi Dench as M. I doubt even the great Dame Judi would qualify herself as a Bond Girl, but on the whole who would argue that she is perhaps the most powerful woman James has ever dealt with regularly (and the ONLY one, apart from Her Majesty) that he would ever defer to?
At first I thought the casting of Dench was a stunt, a way to put a woman over our hero (some call him sexist, others misogynistic, others just a jerk. I call him none of those, but I digress). However, she's proven herself to be vital in both Bond's life and Bond's work. Not a Bond Girl per se, but a great element in the films (and Brother Gabe's "secret crush"...an inside joke).
Now, without further ado, the Official Rankings of the Ten Best Primary Bond Girls as selected by me, in descending order:
10.) Pam Bouvier (Licence to Kill)
The much-trashed, much-maligned Pam Bouvier of the similarly-trashed, similarly-maligned Licence to Kill finally gets her due. I have enjoyed both Timothy Dalton Bond films, and while I think
Licence to Kill
is a more generic Bond film (more like a long episode of
Miami Vice
), I thought highly of Miss Bouvier. You can tell that she's a strong woman: she blasts her way out of danger, and she is constantly frustrated in her efforts to be Bond's partner rather than his 'partner'.
In fact, if you think of it, HER plan to infiltrate Franz Sanchez's retreat/cocaine hub was much more sensible than Bond's, and she did save Bond's life at least twice despite his constant efforts to get her out of the way (always for 'her own good') and even belittling her. She was a far smarter character than she's ever been given credit for and her character in
Licence to Kill
I hope gets a reevaluation.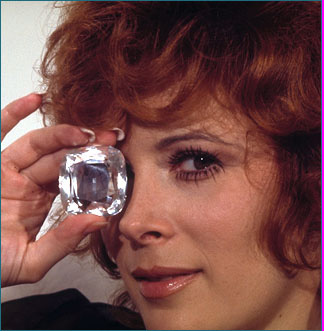 09.) Tiffany Case (Diamonds Are Forever)
Diamonds Are Forever
is not a great Bond film. It has many problems. Therefore, why did I put in Tiffany Case as one of the Ten Best Bond Girls? Quite simple: Tiffany is about the only Bond Girl who appears to be having a good time. I don't know if Jill St. John actually DID have a good time while making the film, but judging from the final product the character is taking all of it as a lark.
Tiffany was sassy and sexy, flirtatious and charmingly goofy, delightfully devious and unrepentant about being a criminal. She made no apologies for being a diamond smuggler and even after helping Bond she still had her eyes on getting the diamonds back. Yes, near the end when she falls off the oil rig while ineptly firing a machine gun might have reduced Tiffany into a joke, but I think St. John got that. That's one reason why Tiffany Case is a Great Bond Girl...she always appeared to be in on the joke.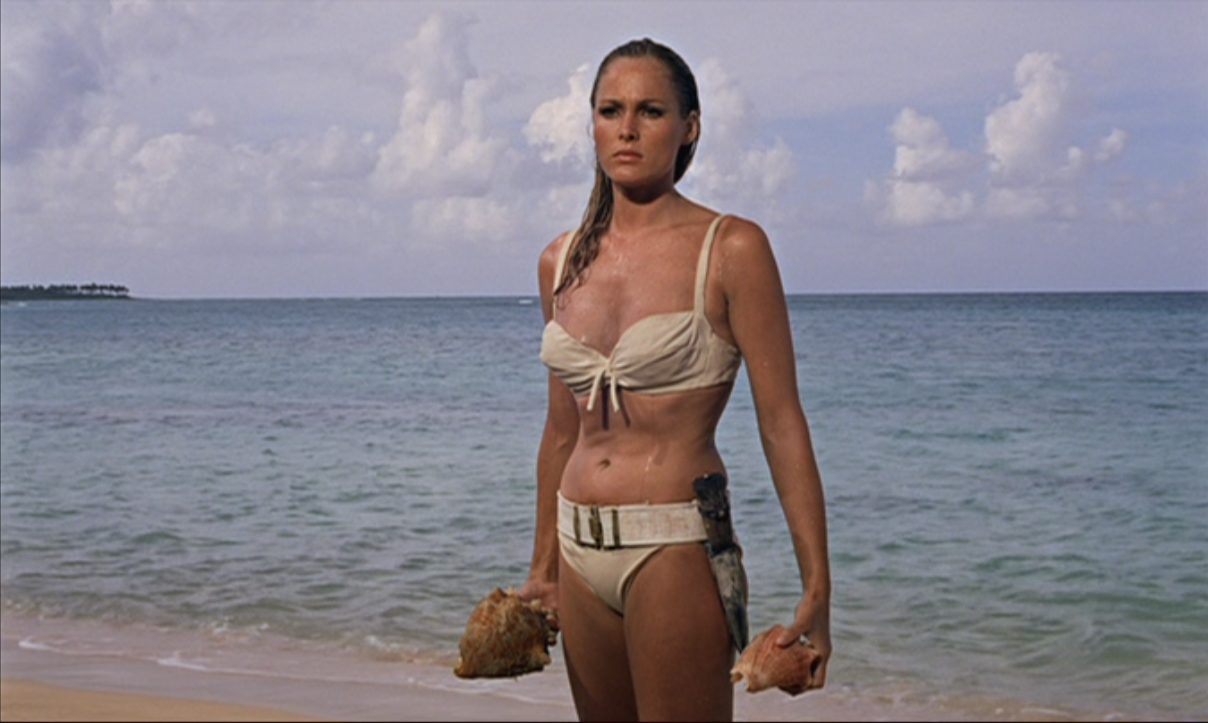 08.) Honey Ryder (Dr. No)
Oh, Honey...no boo-boo here. Honey Ryder, the first Bond Girl, made such a remarkable debut in Dr. No (rising from the sea like Aphrodite) that it simply would be impossible to not have her in any Top Ten Bond Girl list. She certainly wasn't afraid of danger, and could be dangerous when wet (sorry, couldn't resist).
Still, her relatively low ranking might be a surprise. Why not at Number One? Well, as I though on it I figured Honey didn't take a large role in
Dr. No
. For a good amount of time, she was a bit of a 'damsel in distress'. While Bond was taking on Doctor No, she was somewhere trapped in the bad Doctor's lair. If one thinks about it, she all but disappeared for a while in the film. However, trust me, Honey...we're still looking.
07.) Wai Lin (Tomorrow Never Dies)
This is a case of a lost opportunity. Wai Lin was sadly short-shifted in
Tomorrow Never Dies
. If more thought had been given to make her an equal to Bond (in terms of screen time) the film would have benefited tremendously from Michelle Yeoh's presence. For Heaven's sake, she's MICHELLE YEOH...how could they screw THAT up?
Even though the film failed her, we can see that Wai Lin is Bond's equal: she's bright, able to take care of herself (and take down a host of thugs dumb enough to take her on) and highly resourceful. Anyone else who tried to walk on walls might look foolish, but Wai Lin made it look fascinating.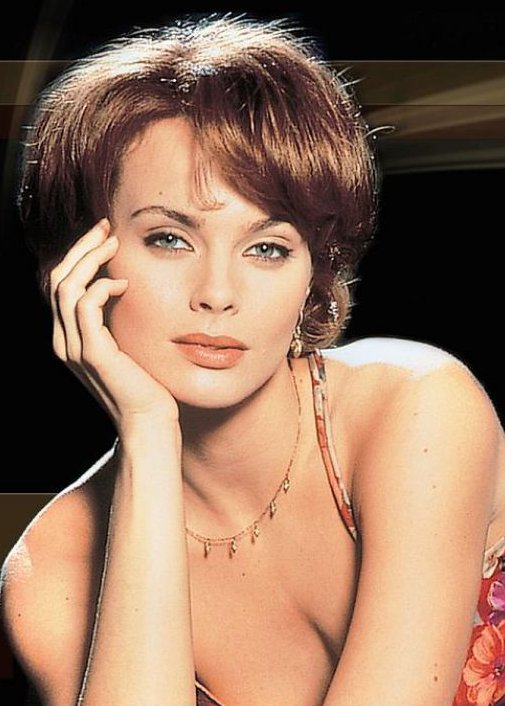 06.) Natalya Simonova (GoldenEye)
James Bond simply couldn't have defeated Janus without her.
Natalya was not just any Bond Girl; she had both smarts and soul. Natalya had the mind to try to bring down those who killed her co-workers and friends before getting involved with Bond, but she was also not merely waiting around for Bond to do his thing. When trapped aboard the soon-to-explode train, she basically ordered him to 'get us out of here'.
Natalya also saw how destructive Bond's life was. Even as she was being romanced by 007, she snapped her disapproval of how both James and Janus behaved, solving things with violence. She figured this was wrong because it would in the end never bring about true peace. She is strong, smart, but also vulnerable: her genuine sadness at seeing everyone at her station killed and the terror of coming close to death herself make Natalya sympathetic. It's not so much that she isn't afraid, but that she admits it but continues.
05.) Major Anya Amasova Agent XXX (The Spy Who Loved Me)
It might be too easy to describe Agent XXX as Bond's Soviet counterpart, but I think that XXX is a brilliant Bond Girl because, unlike others, she has a powerful motivation to both help and hurt 007.
WE know from early on that Bond killed Major Amasova's lover, but she doesn't until the middle of the film. Before that she worked with Bond purely because they had the same objective. After she discovers this, she now has a conflict: she obviously is falling for her counterpart, but she also swore revenge against the one who hurt her so. So many things going on with her: devotion to her duty to country, her desire to avenge her lover, her own feelings for Bond. Those conflicts give Amasova a chance for a greater and stronger role in a Bond film, a motivation and growth to her character one doesn't see often in a Bond Girl.
It also helps to look like Barbara Bach. The Cold War never looked this hot.
04.) Vesper Lynd (Casino Royale)
Few Bond Girls have been as beautiful, as vulnerable, as devious, and as tragic as Vesper Lynd. She started out as someone efficient and not interested in James Bond, but over the course of
Casino Royale
Vesper grew to someone who was highly frightened, a heart beneath her stiff exterior.
We should know that Bond will not ride off into the sunset with the girl in his arms. The divided loyalties of Vesper make her actions understandable perhaps, but her final scene, knowing what we know and seeing what she does, is truly heartbreaking. Vesper Lynd is neither a good girl gone bad or a bad girl gone good, she is a good woman who made difficult choices that regardless of her decisions cost her more than she could pay.
03.) Melina Havelock (For Your Eyes Only)
Katniss Everdeen, eat your heart out.
Melina Havelock is also someone driven by motive, in her case the killing of her parents. She will not let anything, even 007, get in her way. Melina is someone who is perfectly capable of taking care of herself, but who also could use guidance in knowing the difference between revenge and justice.
In many ways,
For Your Eyes Only
is about Melina's journey: the loss of her parents and her desire to punish those responsible getting just as equal treatment as Bond's mission which is connected, but not essential to the Havelock's story. Melina is relentless, but she is also vulnerable.
Like I said, Katniss Everdeen, eat your heart out.
02.) Pussy Galore (Goldfinger)
No Best Bond Girl List would be complete without Pussy.
Bond Girls appear to thrive on unique names that are risque, even provocative, and you can't get more provocative than Pussy Galore.
Still, what makes her a Great Bond Girl? Names can only get you so far (we'll get to that a little later). It's the fact that she is in no way, shape, or form a 'damsel in distress'. She certainly isn't going to wait on a man to rescue her...in fact, men might need to be rescued from her. Pussy is tough, strong, and able to handle any situation she faces.
Pussy is professional and loyal to her criminal undertaking, determined to beat those who confront her. She doesn't need to be taken care of, knows her job, and can stand up to any man.
Granted, while not an open lesbian as she was in the novel, the suggestion that she has no interest in 007 or any other man is still there. Pussy if anything is the perfect male fantasy: the lesbian who is "converted" by the right man.
And yes, she has the best Bond Girl name.
And now, the Greatest Bond Girl of All Time...
01.) Countess Teresa "Tracy" DiVincenzo Bond
(On Her Majesty's Secret Service)
I've long argued that when you have a legitimate actress as a Bond Girl, you get a better performance (almost always). You need proof? Just look at Dame Diana Rigg as Tracy.
The acting in
On Her Majesty's Secret Service
is among the best in a Bond film, but what elevates Tracy is that we see something we aren't treated to often in a Bond Film: James Bond genuinely falling in love with someone, and vice-versa. Tracy has the strength of good Bond Girls (she is able to handle Blofeld and fight against both him and his minions), she has the wit of good Bond Girls (who else can both infuriate and placate their father easily or go toe-to-toe with 007) and she has the vulnerability of good Bond Girls (her genuinely love for Bond is rewarded).
Tracy also has the most tragic fate in a Bond Girl (apart from Vesper), which makes it all the more poignant that after getting to know her, we'll never see her again.
Well, as we know, we've all had at least ONE bad relationship, and 007 is no exception. With that, let's shift over to our Ten Worst Primary Bond Girls.
James Bond (Lists) Will Return...