As part of my Five-Year Anniversary Celebrations, I've compiled a list of actresses and actors that I believe have delivered consistently quality work (with perhaps a few missteps) and whom I think will earn their place among the Great Actresses/Actors of Our Generation. I had hoped to have Ten Actors and Actresses, but despite my best efforts, I could find only Eight: Four Women, Four Men. However, Eight Is Enough.
I welcome suggestions.
With that, I present my list in alphabetical order.
AUTHOR'S NOTE: This is my 1200th article. I am amazed myself.
Amy Adams
Amy Adams is someone who has been consistently excellent in her films. She has in her relatively brief career five Oscar nominations (
Junebug, Doubt, The Fighter, The Master
, and
American Hustle
, the last her first as Lead versus Supporting for the rest). Her performance in American Hustle is simply brilliant: she plays dual characters: the American con-artist Sydney Prosser and her titled British heiress "Lady Edith Greensly" and does it so well that when she at a pivotal point drops her flawless British tone to her natural American voice, it is still a shock despite knowing she's been faking all this time.
Adams has incredible range, from the sugary-sweet Princess Giselle in
Enchanted
to the manipulative wife in
The Master
to the working-class girlfriend in
The Fighter
. That she does it so well is a credit to her talents. She's made a few dreadful decisions (
Leap Year
being simply atrocious, but a nice Irish holiday for her) and she is the worst Lois Lane I have seen (though
Man of Steel
is a pretty bad film on the whole). It's sad that despite Adams' incredible talent she won't be Lois Lane to anyone. Margo Kidder will be. However, Amy Adams continues to rise and seeing her in almost anything is worth the cost of admission.
Michael Fassbender
Michael Fassbender is one of those actors who can lose himself so easily in almost any role we don't see him, but the character. He can play evil (his Oscar-nominated turn in
12 Years a Slave
being intense and chilling), but I think his forte is in playing highly conflicted beings. There's the highly troubled sex addict in
Shame
, the brooding Mr. Rochester in
Jane Eyre
(one of my personal favorites), Dr. Carl Jung in
A Dangerous Method
, and perhaps best of all as the younger Erik Lehnsherr/Magneto in
X-Men: First Class
and
Days of Future Past
.
Fassbender is at his best when playing characters who have if not full-darkness at least deep shadows within their souls. This is why I am eagerly awaiting his
Macbeth
, where he plays the title role. Shakespeare is one of my great passions, and to see one of the best actors around playing Shakespeare on film...I'm so excited. I'm also intrigued by the idea of his 'comedy'
Frank
, though from what I've seen it might be a little too off-beat for my own tastes. Perhaps something a little less avant-garde, Fassie.
Oh, and about his full frontal nudity in
Shame
? Well, I suppose it's all right...truth be told I have no other experiences of seeing other men's penises to compare his with.
Joseph Gordon-Levitt
Joseph Gordon-Levitt has pretty much grown up on camera. I confess to not liking him in Third Rock from the Sun, but perhaps it was more his hair than I disliked than him. No more television sitcoms for JGL, for he's moved up to the Big Leagues.
It's surprising given how incredible he's been in such films as
Inception
,
The Dark Knight Rises
, and especially
500 Days of Summer
that he is still without an Oscar nomination (while Jonah Hill has racked up two so far). He's become not just a great actor, but an entrepreneur, creating an outlet for creativity through his hitRECord production company. Now, I also was one of the few who disliked his writing/directorial debut
Don Jon
, finding it far too smug for its smut-filled characters. However, I like to think of it as more his creativity finding a bad outlet than a reflection of his abilities. My admiration for Joseph Gordon-Levitt knows no bounds.

Scarlett Johansson
I am the first to admit that initially, I dismissed Gordon-Levitt's
Don Jon
co-star Scarlett Johansson. I thought she was extremely beautiful, but apart from that saw little to nothing to recommend that she could 'act'.
How wrong I was, and pleasantly so. Johansson reminds me of Marilyn Monroe. Both were in their early career thought of as nothing more than 'eye candy', pretty girls who had only their bodies and faces to recommend them for film work. However, both proved that within them there was intelligence and a great range. I consider both of them extremely talented actresses, legitimate actresses. Who else could be so convincing with just her voice (as she was in
Her
)? Who else could stand out among a group of superheroes as she did in
The Avengers
?
Johansson is also a Tony-winner (which I think is rare for someone considered a 'movie star', Broadway being notoriously picky when non-theater actors trod the boards). Philip Seymour Hoffman and Tom Hanks lost their Tony nominations, and both Denzel Washington wasn't even nominated when he took to the Great White Way. Johansson, however, earned their respect, a most admirable thing. I know she doesn't like the nickname ScarJo, but sorry, on this we must disagree. It's a sign of love and respect, not dismissal.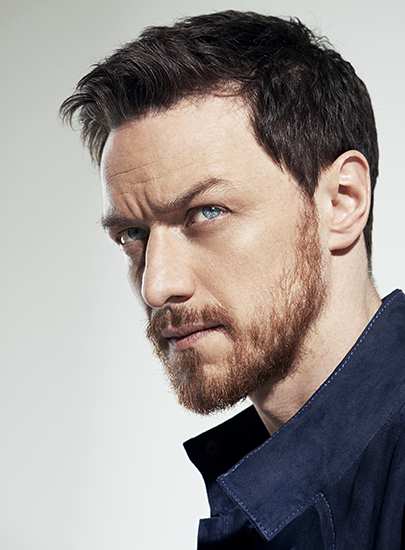 James McAvoy
Here's what I've always said about 'serious' actors in 'non-serious' roles. If you give a thoroughly talented actor, one who will take his/her role seriously, a part in something like a comic-book film, you will get a great performance. Such is the case with perhaps my favorite actor currently working today: James McAvoy (the only actor whom I could literally see eye-to-eye with).
Just look at the guy's range. He's played romantic dramas (
Atonement
), action (
Wanted
), comedy (
The Last Station
), children's films (
Arthur Christmas
) and of course, Charles Xavier in
X-Men: First Class
and
Days of Future Past
. McAvoy to me is, like his
X-Men
co-star Fassbender, one who becomes the character, no matter how out-there the role may be (as his turn in Trance showed, a film disliked by many but which I thought was not bad at all).
Out of all the actors I have seen, I can say that my favorite actor of the "classic" era is Claude Rains, and of the "current" era, it's James McAvoy. Both had incredible range, both are talents beyond belief, and both are short.
Miles Teller
Where did this kid come from? Miles Teller had had scene-stealing roles in
Rabbit Hole
and the remake of
Footloose
, but it wasn't until
The Spectacular Now
that I saw Teller is simply the best actor who is still stubbornly not a household name. His performance in
The Spectacular Now
was real and heartbreaking and life-affirming. I know it sounds wildly bizarre to be that enthusiastic, but I was so impressed with him (and the film) that I think he was simply robbed of a Best Actor nomination. I've heard he's done equally great in a yet-to-be released film,
Whiplash
, so I am looking forward to that.
That isn't to say Teller hasn't made ghastly mistakes.
21 and Over
and especially
That Awkward Moment
were clear-cut embarrassments, as if his team were trying to get him into quick-cash teen comedies that won't be part of any Kennedy Center Honors profile. I also am not sold on him being Reed Richards in the
Fantastic Four
reboot (thinking he's just too young at 27). However, one thing I know: Miles has miles to go in his career, and it's going to be an amazing adventure.
Mia Wasikowska
Mia Wasikowska is the great love of my life. When I first saw her in
The Kids Are All Right
, I was completely convinced she was a California Girl. I also thought she looked so much like Joni Mitchell that I thought she would be perfect in any biopic. Then I saw her in
Jane Eyre
(with another Future Legend) and thought, 'Wow, she's British and has a great American accent". Then I find out she's AUSTRALIAN! After that, I think she's this generation's Meryl Streep.
Wasikowska has such great range that I hope she won't get stuck working on things like more
Alice
movies (terrible adaptation) or merely costume pictures. I LOVE costume pictures, but she can effortlessly play contemporary parts too. How I wish production companies would see just how good she is, what a thoroughly professional actress she is. Minus
Jane Eyre
I don't think she's had a real breakout role but here's hoping that someone will put her in more movies and the world will really discover the love of my life.
Shailene Woodley
Shailene Woodley has come into her own, following the pattern set by Jennifer Lawrence. She's done the dramatic parts (
The Descendants
,
The Spectacular Now
) and now is earning massive raves for her action dystopian franchise
Divergent
(even if the film is less loved by critics, though not having seen it yet I cannot say anything about it). Then throw in a well-praised performance in The Fault in Our Stars and you have the making of a great career.
Woodley is growing as an actress (her film credits read only seven films overall, and that's including the first
Divergent
sequel). She has the range to be funny and serious, and one hopes that she will be well-guided in her career.
There is something to be said about the 'older' versus 'younger' people on this list. Woodley at 22 is the youngest, followed by 24-year-old Wasikowska, 27-year-old Teller, and 29-year-old Johansson. Amy Adams at 40 is the oldest, with Michael Fassbender at 37 being the oldest male (and ten years older than Teller); McAvoy is only two years younger than his
X-Men
co-star, and Gordon-Levitt being two years younger than McAvoy.
I think that by one's mid-thirties a certain mental maturity sets in, so the decisions that Adams, Fassbender, McAvoy, and Gordon-Levitt make will be more intelligent ones. Johansson's artistic choices also denote much maturity, though it should be noted that Johansson and Gordon-Levitt had years of work before they 'made it big'. Teller and Woodley really just broke out quickly (Wasikowska having worked on Australian television before advancing, coupled with her lesser notoriety compared to Woodley or Teller). Teller and Woodley may still stumble (Teller already having done so, Woodley still yet to be part of a disaster).
It isn't just their career choices that may be bad. It may be their personal choices. Adams, McAvoy, and Johansson have family lives, and Fassbender and Gordon-Levitt already have many years experience. Even then, they, along with the younger set, may soon become 'divas' or 'divos', making fools out of themselves and wrecking their careers.
I certainly hope not, and hope instead that they will earn their place to rank among The Greatest.
Will these kids join us?