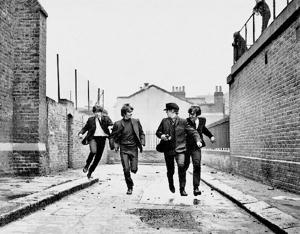 PLAZA CLASSIC FILM FESTIVAL
On this night I had to fight furiously to get to see
A Hard Day's Night
, the only film at the Plaza Classic Film Festival I wanted to see. I did, so I am pretty satisfied.
A more formal review of
A Hard Day's Night
will be forthcoming, but here just some quick impressions. I don't think it was a sell-out, but of all the films I've seen this year
A Hard Day's Night
was the most crowded. I was extremely pleased by the variety of people attending: those who do remember Beatlemania at its inception right down to their grandchildren who can sing along to all the songs the Beatles performed.
I normally loath hearing people sing along to music in the movies (
Saturday Night Fever
was a nightmare of enduring two off-key women try to out-falsetto Barry Gibb). However, I really don't have it in my heart to tell a six-year-old off. Besides, the little boy obviously has had a good upbringing if his parents/grandparents are having him listen to classical music (a little
Doctor Who
inside joke).
The movie was fun, lighthearted, witty and a tremendous joy from start to end. I freely admit my feet were tapping and I was mouthing along with John, Paul, George, and Ringo and having a blast doing so. When The Beatles sing their last song and took their bow, the audience erupted in spontaneous applause, as if they had indeed seen The Beatles in concert. For us, this is as close as we'll ever get to such a moment. No one screamed like they did in the early days, but with John and George gone, it's so good to see that they will never disappear.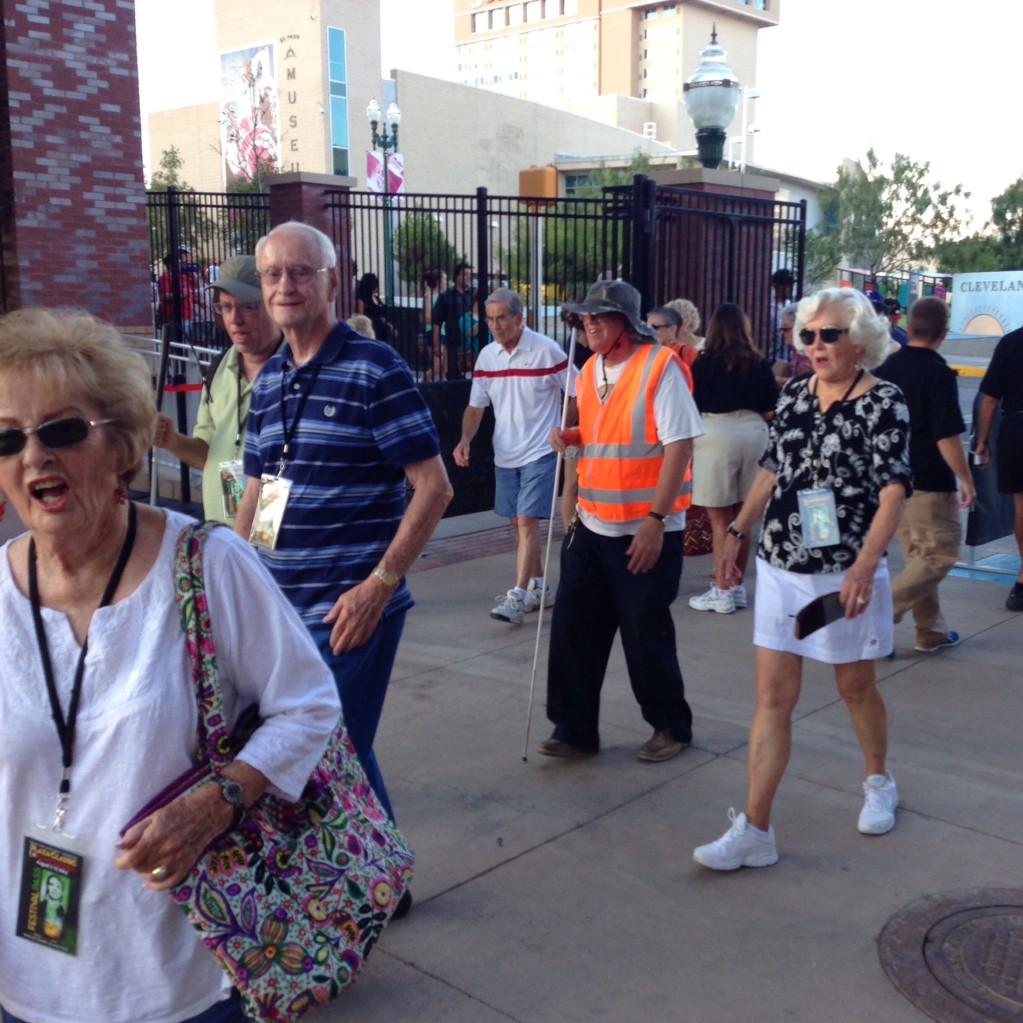 About the only real negative to tonight was the fact that
A Hard Day's Night
ended far too early. Even with the introductory light show (Western Skies) and pre-screening talks by El Paso Community Foundation Eric Pearson, Plaza Classic Film Festival Director Doug Pullen, and local radio DJ Glenn Garza all speaking briefly (probably less than ten minutes in total),
A Hard Day's Night
ended by 8:45. If I had fully processed that, I could have gone to both the movie AND the EP Baseball game right down the street. When the film ended, they were barely in the fourth inning.
Well, for next time I guess.
Anyway, I'm skipping Thursday (something called exhaustion from driving so much) but I'll be back on Friday, a most busy day. I'll be going to most of the EP Baseball Team game, but I shall have to leave early for my next planned film:
Bottle Rocket
. My friend Raul will be joining me. He's a big Wes Anderson fan. I am not. Saturday will be especially busy. There's
Salt of the Earth
and then
A League of Their Own
(neither of which I've seen before), and MAYBE
X/Y
and/or whatever the People's Choice movie ends up (I'm pulling for
Enter the Dragon
, though I've never seen the other nominees:
Stripes
or
A Nightmare on Elm Street
). That's also not counting if I opt for
The Adventures of Huckleberry Finn
with Mickey Rooney as Huck in the morning (though I expect I'll need some time to rest, so it seems unlikely).
Oh, and did I mention there's a ball game that night too?
Then there's Sunday, where I have on my agenda a luncheon with the EP Baseball Team manager followed by
Safety Last!
and possibly yet another baseball game (and that's not counting if I opt to go to a brunch with Ryan Piers Williams, local-boy-made-good filmmaker). I might even throw in perhaps
Whale Rider
(again, depending how early the luncheon lets out).
Busy, busy, busy, but for this seventh Plaza Classic Film Festival, it goes with the territory.
Yes, we are glad.
Yeah, yeah, yeah.