Yesterday, I went to my first El Paso Symphony Orchestra concert in somewhere between fifteen to twenty years. I had promised myself many times to go, but it wasn't until I put it into my planner that I finally went.
I'm so glad I did, because I got to enjoy great music and find that the EPSO is something that is really enjoyable.
One that that wasn't enjoyable was the prices. I was taken aback at how expensive they were. Granted, I could have sat up way high for $17, and in some ways this is logical. Not only are the prices acceptable, but the music rises. However, I didn't want to climb all those stairs at the Plaza Theater, so it was the 'cheap' back-row seats at $22.
Given that many of the $42+ seats further up were sold, I guess there are more patrons of the arts in EP than I thought.
The audience attendance was to me predominantly old and predominantly white. While the U.S. Census Bureau reports that only 14% of El Paso is white non-Hispanic, the audience at the EPSO concert was in my estimate around 60% white non-Hispanic. This, however, may not be entirely accurate if one goes by images alone. I suspect that there were quite a few wealthy Mexicans from Juarez, who tend to 'look' white but are Hispanic (who can be of any race).
The fact that the EPSO appears to be supported by an older, whiter audience to me bodes poorly, for classical music should be something for everyone, and this 'elitism' I think does more damage to the 84-year-old's institution than anything else. We should remember the El Paso Symphony Orchestra is the oldest symphony orchestra in Texas...so, screw you, San Antonio!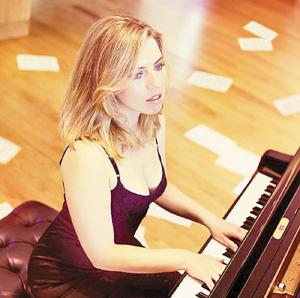 The program, called
First Impressions,
consisted of Rachmaninoff's
Piano Concerto Number 2
sandwiched between two Debussy pieces:
Prelude to The Afternoon of a Faun
and
La Mer
. Performing the concerto was Natasha Paremski, an up-and-coming pianist of powerful virtuosity. I am a passionate Debussy fan. For me, life without Claude Debussy's music is simply not worth living. Conducting was EPSO Musical Director Bohuslav Rattay.
We began with
The Star-Spangled Banner
, and after the drumroll out popped Maestro Rattay, like a kid who suddenly became aware where he was and was about to start late. As the audience soon began singing the lyrics, I was reminded of the El Paso Baseball games, where people start singing along to the actual singer. Normally I don't sing at baseball games since there is someone there to do it, but at the symphony I gladly and eagerly sang along.
Prelude to The Afternoon of a Faun
was beautifully performed, as was
La Mer
. Curiously, the only real issue appeared to be the horn section: in both pieces it looked like the trumpets went slightly off-key. I enjoyed Rattay's conducting. He had no podium to hold a score, and it's a delight to see the enthusiasm he has. When he conducts, it looks almost as if he's dancing, with a lightness and joy in the beautiful music.
Paremski's recital was mesmerizing and inspirational. As she kept adjusting her seat Paremski pounded the keys in a wild yet passionately controlled performance. Her dexterity is incredible, and I was so thrilled with her recital that I've decided to pick up playing the piano myself...after I graduate. For an encore, she played the third part of a sonata but because she had no microphone most people could not hear what or who the sonata was/was by. Still, it was enthusiastic and delightful, leading to the first of at least three or four curtain calls to a standing ovation.
During the intermission, I got Ms. Paremski's CD and autograph, and as I was going back to my seat I heard a voice with a faint Czech accent say, "Well, it's time to go back to work". I found myself walking alongside Maestro Rattay! I was quite surprised at finding the Maestro happily mingling with the audience, and in his not-so-formal attire (no bow tie but still in black, something more in line of what the 12th Doctor wears). As we walked back to our respective places I mentioned that this was the first symphony concert in twenty years (a rough estimation), and he replied, "She can REALLY play, can't she?"
I replied that yes, and that I was so glad I came. I mentioned that I love Debussy. "Me too," he said, before someone else came up to him.
I really enjoyed the El Paso Symphony Orchestra concert and was so glad that I went. I think I will go to every monthly concert because the music and the orchestra itself was so excellent, classy yet casual.
It was a great evening.