David Niven:
Best Actor for
Separate Tables
TUESDAYS WITH OSCAR: 1958
For the 31st Academy Awards, we get perhaps one of the oddest television presentations, odd in that it actually ended 20 minutes EARLY. In the future, the telecast will go on long past a rational time, but in this year, we got rushed through the awards that at the end, cohost Jerry Lewis was forced to do some wild stunts like trying to get the winners, nominees, and presenters to waltz on stage and try to perform with the orchestra. Eventually, NBC cut to a gun safety film.
David Niven won Best Actor for around 15 minutes of screen-time in
Separate Tables
, making it one of the shortest performances to win a Leading Actor Oscar.
Gigi
won a record-nine Academy Awards, ten if you count Maurice Chevalier's Honorary Oscar. That's an impressive number for a musical that I don't think is that well-remembered now, and even more impressive when you consider that
Gigi
won without a single acting nomination.
As always this is just for fun and should not be taken as my final decision. I should like to watch all the nominees and winners before making my final, FINAL choice. Now, on to cataloging the official winners (in bold) and my selections (in red). Also, my substitutions (in green).
THE 1958 ACADEMY AWARD WINNERS
BEST ORIGINAL SONG
A Certain Smile

: A Certain Smile
Gigi: Gigi
Almost In Your Arms (Love Song from 'Houseboat'):

Houseboat
A Very Precious Love

: Marjorie Morningstar
To Love and Be Loved

: Some Came Running
I pretty much dislike all the songs nominated, though in fairness
Almost in Your Arms
has a pretty good cover from Sam Cooke. The fact I went with the title song to
Gigi
should in no way be interpreted as an endorsement of the song itself, which I find one of the worst of
Gigi
's actual songbook compared to all the other Lerner & Loewe songs. Why this particular song got selected when I think there were a whole slew of other songs better than
Gigi
I don't understand.
Almost in Your Arms (Love Song from 'Houseboat'):

Houseboat
The Night They Invented Champagne

: Gigi
I Remember It Well: Gigi
To Love and Be Loved

: Some Came Running
Teacher's Pet

: Teacher's Pet
From
Gigi:

I Remember It Well
, music by Frederick Loewe, lyrics by Alan Jay Lerner.
Like I said, there were a whole slew of songs that would have been a damn sight better than
Gigi
from
Gigi
:
The Night They Invented Champagne, I'm Glad I'm Not Young Anymore, Thank Heaven for Little Girls
, and my personal favorite:
I Remember It Well
. On the surface a comical song about how two people can remember things completely differently, it is also a song about regret, the loss of a chance for true love between our old ladies' man and our old courtesan. They in a sense were trapped by society's expectations of them, in this case, fin-de-siècle Paris which didn't look kindly on married couples, let alone married couples in love with each other.
I Remember It Well
is just so perfectly written:
We met at nine/We met at eight/I was on time/No, you were late/Ah yes,
I Remember It Well
.
If they met at nine, then he was on time, but if they met at eight, he was late. I think it is so well-structured, and with such underlying nostalgia and loss, I can't help but think...seriously,
GIGI
?
Of course, I think that virtually every time I see it in the winner's circle, but I digress.
BEST DIRECTOR
Richard Brooks: Cat on a Hot Tin Roof
Stanley Kramer:
The Defiant Ones
Vincente Minnelli: Gigi
Mark Robson:
The Inn of the Sixth Happiness
Robert Wise:
I Want to Live!
I think Robson's nomination for
The Inn of the Sixth Happiness
probably came as a surprise, since it received no other nominations. I think the fact that
The Inn of the Sixth Happiness
received any nominations is what some people remember about that film itself. It's not a surprise that Minnelli won: Best Director and Best Picture tend to correlate. HOWEVER, given that
Gigi
received no acting nominations, one can wonder what exactly they were rewarding him for. The costumes? The sets? The music? The joie de vivre? The ability to get a story about a family of 'courtesans' who serve as mistresses to the rich past the censors? Out of all the nominees here, I'm voting for the one that got some really great performances out of an adaptation that itself was highly altered to meet film censorship approval: the sordid Southern story of failed sports star Brick, his sexually starved wife Maggie the Cat, and the tyrannical Big Daddy, all waging war with everything they've got (or don't).
I remember using the treadmill at the gym once and watching
Cat on a Hot Tin Roof
. During the film, I was so drawn into Brick's constant refusal to have sex with Maggie that I just burst out, "Oh, just JUMP ON HER ALREADY!"
Richard Brooks:
Cat on a Hot Tin Roof
Morton da Costa:
Auntie Mame
Alfred Hitchcock:
Vertigo
Vincente Minnelli:
Gigi
Orson Welles: Touch of Evil
Well, here's an upset! In a year that gave us Hitchcock's brilliant dark tale of repressed necrophilia and Welles'
film noir
, the Academy gravitated towards the pretty
Gigi
. Now, while many I think hold
Vertigo
to be Hitchcock's greatest film (and for the record, it's my favorite Hitchcock film), in terms of directing I have to give it up to Welles. The opening alone is enough to merit recognition, but there are subtle touches (such as when Welles' corrupt police captain realizes he's gone back to drinking) that are brilliant. And we'll forgive that "Charlton Heston as a Mexican" thing.
BEST SUPPORTING ACTRESS
Peggy Cass:
Auntie Mame
Wendy Hiller: Separate Tables
Martha Hyer:
Some Came Running
Maureen Stapleton:
Lonelyhearts
Cara Williams:
The Defiant Ones
There's not much I can say except for the fact that
Separate Tables
is an ensemble piece and I think Hiller is probably the best of the bunch. I remember Cass' performance, and while good, I don't think Agnes Gooch was the best supporting performance in
Auntie Mame
.
Barbara Bel Geddes:
Vertigo
Coral Browne: Auntie Mame
Wendy Hiller:
Separate Tables
Hermionie Gingold:
Gigi
Janet Leigh:
Touch of Evil
That would be Coral Browne's acid-tongued and vain but fiercely loyal Vera Charles, professional actress, professional lush. I've flipped several times among all the nominees, because I think all of them gave great performances (and again, I wonder why no one from
Gigi
was singled out for their performance). However, again and again I kept going back to Browne, who was great with the one-liners and did what a good supporting actor/actress does: elevate themselves while helping out the lead character. Each time she and Rosalind Russell were together, I was constantly laughing.
Who Else But a Bosom Buddy
indeed...
BEST SUPPORTING ACTOR
Theodore Bikel:
The Defiant Ones
Lee J. Cobb:
The Brothers Karamazov
Burl Ives: The Big Country
Arthur Kennedy:
Some Came Running
Gig Young: Teacher's Pet
I can't understand the Academy sometimes. They DIDN'T nominate Lee J. Cobb for his brilliant turn in
12 Angry Men
, but they did for
The Brothers Karamazov
? They give the Oscar to Ives' role in
The Big Country
but didn't nominate him for Big Daddy in
Cat on a Hot Tin Roof
? Under the 'comedy is harder than drama', I'm picking Young. That's it.
Jack Carson:
Cat on a Hot Tin Roof
Maurice Chevalier:
Gigi
Burl Ives:
Cat on a Hot Tin Roof
Orson Welles: Touch of Evil
Gig Young:
Teacher's Pet
A case where two actors from the same film cancel each other out. Pity, because Jack Carson, one of my favorite actors (up there with Claude Rains) really was so underappreciated. Usually the happy-go-lucky guy, he could be dark or angry beneath his suave, breezy charm (like in
Mildred Pierce
or
Cat on a Hot Tin Roof
). Chevalier again has an iconic role, but my heart goes to Welles' corrupt but ultimately tragic Captain Quinlan, who destroyed himself. In reality, Welles wasn't as fat as he looked in
Touch of Evil
(though he would eventually grow that size). As sleazy as Quinlan was, part of you felt terribly sorry for him, knowing that the crime he witnessed slowly ate at him until the line between shady but honest cop and downright criminal was lost.
BEST ACTRESS
Susan Hayward: I Want to Live!
Deborah Kerr:
Separate Tables
Shirley MacLaine:
Some Came Running
Rosalind Russell: Auntie Mame
Elizabeth Taylor:
Cat on a Hot Tin Roof
I know of people who dislike Russell's performance in
Auntie Mame
for being extremely broad. What they are not taking into account is that Mame herself was suppose to be extremely broad. She was a wild, madcap dame and made no apologies for it. I like all the performances and don't see anything really wrong if any of them had won (and that goes especially for Hayward's innocent murderess in
I Want to Live!
). However, out of all of these I think only two have become iconic: Taylor's sex-starved wife, and Russell's deranged doyenne. In this case, I'm going with the eccentric.
Leslie Caron:
Gigi
Susan Hayward:
I Want to Live!
Kim Novak: Vertigo
Rosalind Russell:
Auntie Mame
Elizabeth Taylor:
Cat on a Hot Tin Roof
I don't think Kim Novak is considered one of the great actresses of our time, but I give her full credit for her performance in
Vertigo
. I don't want to spoil the twist that comes midway through the film, but let's just say that the first time I saw it, she had me fooled. Novak has to carry a lot in the film, and given how well she did it, I think we saw she gave a truly remarkable performance.
BEST ACTOR
Tony Curtis:
The Defiant Ones
Paul Newman: Cat on a Hot Tin Roof
David Niven: Separate Tables
Sidney Poitier:
The Defiant Ones
Spencer Tracy:
The Old Man and the Sea
I like David Niven. He is the model of the very British gentleman, but I think he was given the Oscar for playing against type. If memory serves correct, he plays a sexual deviant of some kind. YET it's only 15 minutes long altogether, and one wonders why not put him in Supporting rather than Lead. Here again, we see two costars cancel each other out, and that leaves just two. Newman as the drunk, probably homo/bisexual Brick who'd rather drink himself to death than sleep with Elizabeth Taylor is one of those performances you remember long after the movie ends.
Errol Flynn:
Too Much, Too Soon
Clark Gable:
Teacher's Pet
Paul Newman:
Cat on a Hot Tin Roof
Mickey Rooney:
Andy Hardy Comes Home
James Stewart: Vertigo
I again find it amazing that James Stewart received only one Oscar his whole career, and to be honest, I suspect that his win for
The Philadelphia Story
was a consolation Oscar for having lost the previous year in
Mr. Smith Goes to Washington
to Robert Donat in
Goodbye, Mr. Chips
. It isn't that astonishing to see why Stewart wasn't nominated for perhaps one of his greatest performances.
Vertigo
was not seen as a great film when released. The story was seen as a bit bizarre and let's face it: it IS, given the suggestion of necrophilia and obsession. However, you see Stewart's performance as a man completely broken down by his obsession and you think, THIS is acting.
Sorry, Phineas Fogg...
BEST PICTURE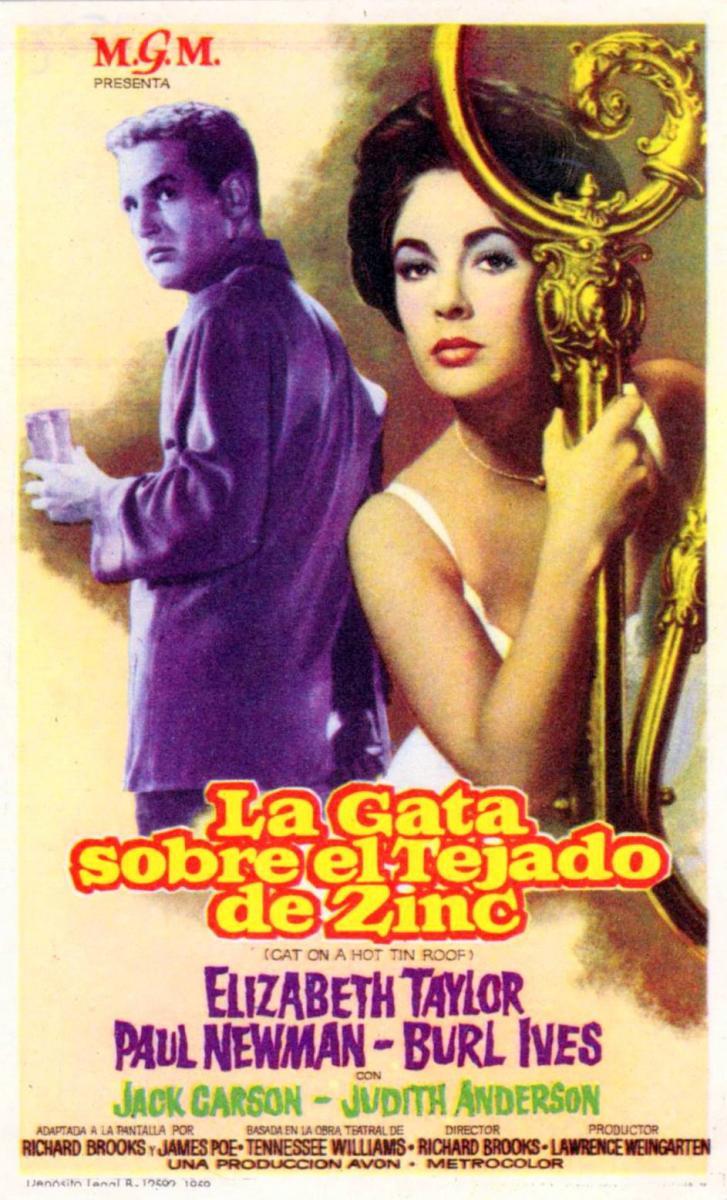 Auntie Mame
Cat on a Hot Tin Roof
The Defiant Ones
Gigi
Separate Tables
Well, I don't 'actively dislike' any of these films (to quote my
bete noire
over at The Nerdist), but
Gigi
has to be perhaps the weakest of the nominees and one of the worst winners. It isn't because it's a terrible film in and of itself. It's just that it's so light and if not strictly forgettable at least not as well remembered as any of the others. It has pretty sets, pretty costumes, great songs, and pretty people, but I find it hard to believe that, even in its watered down version,
Gigi
of all things is better than
Cat on a Hot Tin Roof
.
Really,
Gigi
?
Auntie Mame
Cat on a Hot Tin Roof
The Defiant Ones
Touch of Evil
Vertigo
Yeah, like I'm going to believe the lightweight
Gigi
is better than either
Touch of Evil
or my choice for the Best Film of 1958,
Vertigo
. The darkness, the despair, the insanity, the obsession...all that lies beneath in this twisted love story. Beats out the romp of Louis Jourdan and Leslie Caron, and certainly the Gallic laughs of Maurice Chevalier.
Next Time, the 1959 Academy Awards.