ROCKETMAN
My mother is pretty disconnected from much English-language culture. To this day she refers to something scandalous as 'a real
Peyton Place
' because that's the last English-language soap opera she saw. As such, she cannot be blamed for referring to
Rocketman
, the biopic of Sir Elton John, as the movie about 'the fat guy who wrote a song about Princess Diana' as that is her only point of reference.
Rocketman
is not a standard musical biopic in the same way last year's
Bohemian Rhapsody
was even if both cover similar territory.
I don't say whether that is a good or bad thing, only that it may explain why I saw a couple walk out during the film.
Using the framing device of a stay at a drug & alcohol rehabilitation support group meeting to tell our story, Elton John (Taron Egerton) reflects on his past. Starting out as Reginald Dwight, he was not loved either by his cold father Stanley (Stephen Mackintosh) or his disinterested, slightly trampy mother Sheila (Bryce Dallas Howard), both unaware that
The Bitch is Back
. Only his grandmother Ivy (Gemma Jones) offers any kind of love because each in their way all sing
I Want Love
.
Reggie's musical skills are quickly evident, and he starts working his way up from playing in pubs where people know
Saturday Night's Alright for Fighting
to backup piano playing in soul tours to full-time songwriting. Teamed up with lyricist Bernie Taupin (Jamie Bell), the two start coming up with hit songs while Reggie goes through two changes: a stage name of "Elton John" and embrace of his homosexuality. That embrace also goes to John Reid (Richard Madden), who becomes his manager/lover.
Elton becomes both more flamboyant and self-indulgent yet still in need of love which neither his parents or John can give him. More drugs legal and otherwise, more booze, and more sex cover his pain. He keeps searching for love, attempting suicide and even entering a very brief marriage until he finally wises up to Reid's evil, leaves his show and goes to rehab. Repairing his relationship with Taupin and accepting his parents won't give him love, he comes out stronger, knowing that
I'm Still Standing
.
Here is where things get tricky.
The play
Angels in America
has as a subtitle
A Gay Fantasia on National Themes
.
Rocketman
could have easily been subtitled
A Gay Fantasia on the Elton John Songbook
, as
Rocketman
is more in the form of a jukebox musical than straightforward biopic. The film is more
Mamma Mia
than
Jersey Boys
or
Beautiful: The Carole King Musical
, using the catalog to build a story around the subject rather than exploring the subject through the songs.
Rocketman
seems dead-set on ramming John's songs to fit this life story rather than have them emerge as part of the story.
Allow a brief explanation. In the last two mentioned jukebox musicals, we hear the songs of The Four Seasons and King, but they are performed in a more natural manner, say on a stage or recording studio scene, whereas in
Rocketman
they are essentially song to attempt to further the plot. I don't remember King or her husband singing
It's Too Late
to each other when their marriage breaks up or Frankie Valli finding an overweight girl and telling her
Big Girls Don't Cry
.
Rocketman
, conversely, decided to start things off with having little Reggie belt out
The Bitch is Back
when Elton, in full devil costume, metaphorically or perhaps literally goes back to his childhood. We have a literal fight break out when John starts
Saturday Night's Alright for Fighting
, a number that grows to include a visit to a carnival and even throw in some Bollywood-type dancers for good measure. Earlier, we saw all the members of the Dwight household sing parts of
I Want Love
as almost a quartet, and
Honky Cat
is a duet that showcases John and Reid at their most materialistic.
Trying to force
Tiny Dancer
to be a song where Elton sings about how he longs for Bernie's company as the latter leaves to sleep with a girl seems rather curious to say the least.
Perhaps the lowest point is when Bell's Bernie Taupin himself starts belting out
Goodbye Yellow Brick Road
to describe his rift with John (this was after the restaurant patrons there sang
Sorry Seems to Be the Hardest Word
as a sloshed John walks in).
Again, I'm not arguing that it was good or bad in
Rocketman
though if pressed I'd say it was a bad decision because in a good musical, the songs flow from the story versus using already-written songs and forcing them into the plot (
Singin' in the Rain
being a rare exception). It is rather hard to take John's emotional crisis seriously when we see a synchronized swim team rescue him while a child sings
Rocketman
at the pool's deep end.
Where's Esther Williams when you need her?
As is to top this very curious sequence, we see him transition to performing at Dodger Stadium, where he literally takes off.
This moment caused my friend to quip Elton John had gone from Rocket-Man to Iron-Man.
Again, not saying if director Dexter Fletcher or screenwriter Lee Hall were right or wrong in using this approach but it is interesting that the most effective moments in
Rocketman
were when we didn't go for that visual flair & opulence. For example, when John is forming the music to Taupin's lyrics to
Your Song
, the lack of theatrics lets us focus on John's incredible creative process. To be fair, the
Pinball Wizard
montage was also good. However, using John's catalog to tell his story I think was far too distracting.
I
knew
we would end with
I'm Still Standing
, and respectfully I don't see or hear it as a ballad.
If that's the route they wanted to take, fine. I don't have a problem with it. I think though that people were expecting a more direct biopic versus a jukebox musical, especially one that went into wild flights of fancy. As such, I think that explains why that couple walked out: it was not 'The Elton John Story' but more 'The Elton John Revue'.
In terms of performances it's a shame that Fletcher and Hall were more interested in the visuals than the people. Almost everyone's character can be described in one word: cold (Stanley), disinterested (Sheila), nurturing (Ivy), supportive (Bernie), evil (John). Perhaps they were and are all like that, but it makes for dull viewing.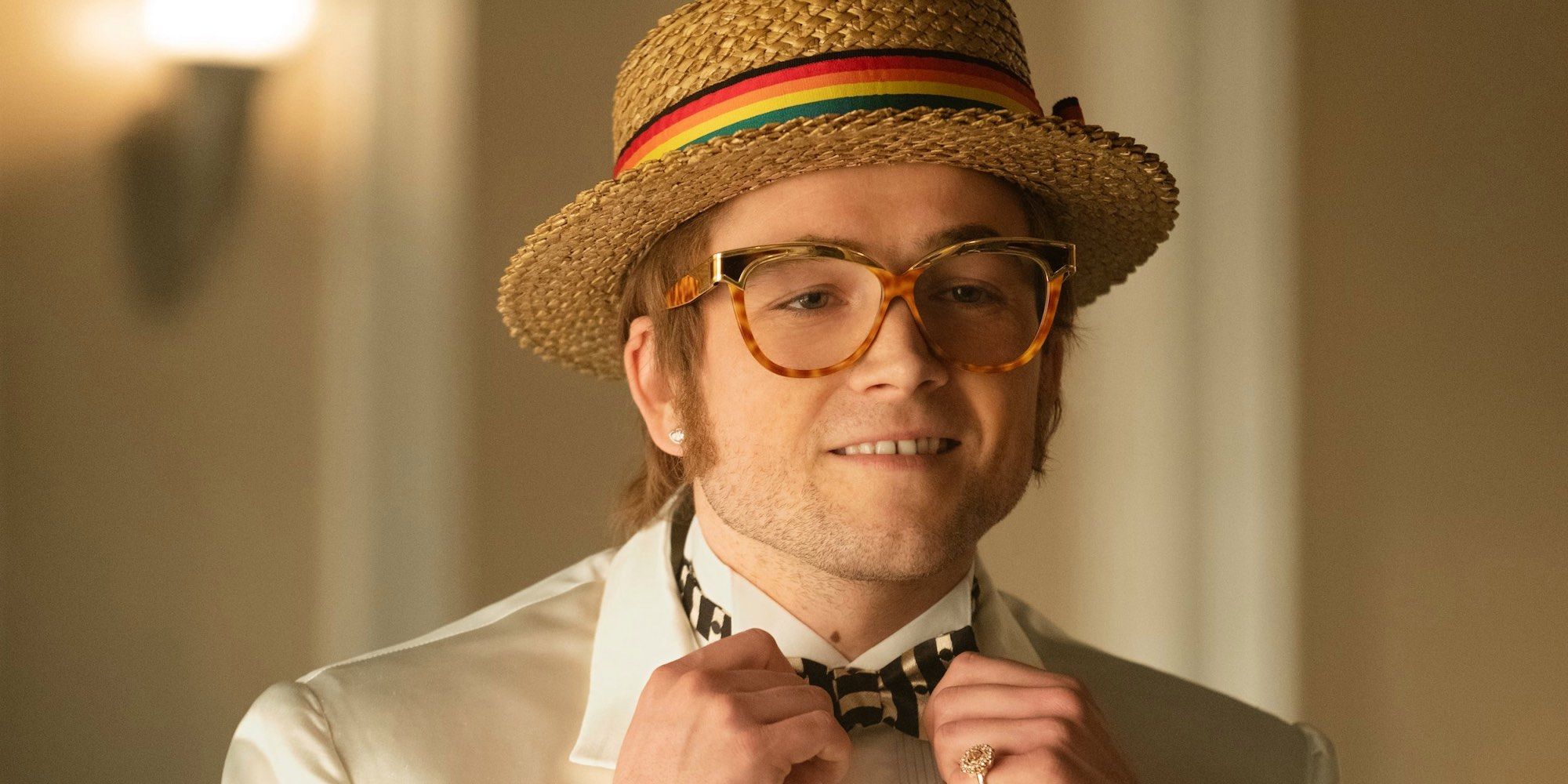 Many people, I understand, had already declared Taron Egerton the Best Actor Oscar winner for
Rocketman
. I'm going to throw some cold water on that idea. Egerton often looked like John, did a very good job of singing and at times was quite strong in the role. Other times he was slightly laughable. When he finally comes out to his mother over the telephone, Egerton made what is supposed to be a dramatic moment almost comical with his face twisting and turning that suggest he just swallowed a lemon more than revealing his deepest, darkest secret.
The standout was Bell as Taupin (
Goodbye Yellow Brick Road
notwithstanding). He at least made Taupin someone who lived in a real world versus a
High School Musical
world.
Finally, I'd like to touch on the same-sex sex scene in
Rocketman
. I do not think it looks like a gay porn movie and I wasn't shocked by it. Gay men often have sex with other men. It might be more graphic than what people are used to in sex scenes but it wasn't a full-on orgy (which as a side note reminds me that the 'orgy' scene choreographed to
Benny and the Jets
seemed a bit too artsy for my taste).
Ultimately what I found in
Rocketman
was not an actual biopic of Sir Elton John and very little in terms of revealing who he is or how he creates. Instead, what I found was a very artistic interpretation of Elton John's songbook. Elton John is an extraordinary creative talent that I had the good fortune to see in concert before his upcoming retirement from touring. I can't say he deserves better than
Rocketman
because
Rocketman
is not a bad film. It's flashy and colorful and outlandish, just like its subject.
Whether you can embrace that or not is to be determined.
Born 1947
DECISION: C-