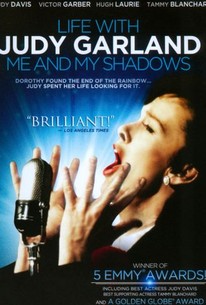 LIFE WITH JUDY GARLAND: ME AND MY SHADOWS
The release of the biopic
Judy
inspired me to revisit a previous telling of the tumultuous life of the legendary actress and singer Judy Garland.
Life with Judy Garland: Me and My Shadows
won Emmy Awards to both actresses that played Garland, a surprising and rare feat even if it ultimately lost Outstanding Miniseries. Based on the memoirs of Garland's daughter Lorna Luft,
Life with Judy Garland
is as powerful and moving as its subject.
Narrated in voiceover by Cynthia Gibb as what I figure is the adult Lorna Luft,
Life with Judy Garland
notes that a lot of our lives begin before we are even born. As such, we go to 1924's Grand Rapids, Michigan where little Frances Gumm makes her stage debut with an endearing (and repetitive) rendition of
Jingle Bells
. Frances' mother Ethel (Marsha Mason) pushes for her "Baby" and the rest of the family to go to California to pursue job opportunities.
Left unsaid but hinted at is the idea that the journey could be a result of avoiding the almost open secret of Frances' father Frank (Aidan Devine) being homosexual.
Now as 'Judy Garland' (Tammy Blanchard), she astonishes wily and cantankerous MGM boss Louis B. Meyer (Al Waxman) and finds champions in producer Arthur Freed (Daniel Kash) and music head Roger Edens (John Benjamin Hickey). Judy struggles with self-doubt, aggravated by the slimming and sleeping and pep pills she's being made to pop. Surrounded by glamorous beauties and repeatedly told how she doesn't measure up in terms of looks and weight, not even her best pal Mickey Rooney (Dwayne Adams) can help. Her insecurities all but explode when her heart is broken by Artie Shaw, who tells her he loves her...only to run off with Garland's more erotic rival Lana Turner.
Judy Garland (Judy Davis) finds a savior in director Vincente Minnelli (Hugh Laurie), who like her father may also be homosexual but who also fathers their child, Liza (Edens casually suggests Minnelli might not be 'the marrying kind' and later Garland herself shouts about how her
The Pirate
costar Gene Kelly 'has all the sexy costumes').
Garland makes the effort to get off the pills but ultimately collapses back into dependence.
Now growing older, she finds a new champion in Sid Luft (Victor Garber), B-movie producer and brawler. Their marriage produces two children: Lorna (Allison Pill) and Joseph, born the night before she lost Best Actress for her comeback film,
A Star is Born
. Almost guaranteed to win, cameras were at her hospital room waiting for the announcement only to have Grace Kelly's name announced. Instantly the camera crew pushed and prodded Garland and her small entourage, uninterested in the pain of her peers' rejection and public humiliation.
From there, Garland stumbles from one comeback and fall to the next, with Lorna and Joey in toe. Her television show is cancelled, partially due to the network brass' near-hatred for her. Her newest boyfriend Mark Herron (Martin Randez) ends up looking with desire at their pool-boy. Almost always broke and now fully dependent on pills, Garland's needs and inability to cope overwhelm Lorna, who at 13 has essentially a nervous breakdown trying to care for Garland, Joey and herself.
An unhappy separation between Garland and Lorna eventually heals, and Judy's three children wish her a happy 47th birthday via telephone as Mama is in London with her newest husband, Mickey Deans (Hume Baugh). However, two weeks later Garland dies, but despite that,
Life with Judy Garland
ends on a triumphant note, with Garland's three children looking on as Mama belts out
Get Happy
for their own private performance.
I think Robert L. Friedman was right in ending
Life with Judy Garland
this way when he adapted Luft's memoir as it gives the miniseries a happy ending, and I think more reflective of how Garland saw her life: not one of perpetual misery and heartache but one where sunlight entered through the shadows. It's almost a sense of closure to see Liza, Lorna and Joey seeing their mother on stage in one of her iconic numbers, one that tells us to
Get Happy
.
In terms of performances I think there's little to no doubt that Tammy Blanchard was so spot-on as the young Judy Garland. From the moment we see her, Blanchard so looks like that young girl who danced down the yellow brick road. It is not just in her appearance but in Blanchard's manner, the quivering and insecure girl desperate to be loved. I'll grant that maybe once or twice her outfits, complete with bows on her hair, made her look slightly ridiculous, as if attempting to look too young.
However, Blanchard's performance was deep and moving, bringing to life not just Garland's own insecurities but how people, sometimes without meaning to and sometimes deliberately, reinforced those negative opinions.
Davis also manages to both look and act like Garland, adding her own almost unhinged manner whether brawling with Sid or attempting to mask her disappointment in losing Best Actress. Davis could accurate mimic Garland's performing style, but she also in scenes both dramatic and comic show the full range of Garland's personality: the hurt, need, ego and yearning that so drove her.
The miniseries is also helped invariably by the supporting cast. Mason does quite well as Ethel, harsh without being sadistic. She even allows a little sympathy for this stage mother when she remarks how dismissive Judy was when she told Ethel about her pregnancy. Laurie does an impeccable American accent as Vincente Minnelli, even if he sounds nothing like the real Minnelli. Laurie makes Minnelli someone who genuinely cares for Garland but who cannot save her from herself. Hickey has a nice Southern drawl and gentle manner as Edens, although given how often he and Garland's BFF Kay Thompson (Sonja Smits) show up together the miniseries leaves a curious suggestion they are a couple even though they weren't.
Garber too was a standout as Luft, this tough guy with a tender heart. His scenes with Davis were in turns romantic and tempestuous, and he never fails to get you on his side.
However, perhaps this is a flaw as it almost romanticizes Sid Luft. Then again, it should be remembered this is his daughter Lorna Luft's memoir, not a straight-up biopic on Garland. This is clear at the miniseries' last half-hour, which focuses more on Lorna than on Judy. That is correct as
Life with Judy Garland
is more Lorna Luft's story, and Pill does a wonderful job as the young girl trying to keep it all together.
After all, it's called '
Life with Judy Garland
', not '
The Life of Judy Garland
'.
It does also to its detriment pass on some myths as facts, such as the oft-told but debunked story of how Garland's three
Wizard of Oz
costars kept shutting her out from their dance down the yellow brick road until director Victor Fleming would shout, "You three hams, let that little girl in there!"
Neither Blanchard or Davis sang but lip-synced Garland's own vocals. This is by no means a detriment, for their lip-syncing is not only spot-on but works exceptionally well with both Blanchard and Davis.
Life with Judy Garland: Me and My Shadows
has the benefits of strong performances all around courtesy of Robert Allan Ackerman. Even if it is ultimately Lorna Luft's own story, it is probably as good and as close to a genuine Judy Garland biopic as we are likely to have.
Frances Ethel Gumm, we hardly knew you...
1922-1969
9/10