We can go over the basic premise of Life As We Know It and see that it is really a hodgepodge of other rom-com cliches, but in fairness, it has something I haven't seen more use of in films about opposites attracting: killing off the lead's best friends in order for them to be together. This plot device is so surprising that even Messner (Josh Duhamel) wonders out loud if his and Holly's (Katherine Heigl) married best friends somehow planned it all out.

Fortunately for them and for the makers of Life As We Know It, they really don't seem too bothered by the fact that two people in their first year of marriage died rather horrific deaths in order for our more important couple to get together and even have a child without having to go through that bothersome pregnancy phase.
We begin with Holly & Messner's first and only date. It's obvious from the get-go that they are from totally different worldviews: her eco-friendly smart car vs. his cool bike merely symbolic of their wildly divergent views on everything. We also know what kind of people they are within the first few minutes: Holly's a Katherine Heigl-type: uptight neurotic successful businesswoman but disastrous in romantic situations, and Messner, who insists on going by his last name rather than by his first name of Eric, is your booze-guzzling man-child whose life consists of wearing a baseball cap and going from one broad to another with the greatest of ease (and being Josh Duhamel, it isn't hard to believe women lose their thinking whenever he breezes in).
Side note: here's one cliche in Ian Deitchman and Kristin Rusk Robinson's script: every woman and gay man)whom the male lead comes within viewing distance of will immediately lust after him. Of course, that's not already encountering a second cliche: the female lead is the only woman who cannot stand this irresistible man but who therefore, is obviously perfect for him; did someone watch
Made of Honor
I wonder. As it turns out, Holly and Messner end up hating each other and can barely hide their contempt for each other in front of their best friends, Peter (Hayes MacArthur) and Alison (Christina Hendricks) Novak.
Now, in spite of their mutual loathing Holly & Messner do love the Novak's child, Sophie. Therefore, when Peter & Alison die, it's no mystery they would leave their only child in the joint custody of both their best friends/Sophie's godparents, who they know hate each other, without bothering to tell either of them their plans. Happens all the time, right?
The lawyer overseeing the custody informs them that the Novak estate will cover the mortgage, which is fortunate since Sophie should not be moved so as to lessen the emotional instability of having new surroundings. I confess to not remembering what my home looked like at age 1, so I wonder how Sophie would even quite realize the man and woman hovering over her excess of poop were not her parents, but I digress.
Now, the professional bachelor and the professional prude will have to live together, leading to all sorts of hijinks. Their requisite collection of wacky neighbors including the gays next door, one of whom longs for the firm thighs and smooth chest of Josh Duhamel do their best to guide them through the first year of childhood. Of course, being yet another rom-com cliche, neither of them really know what they are doing.
Enter Sam (Josh Lucas) the man Holly lusts for who just happens to be Sophie's pediatrician: given how close Alison &amp Holly are suppose to be, and given what an uptight perfectionist Holly is suppose to be, don't you think she would have know the man whom she sees at her bakery thirty-five times at her last count is also Sophie's doctor? Oh, why bother wasting time thinking on such silly terms as logic in Life As We Know It.

Soon, a romance would have started between Holly and Sam, but in spite of schtupping women left right and center court (Messner is a technical director at Atlanta Hawks basketball games), he's instantly jealous of their romance. To cut it short, Holly and Messner realize they are in love with each other, a complication with Messner's career tears them apart (is it me, or was his last name deliberately chosen), they have a major fight, and then come together.

I should put in another little cliche the script threw in: the case worker who always comes at the most inopportune time, and there's even one of those 'rushing to the airport gate to tell the one leaving how they really feel about each other' moments; it would be more original to have those scenes at a train station or a bus stop or on the dock: at least it would be different.


At this point I can say that Life As We Know It somehow went off from being predictable to being borderline nonsensical, even for a second-rate romantic comedy. It starts with the fact that neither Holly or Messner ever grew as characters or people: throughout the film they stayed pretty much as they were when we started.

That might be overlooked, but how is that we can possibly believe Alison and Peter would be friends with these two since they don't appear to have any real connection to each other, put both of them in a position to care for their child when it would have been obvious to both of them that they found it hard to be in the same room, let alone live in the same house, and/or put their only child in the care of two people too neurotic or irresponsible to handle their own lives with any sense of intelligence, let alone a child. Couldn't they just do what divorced parents do: take turns caring for Sophie in their own homes? The fact they were forced to live together goes to the idiocy of a film where one isn't suppose to think about how these situations would work.
Isn't it always the case that both of them have 'really important things in their careers' come up at the exact same night and there's no one around to help care for Sophie? I know that always happens, so why not in this movie?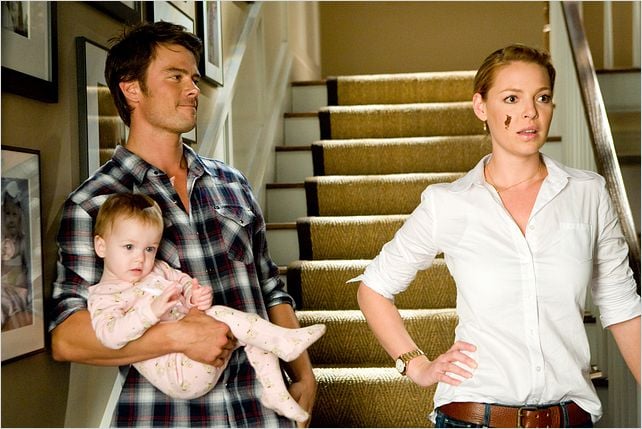 Now, I confess to having enjoyed Josh Duhamel in Las Vegas...or rather, enjoying his work on the television show Las Vegas. He seems like a cool guy to hang out with, knock down a few brewskies, watch the game, so here, he doesn't expand his persona. His character is called to be the type of guy who's a slob emotionally and physically, except for his actual physical build which is suppose to be perfect who can be reformed by the 'right woman': the responsible, mature one.

Duhamel seems game to play on this type, but certainly one can wonder just why we're suppose to like a guy more concerned with his baseball cap than with a baby, a typical guy who almost literally doesn't know the upside of a baby from a baby's bottom. I suppose Duhamel doesn't mind playing the 'himbo' (a scene where he stretches in the front yard before running sending all the women and the gay man into a tizzy), and whether he actually wants to try for more challenging parts I don't know. I can say that having only a reference to Las Vegas and the first two Transformers films, Josh Duhamel is a model who can say lines written for him, not an actor, at least not yet.
Same can be said of Heigl. I wonder if she tires of playing the same role in every movie she's in. Holly isn't distinguishable from her roles in
The Ugly Truth
or
Killers
and I figure in
27 Dresses
or
Knocked Up
(having not seen the last two, I can't say for sure, but I'll wager all of them are interchangeable by this point in her career). Maybe she doesn't mind being now a 'type'...certainly gets her film roles and builds her name away from
Grey's Anatomy
or
Roswell.
Still, the supposedly harried but remarkably upbeat character who doesn't know the wrong man is the right man is wearing extremely thin by this point.
In a Battle of the Beautiful Joshes, Lucas would be the better choice. After all, who could really go against Coach Haskins? In a more sensible world, Holly would have gone with the man who stayed by her side, who has a steady job, who is actually responsible.

Yet, Life As We Know It isn't based on being sensible. I figure he does what he can with the role of the love interest we're suppose to dispose of to the requisite false happy ending, but one gets the sense he knew he could have been doing something better than this film. None of the leads were well directed by Greg Berlanti. In fact, not even the disposable characters were believable or at times even likable: when you don't mind that the rather annoying Peter & Alison are offed, then we have serious problems.
Ultimately, the audiences who enjoy Life As We Know It don't seem to be bothered by a creep factor in the film: the plot device to get the two leads to fall in love is an orphan. A child lost her parents at the age of one, and we're suppose to believe that is the making of a love story.

In the height of irony, Life As We Know It doesn't really know much about life.