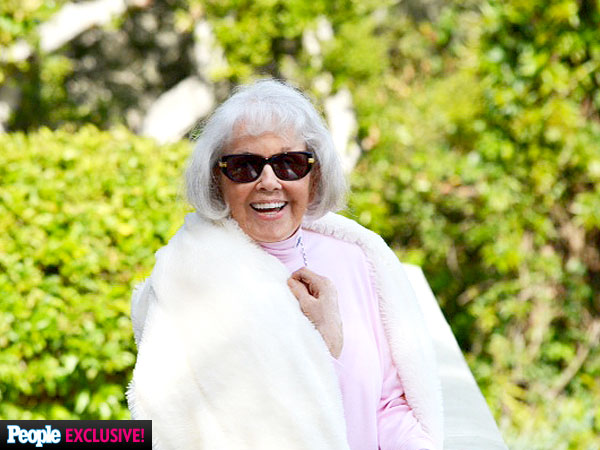 Born 1924
Few people have been as trapped in their screen image as Doris Day. Her costar in Day's first picture,
Romance on the High Seas
, commented years later, "I knew Doris Day BEFORE she was a virgin". She was forever the ingénue, the innocent girl forever flustered by the men she attracted.
What was that line from
Look at Me, I'm Sandra Dee
in
Grease
, "Look at me/I'm Doris Day/I was not brought up that way/Won't come across/Even Rock Hudson lost/his heart to Doris Day".
Doris Day's screen persona as the Perpetual Virgin I think has masked both the depth of her actual acting talent and a highly tumultuous personal life. Her life was not all gumdrops and lollipops.
Her first husband was so violent towards her he nearly killed her and their yet-unborn baby. Her third husband left her in near-financial ruin and had signed her up for a television series without her knowledge. Even more shocking, her son Terry Melcher may have been the actual target of the Manson Family murders. Melcher, who had decided not to record Charles Manson's music, had recently moved out of the house he had been in, which was later taken by Roman Polanski and his wife, Sharon Tate. More recently, Day found herself in the unenviable position of having outlived her son, Melcher dying in 2004.
However, underneath the veneer of sweetness, if one looks carefully, we find a true actress of incredible range.
One of the best examples of a part that showed both her vocal and acting range was when she played Ruth Etting in the biopic
Love Me or Leave Me
. Being able to hold her own against James Cagney (who received an Oscar nomination for his role, though oddly none for her), Day made Etting into a strong woman, a survivor, one who will rise to respectability no matter what her manager/husband does.
We turn to a mostly non-singing role in Alfred Hitchcock's remake of his own
The Man Who Knew Too Much
. As the mother whose son has been abducted and being held hostage to keep her and her husband quiet, her anxiety and fears for her only child are heartbreaking. A particularly intense and brilliant moment is when James Stewart gave her sedatives before telling her the news about her son. As she starts slipping into sleep her horror and agony at the news is still one of the best pieces of acting I have seen.
She did many great dramatic parts, but she was primarily known for light comedies and musicals, and it is clear with a voice like Day's, musicals were a no-brainer. The list of songs she introduced is a catalogue of extraordinary music. There's
Sentimental Journey
, the unofficial theme of the end of World War II,
Secret Love
, one of two Best Original Song winners she sang. There's the lament of
I'll Never Stop Loving You
from
Love Me or Leave Me
, the joy of
It's Magic
from
Romance on the High Seas
, and of course, her signature song (and second Best Original Song Oscar winner),
Que Sera, Sera
from
The Man Who Knew Too Much
.
It became the theme to her eponymous television show. She sung snippets of it in future films like
The Glass-Bottom Boat
, the first film of hers I saw and which made me fall in love with her; even if perhaps it wasn't her best film, to a seven-year old it was uproariously funny in how she was bizarrely mistaken for a Soviet spy and how she decided to turn the tables on those who thought so.
I think
Que Sera, Sera
is the perfect song for Doris Day. Whatever will be, will be...despite it all, she has taken everything life has thrown at her and thrived. I admire not just her singing and her acting, but her strength.
Out of all the actors she worked with (and she worked among the greats and was more than able to share the screen with them), it is Rock Hudson we associate most of all with her. They've achieved a rare thing in film: the perfect team, up there with Powell and Loy, Mickey & Judy, Frankie & Annette, and Tracy and Hepburn. I can't think of a contemporary version, which is a terrible shame.
Curiously, while we think of Day & Hudson as one of the Great Duos in Film, it is always surprising that they made only THREE films together:
Pillow Talk, Lover Come Back
, and
Send Me No Flowers
. One would think they made dozens of films together, but no, only three. Like rare jewels, their pairings are things to appreciate. I enjoy all three films, but the best is
Pillow Talk
, which was as risqué as Day ever got, a playful coquettishness creeping behind her stern demeanor towards Hudson's playboy.
Doris Day has been underappreciated as an actress, and one hopes that soon she will be both reevaluated and awarded a long-deserved Honorary Oscar (though I think she would prefer the Jean Hersholt Humanitarian Award for her work with animals). Doris Day is more than 'the girl-next-door' or 'the Eternal Virgin'. She is one of the great singers of the Twentieth Century and a rare being in film: a singer who could act.
Day's life has never been easy. Yet despite all the various troubles and chaos life has thrown at her, she still continues to have an optimistic spirit, devoting her time to animal rights and welfare. She doesn't make appearances and she retired from film far too early (one always wonders what would have happened if she had accepted the role of Mrs. Robinson in
The Graduate
; she was the first choice for the role which she turned down, finding the script vulgar).
Perhaps, given the intense difficulties and tragedies she has survived, she is entitled to a little peace and tranquility.
I'll See You in My Dreams

...
HAPPY 90TH BIRTHDAY, DORIS DAY!