Frank Lloyd (right):
Best Director for Cavalcade*
TUESDAYS WITH OSCAR: 1933
The Sixth Annual Academy Awards find themselves selecting films forgotten and performances that might not stand the test of time. The nadir of all this is in the selection of that year's Best Picture, but out of the Best Picture, Director, Actor, and Actress, only one is really remembered.
It is a sign of how bad these Oscars were that history gave us one of the most embarrassing moments whose infamy has gone down into legend. Fortunately, there was no footage of the "Frank" Debacle, but whether the host, legendary funnyman Will Rogers, meant for this moment to happen or it was just an unfortunate incident is lost to history. Still, when we get to this moment, even just reading about it makes one cringe.
As always this is just for fun and should not be taken as my final decision. I should like to watch all the nominees and winners before making my final, FINAL choice. Now, on to cataloging the official winners (in bold) and my selections (in red). Also, my substitutions (in green).
THE 1933 ACADEMY AWARD WINNERS
BEST PICTURE
42nd Street
Cavalcade
A Farewell to Arms
I Am A Fugitive From a Chain Gang
Lady for a Day
Little Women
The Private Life of Henry VIII
She Done Him Wrong
Smilin' Through
State Fair
If it weren't for the fact that it won Best Picture, I think
Cavalcade
would have been relegated to the dustbin of history. Name some of the other nominees and you get immediate recognition:
42nd Street
,
I Am a Fugitive From A Chain Gang
, and
She Done Him Wrong
. A landmark musical, a gritty drama, and a legendary risqué comedy with Mae West giving us the oft-misquoted "Why don't you come up and see me sometime"? (The exact quote is, "Why don't you come up sometime and see me? I'm home every evening"). Others are somewhat familiar like
A Farewell to Arms, Lady for a Day
(later remade as the musical
Pocketful of Miracles
),
Little Women
.
However,
Cavalcade
?
I imagine the Academy was impressed with the "grand" nature of the adaptation of the Noel Coward play chronicled the intertwined lives of a wealthy family and their servants. It seems to be the type the Academy still falls for (the lavish, stagey, pseudo-elegant costume picture). They sure weren't going to give an Oscar to the saucy West or
State Fair
, a Will Rogers vehicle (though its remake was the only Rogers & Hammerstein work created specifically for film).
She Done Him Wrong
, despite losing the big prize, has earned a place in Oscar history: at 66 minutes, it is the shortest Best Picture nominee ever.
BEST ACTOR
Leslie Howard (
Berkeley Square
)
Charles Laughton (The Private Life of Henry VIII)
Paul Muni (
I Am a Fugitive From a Chain Gang
)
It wasn't until Jonathan Rhys-Meyers' more hunky take on our merry monarch in the series
The Tudors
that we got away from the traditional image of Henry VIII: that of a fat, slightly bonkers figure of mirth (a bit like Orson Welles in his Paul Masson years). I think our idea of His Majesty doesn't come so much from history as it comes from film, in this case, Laughton's performance of Henry VIII in this biopic. When we think 'Henry VIII', it isn't the virile king who wooed women with his sexual prowess, or the fierce intellect who gained the (I'm not sure quite legally hereditary) title
Defender of the Faith
for his writings against Martin Luther's 'heresy' (which he later embraced when a divorce from Catherine of Aragon...no relation, became unavailable. Amazing how a little lust and need for a male heir can make one 'see the light').
Instead, it is of the large king who went through wives like Kleenex, and I think that idea stems from
The Private Life of Henry VIII
more than anything else. Even if people have not seen the film, show them a picture of Laughton in his royal robes and I'm sure people will recognize him as Elizabeth I's father.
BEST ACTRESS
Katharine Hepburn (Morning Glory)
May Robson (
Lady for a Day
)
Diane Wynard (
Cavalcade
)
The calla lilies really were in bloom, weren't they?
I seem to get
Morning Glory
and
Stage Door
confused, but in my defense Katharine Hepburn plays an up-and-coming actress in both, so the confusion is understandable. People know Hepburn to be one of the Great Actresses of Our Time, but I can't shake the idea that at least in
Morning Glory
, Hepburn was
ACTING
with a Capital A. There seems to be something 'theatrical' about Hepburn in
Morning Glory
(judging, admittedly, from the few clips I've seen). It is, for the moment, a bit difficult to decide whether the fact that she
played
an actress justifies the mannered, almost exaggerated to the point of parody performance Hepburn gave.
It may have been that Hepburn decided that because Eva Lovelace (no relation to Linda) was an actress, she could play the part as if Eva KNEW 'the whole world's a stage' and could get away with behaving as if she was always 'on'. However, while other Hepburn films are better remembered, her three other Oscar wins in particular, I very much doubt
Morning Glory
is (or is listed among her Truly Great Performances).
BEST DIRECTOR
Frank Capra (
Lady for a Day
)
George Cukor (
Little Women
)
Frank Lloyd (Cavalcade)
"Come up and get it, Frank". And thus begins one of the worst and most embarrassing moments in Oscar history, one filled with humiliation and a breaking out of egos and fierce competitiveness.
When Will Rogers opened the envelope and said those simple words, he either wittingly or unwittingly (the jury is still out on that one) failed to realize one little detail...there were TWO Franks nominated. Given that there were only THREE nominees this year, it seems a little bizarre to not notice two of them shared the same first name. At least Cukor didn't have to worry about whether he won that night.
Stories have varied as to what exactly happened next. They range from somewhat benign (Frank CAPRA, convinced he was THE Frank that won, began walking to the stage until it was made clear Rogers meant Frank LLOYD and was forced to go back to his seat) to the really sad (Capra, hopping up and down, screaming for the spotlight to turn his way when it was searching for Lloyd). As Capra himself put it, he was forced to take 'the longest, most humiliating crawl' back to his seat, knowing that he not only lost Best Director but had been instrumental in his own humiliation.
I don't dispute this story, but it is strange that Capra made the assumption that he had won when the winners weren't a real big secret. The strict secrecy of the winners was not enforced until I think 1941. Before then, it was hit-and-miss as to whether the press got an advanced list of winners. Therefore, this story may be dubious. I doubt it because it does make Capra look foolish, but I think it would be good to investigate it.
Lloyd shows that the Best Director and Best Picture winners are lining up. It isn't often that the Best Director winner doesn't go on to helm the Best Picture. In fact, it is extremely rare for a Best Director NOMINEE to NOT be nominated for directing a Best Picture nominee. The only time a Director won without the film itself even being nominated was...Frank Lloyd, who won for
The Divine Lady
in 1929. Since then, no other Best Director has won without his/her film receiving a Best Picture nomination (though not always Best Picture itself).
Argo
was the last Best Picture winner which did not have its director (Ben Affleck) nominated, and
Gravity
was the last Best Director winner which did not go on to win Best Picture itself.
Now we go on to MY Choices, No Substitutions.
BEST DIRECTOR
Frank Capra (
Lady for a Day
)
George Cukor (Little Women)
Frank Lloyd (
Cavalcade
)
Cukor, for better or worse, was known as a 'woman's director', which I don't think he liked. It might be that he was just able to direct women better than he could direct men and gravitated more towards stories about women (
Little Women, The Women, My Fair Lady, A Star is Born
). It could also have been a not-too-subtle dig at his homosexuality, with Cukor being about as openly gay as one could be at the time. However, of the three nominated I think Cukor's film is the one that has held up best.
Also, at least there would have been no confusion if they'd picked him...
BEST ACTRESS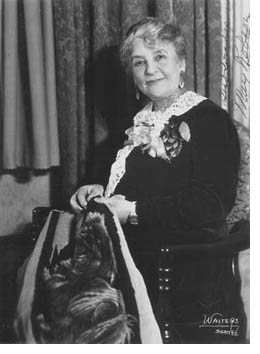 Katharine Hepburn (
Morning Glory
)
May Robson (Lady for a Day)
Diane Wynard (
Cavalcade
)
This decision is based on one simple fact: both Hepburn and Wynard were, well, pretty bad. Again, judging by the clips from
Morning Glory
, Hepburn is simply too theatrical to be believed as this ingénue. Having seen
Cavalcade
, I thought Wynard WAS in a play, with all the theatricality that comes with it. The Academy now is showing that comedies don't win Oscars. You had one comedic performance versus two 'serious' dramas. Odds are that people then, as now, think that funny is easy.
It's enough to make one shake their head, right Kate?
BEST ACTOR
Leslie Howard (
Berkeley Square
)
Charles Laughton (The Private Life of Henry VIII)
Paul Muni (
I Am a Fugitive From a Chain Gang
)
I think Muni did a great job as the wrongly accused man who endures the horrors of the prison system in the Deep South. However, there is something iconic about Laughton as the lusty, wild, portly monarch that one just can't resist.
And Now, MY Choice for the Best Picture of 1933...
BEST PICTURE
42nd Street
Cavalcade
A Farewell to Arms
I Am A Fugitive From a Chain Gang
Lady for a Day
Little Women
The Private Life of Henry VIII
She Done Him Wrong
Smilin' Through
State Fair
It was a choice for me between
42nd Street
and
I Am A Fugitive From a Chain Gang
, the musical with the legendary title number and Warner Baxter's immortal line, "You're going out there a youngster, but you've GOT to come back a STAR!" and the gritty, down and dirty journey into the heart of darkness with the unforgettable final shot of Muni disappearing into the darkness as he, now turned into a hardened criminal on the lam, declares that he'll support himself through crime. I went for the crime drama, but that isn't to say that another time I may yet revisit this decision.
One decision I WON'T revisit is
Cavalcade
, which is one of if not THE worst Best Picture winner in its history. It really was as if they put a camera in front of a stage and literally filmed a play. Boring, creaky, wildly overacted with only a few (VERY FEW) good moments, I think watching
Cavalcade
should replace waterboarding at Guantanamo Bay...thought the former may be MORE torture than any human could endure.
Going for my own choices based on the films released in 1933, I have found a mixture of official and personal nominees in these categories (and I managed to find five nominees for each...isn't that exciting?).
BEST DIRECTOR
Lloyd Bacon (
42nd Street
)
Merian C. Cooper and Ernest B. Schoedsack (
King Kong
)
Alexander Korda (
The Private Life of Henry VIII
)
Leo McCary (Duck Soup)
William A. Seiter (
Sons of the Desert
)
1933 was a great year for comedy, as two of the greatest comedy films (Laurel & Hardy's
Sons of the Desert
and the Marx Brothers'
Duck Soup
) were released, as was one of the all-time great epics (
King Kong
). However, as we know, the Academy doesn't like to laugh, deciding the dry, humorless, and
JUST PLAIN BORING
Cavalcade
was worthy of recognition. Fortunately for us, NOBODY remembers
Cavalcade
, but all these other films are not only remembered but are still watched and enjoyed.
One of the great thrills of my life was to be able to introduce my brother Gabe and my friend Raul Issa to
Duck Soup
when it played at the Plaza Classic Film Festival. Seeing them laugh uproariously at the hijinks of the Marx Brothers gives me hope for the future generations of filmgoers who dare to venture into 'old films'. You just can't really beat Groucho, Chico, Harpo, and even Zeppo in the laughs.
BEST ACTRESS
Margaret Dumont (Duck Soup)
Greta Garbo (
Queen Christina
)
Jean Harlow (
Bombshell
)
Ruby Keeler (
42nd Street
)
Mae West (
She Done Him Wrong
)
Bet you didn't see THAT one coming. You can't have Oscars without a few surprises.
Margaret Dumont was, quite simply, the Greatest Straight Man in the World. Not to contradict the great Groucho, but contrary to his oft-told tale I think Dumont at least was IN on the joke. Maybe she didn't get every joke, but if you look at her performance she knew the part she was playing. Dumont always was the
grande dame
who was never flummoxed by any of the craziness going on around her.
Certainly Groucho and to a lesser degree Chico and even Harpo would insult Dumont but no matter just how they were, the most she ever did was a quick reaction and then move of as if nothing ever happened. I did always wonder just how crazy
she
must have been to have turned to whatever character Groucho was for help or romance. Even though Dumont never let on, one believed she was flattered, maybe even a little smitten, with the Groucho character despite his put-downs.
To keep a straight face at the antics of the Marx Brothers is certainly worthy of recognition.
BEST ACTOR
Leslie Howard (
Berkeley Square
)
Charles Laughton (The Private Life of Henry VIII)
Paul Muni (
I Am a Fugitive From a Chain Gang
)
Claude Rains (
The Invisible Man
)
Paul Robeson (
The Emperor Jones
)
Laughton survives another round, and I would also throw in Rains' iconic turn as the Invisible Man.
And Now, MY Choice for the Best Picture of 1933 (from my list of nominees)...
Duck Soup
I Am a Fugitive from a Chain Gang
The Invisible Man
King Kong
Sons of the Desert
It was an extremely tough choice between two of the greatest films ever made. I kept switching between
Duck Soup
and
King Kong
. In the end I opted for the one that surprised me in terms of emotional impact and special effects. Even after all these decades,
King Kong
still stands as a great special effects film and tale of Beauty and the Beast.
I might revisit this choice again, but one thing is certain: both these films, along with one of my favorite comedies,
Sons of the Desert
, are infinitely better than the Academy's pick. All my nominees are still remembered and being watched.
Cavalcade
is forgotten...as it should be.
I REALLY HATE THAT FILM...
Next Week, the 1934 Oscars.
*As Miss Hepburn appeared at the Academy Awards only once (to present producer Lawrence Weingarten with the Thalberg Award for consistent quality in producing) there are no photographs of her accepting any of her four competitive Oscars.
Spoiled Sport...
They make the CUTEST couple...