Celeste Holm:
Best Supporting Actress for
Gentleman's Agreement
The 20th Academy Awards appear to be keeping a solid tradition of rewarding 'message' pictures: films that had 'something IMPORTANT to say'. There was the issue of alcoholism (
The Lost Weekend
), then there was returning veterans (
The Best Years of Our Lives
), and now, it's anti-Semitism (
Gentleman's Agreement
). This idea that 'message' movies are somehow more artistically important than something that at least is 'charming' is an idea the Academy has stubbornly held onto.
If one looks at the list of just the nominees, we find that the two Christmas-connected movies (
The Bishop's Wife
and
Miracle on 34th Street
) are better remembered than the actual winner,
Gentleman's Agreement
. Sometimes a film or a performance is seen as 'more important' than others, which pushes a particular film or performance to the winner's circle despite the fact that if it were judged objectively, it might not even have been nominated.
We also see that Oscar campaigning has its limits. Shamelessly peddling your wares like a stripper before a group of virgins sometimes gets you the gold (prime example, Crappie Redmayne's Best Actor win...and NO, I WON'T let that go). However, the 20th Academy Awards gave us perhaps one of the most shocking upsets in film history. Making things worse, neither the actual winner or the presumptive winner's actual performances have gone on to be placed in the pantheon of Great Performances.
As always this is just for fun and should not be taken as my final decision. I should like to watch all the nominees and winners before making my final, FINAL choice. Now, on to cataloging the official winners (in bold) and my selections (in red). Also, my substitutions (in green).
THE 1947 ACADEMY AWARD WINNERS
A Gal in Calico
from
The Time, The Place, and The Girl
Pass That Peace Pipe
from
Good News
I Wish I Didn't Love You So
from
The Perils of Pauline
You Do
from
Mother Wore Tights
Zip-a-Dee-Doo-Dah

from Song of the South
I find it very strange that a song can be so embraced, so beloved, so known...and yet the source of said song is all but forbidden. If you're lucky enough to get on Splash Mountain at the Disneyland/Magic Kingdom park, you'll hear
Zip-a-Dee-Doo-Dah
as its theme, as the ride is built around the film
Song of the South
. However, you won't find the actual film on sale at the parks...or anywhere (legally, that is).
Song of the South
, ever since its premiere, was attacked as being racist and glorifying slavery. The fear and controversy over
Song of the South
has essentially blocked the film from being released in America. Roger Ebert, the dean of film reviewers, has sided with the 'no release' crowd. I have a harder time with this. This isn't on the same level as
The Eternal Jew
(whose few minutes that I watched so appalled me I think it should never be released for sale). Disney profits from
Song of the South
via the Splash Mountain ride, and I'm sure there must be some African-Americans who love the ride (despite its source). Granted, maybe they aren't aware of it, since again the film is not available.
It's all a shame really, because the song is still a.) quite good, and b.) simply too much in the American consciousness.
Zip-a-Dee-Doo-Dah
was listed as one of the 100 Greatest Film Songs of All Time by the American Film Institute, not bad for a song from a movie few have actually seen. Besides, when was the last time you hear someone whistle
I Wish I Didn't Love You So
?
George Cukor:
A Double Life
Edward Dmytryk:
Crossfire
Elia Kazan: Gentleman's Agreement
Henry Koster:
The Bishop's Wife
David Lean: Great Expectations
Let me get this out before I go on.
Gentleman's Agreement
is, if not the worst Best Picture winner of all time (and certainly
Cavalcade
gives it a good run for its money), at least among the most boring and preachy. Apparently, everyone in New York City is an anti-Semite (even, apparently, those Jews 'passing' for Gentile). Making things worse in all this is the fact that Kazan, one of the great directors, failed to make almost every actor act human. Everyone was more a type (the noble WASP hero, the woman he loves and shapes to tolerance, the Jewish best friend, the bigots of which there are many, the noble mother). I found all but two of the performances unbearable and dull. Why Kazan was singled out when David Lean brought real life into what I think of as one of Dickens' more dull stories (I've tried to read it three times and couldn't get through it) I have no idea. I suspect the fact that Kazan was American and Lean British had something to do with it.
It would take a generation before the Academy equated British with 'talent', an equation Crappie Redmayne used to his advantage.
Michael Powell & Emeric Pressburger:
Black Narcissus
David Lean:
Great Expectations
George Seaton:
Miracle on 34th Street
Jacques Tourneur:
Out of the Past
Orson Welles: The Lady From Shanghai
I think it's only with the benefit of hindsight that we see the Academy is shockingly myopic when it comes to recognizing true greatness. While we still carry on with the dull
Gentleman's Agreement
, the pleasant
The Bishop's Wife
, and the still topical but better and watered-down
Crossfire
, some truly extraordinary films and filmmakers were ignored. For me, Welles' directing in
The Lady From Shanghai
(particularly the final shootout at the funhouse) is one of the most extraordinary works of this particular year. Granted, the plot is a little convoluted, but my goodness what a fantastic film.
Ethel Barrymore:
The Paradine Case
Gloria Grahame:
Crossfire
Celeste Holm: Gentleman's Agreement
Marjorie Main:
The Egg and I
Anne Revere:
Gentleman's Agreement
I said that in general, the performances in
Gentleman's Agreement
were as dull as dishwater, with two exceptions. Meet the first.
Holm played about the only real person in the film, one who wasn't just a walking lecture. She was on the good side of the fight against anti-Semitism, and not just because she was the only Gentile who didn't hate Jews or think they were dangerous. She was someone appalled at the bigotry, and who was brave enough to fight it.
What makes the film so bizarre is that in her big scene, where she all but declares her love for Gregory Peck's sanctimonious character, down to where she tells him she doesn't care if he's Jewish or not (he'd been masquerading to see what how hard it was for a Hebrew), he ups and leaves her when he hears the WASP he loves has no problems with Jews living in Connecticut. Seriously, I wanted to whack him upside the head when I saw that.
Kathleen Byron: Black Narcissus
Gloria Grahame:
Crossfire
Celeste Holm:
Gentleman's Agreement
Martita Hunt:
Great Expectations
Natalie Wood:
Miracle on 34th Street
I found it a bit of a struggle to figure out which of the far worthier nominees to actually win. There was Natalie Wood's charming junior cynic in
Miracle on 34th Street
, or Martita Hunt's terrifying turn as Miss Havisham from
Great Expectations
. However, as I thought on it, it was Byron's performance as the sexually starved Protestant nun growing insane in the Himalayas that stood out to me. Maybe it might come across as a bit too wild, but for me, I thought her eventual disintegration was a powerful performance.
Charles Bickford:
The Farmer's Daughter
Thomas Gomez:
Ride the Pink Horse
Edmund Gwenn: Miracle on 34th Street
Robert Ryan:
Crossfire
Richard Widmark:
Kiss of Death
It's a curious choice the Academy made in that Gwenn's performance was for a light film. Perhaps in other years, Ryan's anti-Semitic murderer or Widmark's crazed killer would have gotten the prize. However, that year was the Year of Santa Claus, as Gwenn's pitch-perfect performance as Kris Kringle earned the prize. Upon receiving the Oscar, Gwenn, who at 71 would be the oldest Best Supporting Actor winner until George Burns and Christopher Plummer, quipped "Now I DO believe in Santa Claus".
What makes Gwenn's performance so good is that we really never truly, TRULY know whether this nice old man is indeed THE Santa Claus. He plays it as if he either IS Santa or just BELIEVES he's Santa. We never know completely one way or another, and that is part of the genius.
John Garfield:
Gentleman's Agreement
Edmund Gwenn: Miracle on 34th Street
Everett Sloane:
The Lady From Shanghai
Robert Ryan:
Crossfire
Richard Widmark:
Kiss of Death
First, let me introduce you to the second performance in
Gentleman's Agreement
that was actually good, and that was Garfield's Jewish G.I. who, unlike the self-righteous Peck, can't go back to being Gentile when things get rough.
Having said that, I see no reason to remove Gwenn's charming Jolly Old Saint Nick from the winner's circle. Truly a wonderful performance.
Joan Crawford:
Possessed
Susan Hayward: Smash-Up: The Story of a Woman
Dorothy McGuire:
Gentleman's Agreement
Rosalind Russell:
Mourning Becomes Electra
Loretta Young: The Farmer's Daughter
Campaigning can only get you so far, and this award is perhaps one for the history books.
Rosalind Russell, best known as a comedienne, decided she was going to get an Oscar. Having failed in a comedy (
My Sister Eileen
) and a biopic (
Sister Kenny
), she decided that a good old fashioned heavy drama would get her the prize she so long sought. She wasn't taking any chances either, having hired the same publicity man credited for getting her Oscar rival Joan Crawford her prize for
Mildred Pierce
. Campaigning furiously, perhaps brazenly, Russell made it clear this year was HER year. Most predictors likewise expected her to walk away with the Oscar for the heavy drama
Mourning Becomes Electra
.
Perhaps too heavy; in an infamous moment, when Fredric March opened the envelope Russell began to rise from her seat to begin her triumphant march. Somehow, the Academy didn't get the memo, for in one of the most shocking turns in Oscar history, the winner turned out to be the ONLY person no one expected to have a chance. Out of all the nominees, Loretta Young was the only one nominated for a comedy, yet it was her name that was announced to the stunned crowd. The win was so unexpected even Young was shocked when her performance as a Swedish milkmaid who gets elected to Congress beat everyone out. Ever the classy dame, Russell used her position to begin a standing ovation for a clearly stunned Young.
Proof positive that sometimes all the planning in the world, all the campaigning, can collapse in an instant.
Even more curiously, the Academy's usual penchant for rewarding drunks went wrong this time, so Susan Hayward's boozy broad bombed. Better luck next time, Susan...
Susan Hayward:
Smash-Up: The Story of a Woman
Rita Hayworth:
The Lady From Shanghai
Deborah Kerr: Black Narcissus
Maureen O'Hara:
Miracle on 34th Street
Gene Tierney:
The Ghost and Mrs. Muir
For Heaven's Sake, why oh WHY did they nominate Dorothy McGuire's utterly
dull, dull, dull
performance as the WASP who learns to love the Children of Israel (or at least learn to possibly live with them) when there were just so many much better performances around that year? One is stunned to see that Maureen O'Hara never received a single nomination in her entire career (!) and that Kerr received six nominations and never one once...and yet, there's Crappie Redmayne, touting his Oscar as proof that he's superior to Richard Burton.
Even more astonishing, at least to me, is that Kerr did not receive a nomination for perhaps one of her best performances, as the strict nun who struggles against almost demonic forces she cannot understand, a clash of cultures where her British imperialism leads to ruin.
Black Narcissus
is one of her defining roles, yet it went unrecognized.
Ah, the Academy...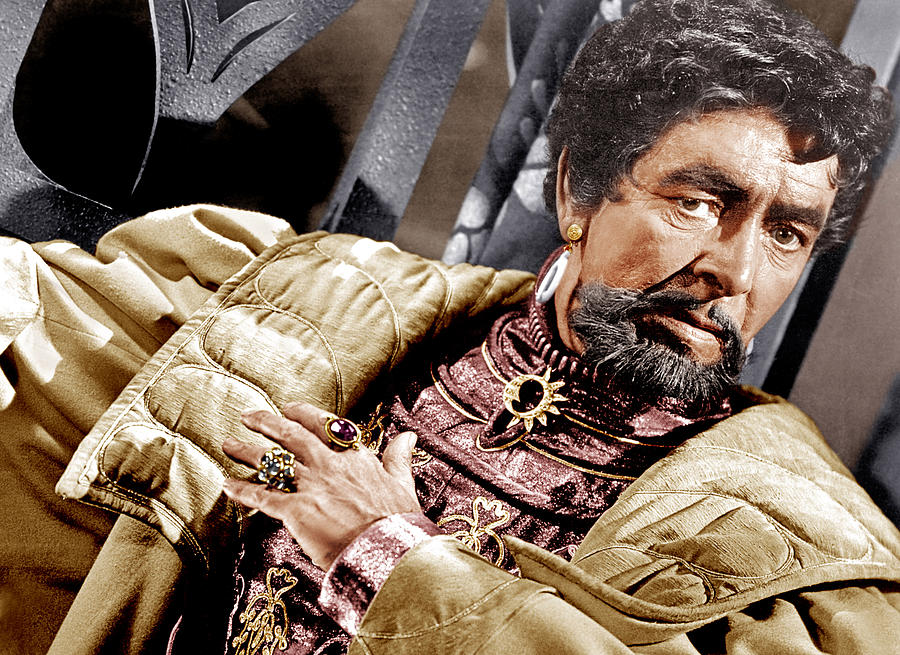 Ronald Colman: A Double Life
John Garfield:
Body and Soul
Gregory Peck:
Gentleman's Agreement
William Powell:
Life With Father
Michael Redgrave:
Mourning Becomes Electra
Well, on this one I can't say I'm particularly wild about any of the nominees. I feel for Powell, perennial loser, and I am starting to lean towards Garfield. For the moment though, Ronald Colman's role as the actor who starts confusing fact with fantasy seems like a good enough and meaty enough role to take the prize.
Richard Attenborough: Brighton Rock
Ronald Colman:
A Double Life
Cary Grant:
The Bishop's Wife
Victor Moore:
It Happened on Fifth Avenue
Robert Mitchum:
Out of the Past
Again, it's surprising what gets recognized and what doesn't. Mitchum's film noir is one of his defining roles, and Grant would never be formally recognized by the Academy apart from an Honorary Oscar (and if anyone can make the case for how Eddie Redmayne is a better actor than Cary Grant, I'm all ears). Now, I'm the Sir Dickie's biggest fan (and I'll get to that when I tackle
Gandhi
, a film longer than India's struggle for independence). Having said that, his Pinkie, the thug who tortures people physically and emotionally, is what I picture while reading the Graham Greene novel. Granted, I haven't finished it, but so far both look quite good.
The Bishop's Wife
Crossfire
Gentleman's Agreement
Great Expectations
Miracle on 34th Street
The studio had a great problem promoting
Miracle on 34th Street
. There was a time when Yuletide films weren't seen as commercial. Even if they were, the film was released, of all times, in MAY! The trailers weren't any more helpful: not discussing the actual plot, they had various people describe it as 'a man's picture' and 'a woman's picture'.
What it ended up being was a perfect family film. It is clever in how it never answers definitively whether the man in the Macy's Department Store was THE Santa Claus or just nuts. It is a sweet, gentle movie, full of insight into the power of faith.
It certainly is also a damn sight better than
Gentleman's Agreement
, a preachy, dull, boring film where the characters are almost all one-note, the story almost silly (really, every single person harbors some anti-Semitism) and the romance (such as it was) was terrible. It's a safe bet that while
Miracle on 34th Street
is still watched (and not the remake with Sir Dickie, I might point out),
Gentleman's Agreement
is mercifully forgotten, remembered if at all only for having won the Oscar.
Just like Crappie Redmayne.
Black Narcissus
Crossfire
The Lady From Shanghai
Out of the Past
Miracle on 34th Street
When one looks at 1947, we see there were so many better films than
Gentleman's Agreement
. There's Orson Welles' noir masterwork
The Lady From Shanghai
, and there's another noir masterwork (
Out of the Past
). However, when all is said and done, I was most stunned by
Black Narcissus
, and not just by the spellbinding cinematography by Jack Cardiff (genius).
This tale of saintly women who fall (in more ways than one) is one of the great films, widely remembered and still with a great power to amaze. Gentleman's Agreement, for its part, has a great power to induce slumber.
Next Time: The 1948 Academy Awards.