Laurence Olivier:
Best Actor for Hamlet
The 21st Academy Awards might just as well been titled 'The British Invasion'.
Hamlet
, the British import that made Shakespeare's tale of the Wavering Dane into a German Expressionist vision, stunned the Americans by winning Best Picture, the first for a foreign production. It would be the first, but not last time, that the Academy would mistake 'British' for 'Brilliant' (it's no use pretending I'm not thinking of a particular redhead when typing that out, and I'm not talking about Damian Lewis or Ed Sheeran, the latter whose popularity escapes me).
Hamlet
not only made history by being the first non-American film to win Best Picture, but marks the first time an actor directed himself to an Oscar-winning performance (a feat to be repeated once more, to more shocking effect). It also is as of today the only Shakespearean adaptation to win Best Picture.
I guess even among the sometimes stuffy Academy, pedigree can get you only so far.
We also get a few notables, particularly that this is the first year Costume Design gets its own Oscar. The woman responsible for this category, Edith Head, fails to win at her first nod, but no worries. She'd go on to win a record 8 times in her legendary career, starting the following year, with
The Heiress
and going up to 1973's
The Sting
, with a total of 35 career nominations.
As always this is just for fun and should not be taken as my final decision. I should like to watch all the nominees and winners before making my final, FINAL choice. Now, on to cataloging the official winners (in bold) and my selections (in red). Also, my substitutions (in green).
THE 1948 ACADEMY AWARD WINNERS
For Every Man There is a Woman
from
Casbah
Buttons and Bows

from The Paleface
It's Magic from Romance on the High Seas
This is the Moment
from
That Lady in Ermine
The Woody Woodpecker Song
from
Wet Blanket Policy
First, I was surprised that
The Woody Woodpecker Song
a.) came from a movie, not the cartoon, and b.) was close to being considered the Best Song of the Year. Nothing against it, but that would have been a curious choice.
Buttons and Bows
, which I think is the second Best Original Song Bob Hope introduced, is a good song. It fits perfectly into
The Paleface
's story of the cowardly Hope who'd rather be in 'civilization' than the Wild West (even if Jane Russell is in the latter). It also has the great songwriting team of Ray Evans and Jay Livingston (Ray & Jay).
However, another song for me is better. It is from Doris Day's first film, which is about mistaken identities and romance...on the high seas.
From
Romance on the High Seas
,
It's Magic
. Music by Jule Styne, Lyrics by Sammy Cahn.
I make no apologies for my unabashed Doris Day-loving. She was my first film love. Many a time would Doris Day appear on Turner Classic Movies when I was in high school, and I was instantly smitten. Fortunately, as time would go on, we'd see she was more than just a beautiful singer. She developed as a real actress, one worthy of respect...and an Honorary Oscar which the Academy stubbornly holds back for no discernable reason (apart from perhaps the fact she is a Republican).
John Huston: The Treasure of the Sierra Madre
Anatole Litvak:
The Snake Pit
Jean Negulesco:
I Remember Mama
Laurence Olivier:
Hamlet
Fred Zinnemann:
The Search
This actually is a solid debate for me, for at the moment, only two of the nominees really strike me as having great directing. The first is Olivier's Expressionist take on Hamlet, the other is Huston's sordid tale of greed among the Mexican mountains. This isn't to say the others are bad, but at the moment I can only imagine Olivier or Huston being the actual Best Director.
With that being said, I'm tipping my hat to Huston because in terms of acting, of story, of pacing, he has the slightest edge on Olivier, who is a bit more traditional with his Shakespearean take. Also, Olivier cut a lot out of
Hamlet
, and while I think the film works fine without it, the purist in me...
John Ford: 3 Godfathers
Howard Hawks:
Red River
John Huston:
The Treasure of the Sierra Madre
Laurence Olivier:
Hamlet
Michael Powell and Emeric Pressburger:
The Red Shoes
Having said that, I still find Ford's directing of this Western take on The Three Wise Men the most moving. It's odd that a John Ford/John Wayne Western can be so emotionally moving that one is pretty much permitted to cry both in sorrow and joy, but this is the greatness of John Ford. It can be seen as a great Western (which it is), but also as great allegory about the true power of love and forgiveness and basic human kindness, even among the bad men.
Barbara Bel Geddes:
I Remember Mama
Ellen Corby:
I Remember Mama
Agnes Moorehead:
Johnny Belinda
Jean Simmons: Hamlet
Claire Trevor: Key Largo
Perhaps Trevor's turn as a boozy failed torch singer involved with a notorious gangster is pretty good. I can't say for certain. I can say that more often than not, when two actresses are nominated in the same category for the same film, they tend to cancel the other out. Again, the Academy loves its drunks. For me though, Simmons' turn as Ophelia, the simple girl driven mad by Hamlet her true love, is still in my memory. It is not easy to play mad, and at times actresses who play Ophelia can really go broad. I thought Simmons played her descent so beautifully, and so tragically.
Barbara Bel Geddes:
I Remember Mama
Marlene Dietrich:
A Foreign Affair
Ann Miller:
Easter Parade
Jean Simmons: Hamlet
Claire Trevor:
Key Largo
I don't think I've found a reason to change my choice...yet.
BEST SUPPORTING ACTOR
Charles Bickford:
Johnny Belinda
Jose Ferrer:
Joan of Arc
Oskar Homalka:
I Remember Mama
Walter Huston: The Treasure of the Sierra Madre
Cecil Kellaway:
The Luck of the Irish
Sure, Huston's performance of the Old Prospector wiser and shrewder than his younger counterparts has become a bit of a cliché (down to his 'Happy Dance' and cackle). That being said, out of the five nominees it's the elder Huston who still is remembered. It's also a solid supporting performance, one that doesn't overwhelm the other two leads while still maintaining our attention. Unlike the others, Howard isn't a fool, especially when it comes to the gold. He'd love the gold, but apparently would be just as happy to see it blow off into the wind.
Montgomery Clift:
Red River
Alec Guinness: Oliver Twist
Oscar Homalka:
I Remember Mama
Walter Huston:
The Treasure of the Sierra Madre
Edward G. Robinson:
Key Largo
That being said, I am still haunted by Alec Guinness controversial performance as Fagin, the unscrupulous criminal in David Lean's version of
Oliver Twist
. Lean and Guinness formed one of the great actor/director partnerships, up there with John Ford/John Wayne, Akira Kurosawa/Toshiro Mifune, and Alfred Hitchcock/Cary Grant & James Stewart. I can see why it is still controversial. My thinking is that no one on
Oliver Twist
deliberately tried to make Fagin into an anti-Semitic figure. However, I can see how Guinness' role (and make-up in particular) could make it appear so. I do remember that at the end, when Fagin was being taken away with an angry mob surrounding him, I actually found him sympathetic and was kind of sad to see him go. Guinness' take on Fagin is radically different than Ron Moody's take in the musical
Oliver!
, where he was more a jolly miscreant than evil being (and more importantly, sang off into the sunset with the Artful Dodger).
I can't remember much of
Oliver Twist
, certainly not Oliver himself. I do remember Guinness, but when discussing
Oliver Twist
, I urge...civil words, civil words.
Ingrid Bergman:
Joan of Arc
Olivia de Havilland:
The Snake Pit
Irene Dunne: I Remember Mama
Barbara Stanwyck:
Sorry, Wrong Number
Jane Wyman: Johnny Belinda
Ah, Jane Wyman...the first Mrs. Ronald Reagan. The Academy can't resist throwing Oscars at people who have physical disabilities (paging Crappie Redmayne), and here we have Wyman playing a deaf-mute. This is actually the first time a leading actress won an Oscar for playing someone with a physical disability (though it wouldn't be the last) as well as for giving a silent performance. To her credit, Wyman said on accepting the Oscar, "I kept my mouth shut. I think I'll do it again". Whether this set the trend to deciding that playing a physically/mentally ill person was a greater acting feat than, say, playing a humble Norwegian mother I don't know. After all, the Academy did also nominate de Havilland for being locked up in a looney bin.
Alas, Irene Dunne. Few people have been as bashed by Hollywood as she. This was her fifth and final nomination, and fifth and final loss. Dunne also never received an honorary Oscar, which is downright shameful. Worse, Dunne had to be rushed to the hospital after posing for the 1985 Kennedy Center Honors group photo, having collapsed during the reception. As a result, she missed her tribute and had to watch it on television.
Oh, did I mention she was openly and stalwartly Republican? Wonder if that had anything to do with her losses and/or lack of an Honorary Oscar or AFI Lifetime Achievement Award (rumor has it that fellow Republican Charlton Heston was denied an AFI tribute due to his politics, though to be fair Doris Day declined their offer).
Irene Dunne:
I Remember Mama
Joan Fontaine: Letter From an Unknown Woman
Judy Garland:
Easter Parade
Vivien Leigh:
Anna Karenina
Moira Shearer:
The Red Shoes
I don't think there is a bad performance in the lot. It's a shame that now, after her death, if people think of Joan Fontaine, they'll think either of her role in
Rebecca
(for which she should have won the Oscar rather than the consolation Oscar for
Suspicion
), or for her bitter lifelong feud with her sister Olivia de Havilland. My instinct though is to single out Fontaine as the tragic heroine with unrequited love for a man who does not remember her. Haven't we all at one point been there?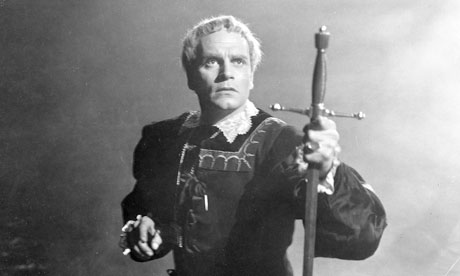 Lew Ayres:
Johnny Belinda
Montgomery Clift:
The Search
Dan Dailey:
When My Baby Smiles at Me
Laurence Olivier: Hamlet
Clifton Webb:
Sitting Pretty
Let's put a few things in perspective. One: the Academy gave Lew Ayres one Oscar nomination, and it wasn't for his heartbreaking performance in All Quiet on the Western Front (a war film that I openly admit to crying at). It did single out Clifton Webb and Dan Dailey, whom I figure are names that are pretty much unknown now.
As I look at the list for this year, Olivier's brooding Danish prince is about the only one that stands out (though I wouldn't dismiss Clift). Olivier may have been too old to play the teenage waverer, but confound it, Olivier WAS Shakespearean acting. Sir Larry loved the Bard, and his successor Sir Kenneth Branagh has done his best to emulate his idol, though unfortunately Branagh, unlike Olivier, has yet to win an Oscar.
Fred Astaire:
Easter Parade
Humphrey Bogart: The Treasure of the Sierra Madre
Montgomery Clift:
The Search
Laurence Olivier:
Hamlet
John Wayne:
Red River
WHAT WAS THE ACADEMY THINKING?
How could this group possibly or even plausibly think Clifton Webb's stuffy Lynne Belvedere in
Sitting Pretty
(which later inspired the
Mr. Belvedere
TV show) or Dan Dailey's hoofer from
When My Baby Smiles at Me
are better and more noteworthy than Humphrey Bogart's searing performance in
The Treasure of the Sierra Madre
? As the down-on-his-luck American whose paranoia and greed become his slow undoing, Bogart is simply astonishing. It is one of the worst oversights in Academy history to have failed to nominate Bogart this year. The fact that we also had Wayne's brutal cattle baron and Astaire's easygoing song-and-dance man ignored for Clifton Webb and Dan Dailey makes us wonder whether the Academy really knows what it's doing.
As if Crappie Redmayne didn't already do that.
Hamlet
Johnny Belinda
The Red Shoes
The Snake Pit
The Treasure of the Sierra Madre
For once, we had at least three really great choices (sorry,
Johnny Belinda
). I narrowed it down to three. I love
Hamlet
(and Shakespeare really) and despite Olivier's cutting of the text on the whole I think his version is brilliant.
The Treasure of the Sierra Madre
was intense, brilliantly acted and directed. Then there is
The Red Shoes
: this great story of the struggle between art and life, filled with simply stunning cinematography by the brilliant Jack Cardiff. It's a story that can be appreciated on two fronts: as the straightforward story of the prima ballerina struggling between the two men in her life, or as allegory of the sacrifices one must make for their passion, including a chance for love. In either case, with some struggle and just a hint of hesitation, I pick
The Red Shoes
as the Best Picture of 1948 from the nominees.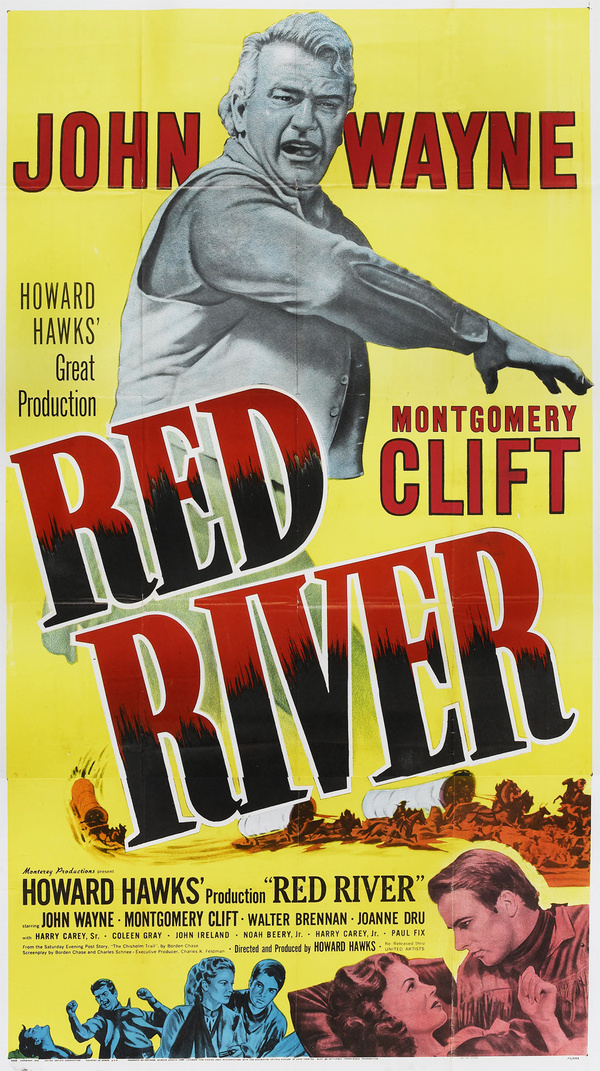 Easter Parade
Hamlet
Red River
The Red Shoes
The Treasure of the Sierra Madre
Out of the films of 1948, I can find more examples of great filmmaking. There's the charming
Easter Parade
, and there's the Western
Red River
. What I admire about
Red River
is that in a rare turn, John Wayne shows a truly dark and dangerous side. It's more than just an action picture about a cattle drive, it's a struggle between men over what being a man is about. Maybe I'll change my mind later, but for now, I would pick
Red River
as the Best Picture of 1948.
Next Time: The 1949 Academy Awards