NOCTURNAL ANIMALS
Nocturnal Animals
is the second film by couturier Tom Ford, and it expands on the motifs he brought to his debut film,
A Single Man
. I did not like
A Single Man
apart from Colin Firth. With
Nocturnal Animals
, I don't even have a good performance to elevate my enjoyment, just a hollow, pretentious piece of self-important rubbish that within four minutes in I regretted watching.
The film is essentially split into two sections that mix and mingle. The main story is on Susan Morrow (Amy Adams), a not-successful artist and museum owner. Her second marriage to financier Hutton (Armie Hammer) is eroding due to his infidelities which Hutton deludes himself into thinking Susan knows nothing about. She now spends the weekend alone, and at this time receives a galley of her first ex-husband Edward Sheffield's (Jake Gyllenhaal) newest novel,
Nocturnal Animals
. The novel is overtly symbolic, starting with the title, which was his nickname for her.
As she reads
Nocturnal Animals
, she can see elements of their life together creeping in through his prose on his remarkably dark and dour story of rape and revenge.
The second story is
Nocturnal Animals
the novel itself. A combination of
Straw Dogs
and
Deliverance
, it's the story of meek math teacher Tony Hastings (Gyllenhaal again), driving through West Texas with his wife Laura (Isla Fisher) and daughter India (Ellie Bamber). They come across a group of yahoos who force them off the road and mercilessly harass them.
The leader of this redneck gang is Ray Marcus (Aaron Taylor-Johnson), who with his two other hoods eventually abduct Laura and India away from Tony, who is forced to drive his own car out into the desert. Eventually, he manages to survive, but the whereabouts of Laura and India are unknown.
Detective Bobby Andes (Michael Shannon) eventually gives Tony the bad news: Laura and India have been raped and murdered, and he has to identify the bodies found lying ever-so-artfully on a red couch, their matching red hair serving as de facto shrouds.
Did I mention Susan and her daughter Samantha Morrow are also redheads?
Eventually, the literal dying detective and our meek math teacher do track down Ray Marcus and enact their own brand of Texas justice, but at a high price for them all.
As for Susan, she is emotionally devastated by the novel and the memories of her past it sparks. She asks via email to see her ex, and he messages her back. However, she is stood up, and our story ends.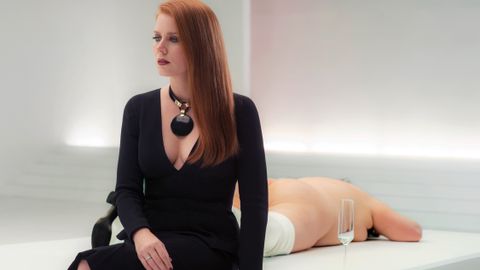 Nocturnal Animals
is a film that drowns in its own artistic aspirations and pretensions, a film so obsessed with being 'art' it slowly, methodically shifts into parody. From its opening title sequence featuring fat naked women wearing majorette hats and pompoms complete with slow yet grandiose music by Abel Korzenioski to its use of colors, everything in
Nocturnal Animals
smacks of deliberate artifice.
Nocturnal Animals
is one of those films where I get what they are going for: some grand 'eloquent' statement drenched in visual luxury, but the "LOOK AT ME, I'M
ART
!" makes
Nocturnal Animals
ironically less artsy and more insufferable.
Perhaps it is because Ford also adapted the Austin Wright novel
Tony and Susan
as well as directed it that he made a decision that kept me at a greater distance. As I knew the Tony story was a novel, I was never invested in his plight and tragedy. I separated that part of the film from my mind, so the 'tragedy' of the rapes and murders did not hit me at all because I knew it was fiction.
It may also have been that Ford seemed dead-set on making the most artsy-looking rape and corpses in film history. Of particular note is when we find the bodies of India and Laura, so stylized and artistically posed that it looks almost obscene. He then echoes that exact pose for Samantha's daughter and her own nude male lover when Samantha calls her, the impact of reading the rape of the redheaded girl so jolting to her (even if it wasn't jolting to me).
Ford's obsession to create visual moments throughout both stories became an irritant.
I genuinely am puzzled as to why
Nocturnal Animals
was so lavishly praised. I figured this film is right up Jake Gyllenhaal's street, for it allows him to play two characters even if the majority of the film he's Tony. I give him credit in that his appearance looked different when he was Edward (all nice and shiny and beautiful) and when he was Tony (all haggard and forlorn), though his 'Texan' accent as Edward was laughable.
Part of me senses that Gyllenhaall has been doing everything but sleep his way to a second Oscar nomination: the artsy film (
Nocturnal Animals
), the psychological thriller (
Nightcrawler
), the inspirational sports film/physical transformation role (
Southpaw
), the 'inspirational biopic' (
Stronger
). Each Oscar-bait role has flopped either financially or in getting him in the running, so perhaps this is why he's opted for a comic book movie at this point in his career (
Spider-Man: Far From Home
). Yet I digress.
It was a good performance, but I still sensed it was a performance. Adams was worse only insofar as there was a deliberate artifice to it all, as she did nothing but look somber, almost always in black. Taylor-Johnson went all over-the-top as our crazed redneck. He had competition from the usually-reliable Laura Linney as Susan's rich bitch mother.
Shannon was the best of the lot as our stoic version of Tommy Lee Jones' character in
No Country for Old Men
.
Nocturnal Animals
, early on in the 'book' section, had me shout "CRASH! CRASH!" before our redneck rampage even began. If I had been Susan, I'd have found Edward and thrown the tawdry story in his ever-so-pretty face.
Pretentious.
DECISION: F