VALIANT
Starting up a professional sports team is a daunting task, especially if that team is going straight to the major league level. Add to that, you're starting a major league in a city that has no major sporting history PLUS having that sports team be in a sport that is incongruous to the city it is in. It sounds like either a joke or a disaster waiting to happen. All that was encountered by the National Hockey League expansion team of the Vegas Golden Knights. Everything about the Golden Knight's inaugural season would have been hard enough, but then the Golden Knights have the tragic burden of the Route 91 Harvest Festival shooting just as they are about to open for business.
Valiant
, an NHL Original Productions Films documentary, chronicles both the rise of the Golden Knights and Las Vegas' own resurrection from tragedy, a city and a team finding strength in each other to share terrible grief and redeeming triumph.
Valiant
begins with how businessman Bill Foley got the idea to have an NHL team in Las Vegas. No one gave his idea any chance of succeeding. The first Golden Knights players were castoffs from other teams, with only defense Deryk Engelland (who had made Las Vegas his home prior to his joining the team), winger James Neil and goalie Marc-Andre Fleury anything close to name players. Las Vegas, it was feared, would not be either able or willing to have actual residents support such an endeavor. It did not help that the preseason games, while well-attended, showed a team predicted to be dead last by the end of the season.
Despite all naysayers, the Golden Knights were going to bring Las Vegas glitz to the NHL and were set to have their home opener on October 10, 2017. However, on October 1, 2017, the Route 91 Harvest Music Festival was attacked by a lone gunman firing from high above the Mandalay Bay Hotel & Casino. When it was all over, 58 people were murdered and a community was left devastated and traumatized.
Under these awful circumstances, the Golden Knights soon became beloved by the community both for their quiet work and for bringing a grit and determination to win for this, their home too. Soon, "Vegas Strong" became not just a mantra but a rallying cry, as this team made an improbable, almost miraculous rise to not just a winning record but to the Stanley Cup Finals, unheard of for a debuting expansion team. Through it all, the Golden Knights never forgot the Route 91 victims, culminating in their retiring of the Number 58 in honor of the 58 killed.
As the season progressed, the city embraced the Golden Knights with a fervor that became quasi-religious. It went beyond Golden Knights caps and jerseys or even flags and tattoos. When game tickets became too expensive, the free practice sessions, particularly the post-season practices, were the metaphorical hottest tickets in town. Ultimately, while their extraordinary run to the Stanley Cup saw them fall to the Washington Capitals, the Golden Knights were victorious, earning the eternal love of a city devastated by loss but united in hockey.
One does not usually think of Las Vegas as a city of second chances, but
Valiant
showed that it can be. It certainly was for the inaugural players, who were not deemed valuable enough by their former teams to protect from the expansion draft. While they were in a National Hockey League team, the experience of being drafted into said team was not a happy one.
It again did not help that the team as a whole was written off before they even hit their first preseason home game. The sports pundits were certain the Golden Knights would make literal spectacles of themselves, that they did not have the acumen or the genuine fan support to do much more than provide amusement. It's a wonder no one declared the inaugural Golden Knights to be an elevated Ice Capades in Las Vegas' gaudy style.
Valiant might have ended up a mere chronicle of an inaugural season with all its pitfalls and perils, but the Route 91 Harvest Festival shooting altered it in ways no one could have imagined. We get a lot of behind-the-scenes footage along with interviews from players, Foley, then-General Manager George McPhee and the family of one of the shooting victims, Neysa Tonks.
Surprisingly, there were no or very few if any interviews with actual Inaugural Season Seat holders, at least that I can remember. This does make me think that
Valiant
has a hard time balancing that story about the Golden Knights first season than on their impact on the community coming together after the horror they endured.
Valiant
does blend those stories but at times it seems a bit more involved in chronicling their surprising record than on how they were both a balm and outlet for the traumatized community.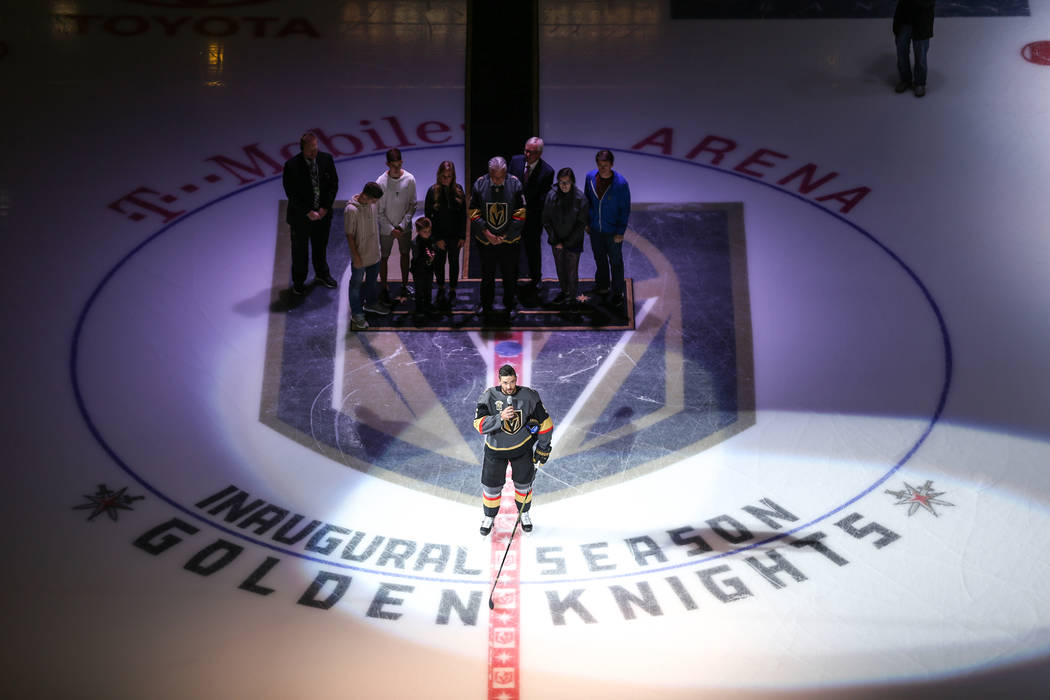 We get a chronicle of the curious case of their succession of goalies getting injured than on getting more season seat holders or even regular Golden Knights fans to give their perspectives on such things. We hear from the players but not as much from the fans. Didn't any of them have any thoughts on how goalie after goalie kept getting injured?
This, however, is a minor quibble, for on the whole
Valiant
is a strong, respectful film on a team, a city and the bond that ties them together and for (hopefully) always.
As of this writing, the motives in the Las Vegas mass shooting have not been discovered. Perhaps it never will be. However,
Valiant
does not concern itself with the crime itself. Rather, it is a portrait of a community and a team that went from the depths of tragedy to the heights of victory.
Go Knights Indeed...
DECISION: B+