Emil Jannings:
Best Actor for The Last Command and
The Way of All Flesh
TUESDAYS WITH OSCAR: 1928
In the first of our
Tuesdays with Oscar
series, we go back to the very first Academy Awards in 1928. It's a curious thing that the Academy Awards were not the spectacle they have become. In fact, there wasn't all that much interest in the Oscars (as they were later to be called) for some time.
The winners had all been announced months earlier, and some, like Herr Jannings, didn't even think it worth their time to attend the celebratory dinner. He got his Oscar, then left to his native Germany after talking pictures made his German accent highly noticeable. It's a good thing he kept it though: the story goes that he used it to identify himself after the fall of Nazi Germany, with whom he had worked with in their film industry. A terrified Jannings is alleged to have walked to American troops waving his Oscar before him, almost as a protective talisman to show he once had been in America and wasn't 'the enemy'.
Now, it is a strange case this brief review of my own choices. First, there are certain categories which no longer exist. The most obvious is Best Title Writing, since the next year sound basically would kill off silent films. The Academy also had separate categories for Comedy and Drama Directing, which are now lumped into one Best Director.
Then there is the issue of Most Unique and Artistic Production. This was a separate category from Outstanding Production, and it has bedeviled retrospectives ever since. The winner of that category,
Sunrise: A Song of Two Humans
, is sometimes listed as a Best Picture winner alongside the Outstanding Production winner,
Wings
. The following year, the Academy created ONE Best Picture category, and decided
Wings
was the Best Picture of 1928, so poor
Sunrise
was left out. For this retrospective, I'm going with the Academy and choose to think
Sunrise
received an Honorary Oscar.
HOWEVER, I'll throw in all six nominees from both Unique and I guess Non-Unique along with all five Best Directors and see what happens.
As always this is just for fun and should not be taken as my final decision. I should like to watch all the nominees and winners before making my final, FINAL choice. Now, on to cataloging the official winners (in bold) and my selections (in red).
THE 1928 ACADEMY AWARD WINNERS
BEST PICTURE
The Racket
Seventh Heaven
Wings
Of the three choices I figure each is pretty good.
The Racket
and
Seventh Heaven
both have a 100% rating from Rotten Tomatoes,
Wings
a little behind at 97%. I've seen
Wings
, and think it is a fantastic film.
UNIQUE AND ARTISTIC PRODUCTION
Chang: A Drama of the Wilderness
The Crowd
Sunrise: A Song of Two Humans
Here, I find myself spoiled for choice. We have
Chang
(at 100%),
The Crowd
(at 95%) and
Sunrise
(at 98%). In short, each of these films is considered to be extraordinary. I really haven't heard anyone say anything negative against any of these films.
BEST ACTOR
Richard Barthelmess (
The Noose
and
The Patent Leather Kid
)
Emil Jannings (The Way of All Flesh and The Last Command)
Sadly,
The Way of All Flesh
has lived up to its title and gone 'the way of all flesh'. Fortunately, it is the only Academy Award-winning performance which is lost, and I think no other nominated performance has been lost (though don't hold me to that). In regards to Barthelmess or either of his films, I don't think anyone remembers them. That to me is important. Sometimes if a nominated performance is better remembered than the winning one, then history may have given a different verdict than the Academy. That, however, is for another time. For the moment in this case, I'm siding with the Academy.
However, I am adding my very first Shadow nominee: George O'Brien in
Sunrise
. The fall to temptation from The Woman From the City to his eventual redemption thanks to the love of The Wife is a moving, heartbreaking, and emotional performance (emotional in the good sense).
BEST ACTRESS
Louise Dresser (
A Ship Comes In
)
Janet Gaynor (Seventh Heaven,

Street Angel

, and Sunrise)
Gloria Swanson (
Sadie Thompson
)
It seems a cheat to have one person nominated for THREE performances while the other two nominees only have one to their name. However, in terms of performances I'm going to err on the side of caution and give the edge to Gaynor. HOWEVER, I'm giving it for ONE performance, not three.
I also add another Shadow nominee: Clara Bow in
Wings
. In turns flirtatious and innocent, the It Girl gave a beautiful performance worthy of recognition.
BEST DIRECTOR, DRAMA
Frank Borzage (Seventh Heaven)
Herbert Brennon (
Sorrell and Son
)
King Vidor (
The Crowd
)
I don't think anyone remembers Sorr
ell and Son
, so the battle would be between Borzage's well-respected
Seventh Heaven
and Vidor's equally well-respected
The Crowd
. The Academy opted for Borzage, and I think part of it was because MGM's Louis B. Meyer (which made
The Crowd
), did not like its gritty realism or downbeat ending. With that, Borzage may be the first person to win thanks to a negative campaign against another nominee.
BEST DIRECTOR, COMEDY
Lewis Milestone (Two Arabian Knights)
Ted Wilde (
Speedy
)
There has been, every so often, a push to get Comedy and Drama categories for the Academy. It's interesting that in its inception, Directors were split between these two genres. For the only time in its history, an Academy Award was presented specifically for a comedy. In future years, the number of actual comedies to win Best Director would be few and far between.
And now, the fun part. The somewhat chaotic nature of the first Oscars had two categories for Director and Picture. I have decided to lump them together as if the current rules of one category for each existed. With that, my own choices for Best Director and Best Picture of 1928.
BEST DIRECTOR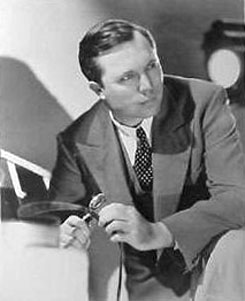 King Vidor (The Crowd)
Frank Borzage (
Seventh Heaven
)
Herbert Brennon (
Sorrell and Son
)
Ted Wilde (
Speedy
)
Lewis Milestone (
Two Arabian Knights
)
First, the failure to not nominate F. W. Murnau for
Sunrise
is the very first Oscar snub. I therefore make him a Shadow Nominee. However, since I can't unilaterally add his name, I go with the ones I have.
Speedy
has a special place in my heart because it is a film starring one of my all-time favorites, Harold Lloyd (and frankly, if I had chosen Best Comedy Director, Wilde would have won over Milestone since
Two Arabian Knights
isn't as well-remembered as
Speedy
). However, of the five men here, I think Vidor has been the most influential and
The Crowd
the most admired in terms of directing. Hence, my choice.
Vidor would receive five Academy Award nominations for Best Director, losing all five times. He did receive an Honorary Oscar in 1979, three years before his death.
And now, My Choice for the Best Picture of 1928 is...
BEST PICTURE
Chang: A Drama of the Wilderness
The Crowd
The Racket
Seventh Heaven
Sunrise: A Song of Two Humans
Wings
1939 is regarded as the Greatest Year in Film History. I agree: each of those year's Best Picture nominees are extraordinary. Similarly, 1928 has a whole slew of great films, each regarded as a masterpiece (an idea I won't argue with). However, which of these films truly is the Greatest of Them All?
For me, again historic memory plays a factor.
Sunrise
is still regarded as a milestone of American cinema, and I say 'American' because the director was German and
Sunrise
plays like a great German Expressionist film. Here, we have the classic struggle of the Academy: between the 'artistic' and the 'epic'. Sometimes the Academy chose a film that is 'art' even if time has weakened the film's influence or artistic merits. Sometimes it chose the biggest film over smaller productions of greater quality. I don't argue
Wings
selection: the film is still wildly impressive with its camera work (the flying scenes especially so).
However, on the whole of all the nominees, for the moment, my choice is
Sunrise: A Song of Two Humans
, which is largely forgotten by the Academy.
Next week, the 1929 Oscars.