Carry On Fielding...
Tom Jones
is a comedy, a romp that mixes ever-so-proper British class sense with Swingin' London sensibility. It never takes itself seriously. That may be why I didn't exactly dislike
Tom Jones
but I never could get into its self-consciously zany spirit.
Tom Jones
I figure was wildly outrageous when it premiered, and I think it has aged a bit since then. While it isn't a terrible film, I could never work up the enthusiasm for it either.
Tom Jones (Albert Finney) is a founding, a child of unknown parentage. All that is really known is that this child, found in Squire Allworthy's bed, is the son of Jenny Jones (Joyce Redman), house servant of said Squire Allworthy (George Devine) and the barber Mr. Partridge (Jack MacGowaran). Mr. Partridge denies he is the father, but no matter: he is disgraced nonetheless. Squire Allworthy decides he will raise this Tom Jones as his own, and he grows in strength and beauty. Although he is a very randy fellow (falling into the arms of almost any available woman, who willing fall into Tom's arms), he is at heart a very good man. Not so the Squire's nephew Blifil (David Warner), who outwardly is very moral and devout but who has a heart of stone and has secret lecherous desires. Making things more complicated is that despite Tom's many romps his heart belongs to only one: the beautiful, pure Sophie Western (Susannah York), daughter of another squire, Squire Western (Hugh Griffith). Being a bastard, Tom cannot marry a woman of quality. What's a boy to do?
Well, if you're Tom Jones, that means enjoy the pleasures of the company of ye olde town wench Molly (Diane Cilento), who ends up knocked up (fortunately, we discover it isn't Tom's...she is the local trollop after all). Still, there is no chance of Tom marrying the beautiful Sophie, and after Squire Allworthy's sister dies, only Blifil knows a secret via a letter that he has been instructed to give to his uncle but which he keeps secret.
Squire Allworthy comes close to death, and he opts to give Tom some money and a chance to make his own life. Tom has many adventures and romps, mostly involving getting into and/or out of a woman's bed. Among them is the luscious Mrs. Waters, with whom he shares a highly erotic meal. Sophie, horrified at the prospect of having to marry Blifil, flees, aided by her cousin Mrs. Fitzpatrick (Rosalind Knight), who is also running from her violent husband. It's a wild chase of Tom being chased by Squire Western, Sophie being chased by her aunt Miss Western (Edith Evans), all these groups missing each other by the narrowest of margins.
Tom and Sophie separately get to London, where Tom (who still loves Sophie) nevertheless becomes a virtual gigolo to the Notorious Lady Bellaston (Joan Greenwood). Tom is framed for attempted robbery and sentenced to hang, but we get a good final twist: the contents of the letter are at last revealed. Tom is not Jenny Jones' child. Instead, he is the child of Squire Allworthy's sister!
Thank Heavens for that, since Tom had very little problem going to bed with Jenny Jones, who is also the luscious Mrs. Waters! That's right: thanks to this twist, we avoided the comedic aspects of incest!
Now discovering that Tom is his true heir, Allworthy gets a pardon and rushes to the prison, disinheriting Blifil in the process. Unfortunately, Tom is already literally 'hanging about' until at the last possible moment, it is Squire Western who charges in to rescue Tom. Now that Tom is heir to a squire, all marriages are possible, including to the beautiful and pure Sophie.
I have a resistance to films that are conscious of how 'clever' they think they are, and
Tom Jones
is such a film. Everything about it to me tries so hard to be 'funny' that I found it more trying than amusing. It starts with the famous opening, done in the style of a slapstick silent film punctuated with John Addison's score (and the voice-over narration by Micheal Mac Liammoir adds to its own 'zaniness'). We get more indications that Tom Jones is suppose to be funny with its sped-up camera work at various points (the opening, a chase where Squire Western comes close to catching Tom with his pants literally down and his daughter--though not together), and at other times when the characters are fully aware that they are in a movie (Tom at one point covers the camera with his hat, and at other times they speak directly to us, Mrs. Waters summing up the goings-on before people attempt to rescue Tom from the gallows).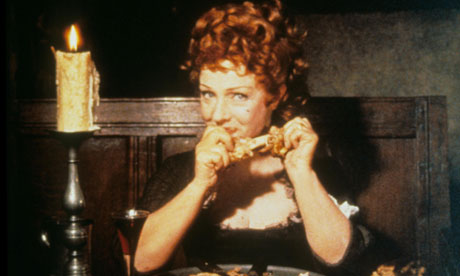 New meaning to 'eating out'...
All these details I figure must have been daring if not outrageous in 1963, but I think they look dated now.
Tom Jones
is stuck between being a period costume film and being a farce, and as I watched I figured it played more as parody of stuffy old period films with a rollicking bawdy story than a film whose characters and situations I actually cared about.
In terms of performances I think they were excellent. Albert Finney is a great Tom, dashing, daring, lusty and unapologetic about it. However, I never believed he could be such a slut and still have this 'pure love' for Sophie. He is a man who loves sex regardless of who it is: an older woman, an easy woman, a woman whom people think is his own mother. "I am used, Madam, to submit", Tom tells Lady Bellaston. "If you take my heart by surprise the rest of my body has the right to follow."
York is also excellent as the pure Sophie, who mercifully is not as dim as her character might have become. I wasn't too impressed with Griffith's broad manner as Squire Western.
The performances are good and I can't fault them for knowingly playing things for laughs. However, for me I think
Tom Jones
plays and thinks it's funny but I don't remember laughing (the idea that Tom may have slept with his mother doesn't make things better, I should add. Granted, we know she isn't, but still...).
Perhaps the big surprise is in that John Osborne, who originated the 'angry young man' with his plays
Look Back in Anger
and
The Entertainer
, adapted this wild romp. Who figured he would have ANY sense of humor, let alone one so knowing of its own lunacy? It does have lines that even today are quite daring and I daresay wittily subversive. After one romp, Tom begins looking for a cat. One of the characters asks, "Where's Tom's pussy?" Read into that what you will.
I have never been a fan of voice-overs, and
Tom Jones
did hand over too much time to them. The deliberate sped-up chases got more on my nerves than make me laugh. For me,
Tom Jones
is a curious little film (except for length, for it is a little over two hours), something that in its time must have seemed zany and even avant-garde but now looks a bit dusty, even old-fashioned. Granted, seeing a fight break out to
Our God Our Help in Ages Past
is amusing, but on the whole I don't think I'd like to have another romp with
Tom Jones
.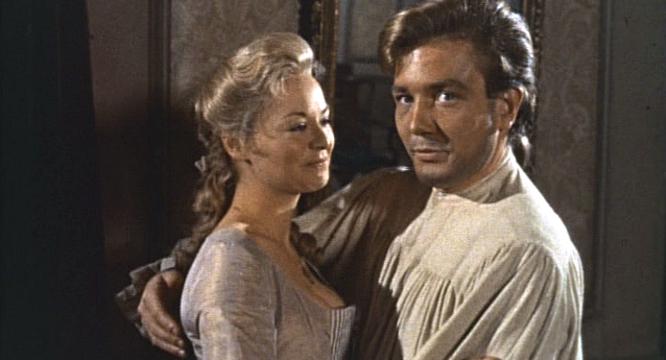 Tom Jones:
Sex Bomb
DECISION: C-
1964 Best Picture Winner: My Fair Lady