It may be that
Turbo
and
Planes
seem to have a similar theme: the main character who is naturally slow who yearns to be fast and ends up being just that. I found
Turbo
pretty, harmless, I'm sure appealing to little, little, ones. I can't say I was overwhelmed or offended by
Turbo
, at least much either way, though there are things to object to. However, I don't think I will remember the movie nor have particularly fond memories long afterward watching.
Theo, who prefers Turbo (Ryan Reynolds) is a garden snail who is mad about auto racing. He imagines himself a great racer, and his hero is Guy Gagne (Bill Hader), 5-time Indy 500 champion. "No dream is too big, and no dreamer too small," Guy tells us. Turbo pushes himself to be the fastest snail in the world, going for a personal best of seventeen minutes in a race against himself. Still, despite his great dreams, they are deferred while he works at The Plant (a literal plant, in a vegetable garden). His brother Chet (Paul Giamatti) does his best to steer him right, reminding Theo he is a snail, not geared towards speed. Theo, or Turbo as he prefers, will not be dissuaded, and he wanders off towards the freeway. Here, looking at all the speeding cars, he wishes to be fast.
Wish granted. Through a series of tumbles he lands in front of a racing car, then is sucked into the engine where, Spider-Man style, he is transformed into the fastest snail in the world. Turbo eagerly races back to the Plant, but his actions cause so much chaos that Theo and Chet are exiled. Chet is taken by a crow and certain death, but Turbo saves him. This attracts the attention of Tito (Michael Pena), who hosts snail races in the depressed Van Nuys shopping strip he and his brother Angelo (Luis Guzman) anchor in their
Dos Bros Taco Stand
. In this strip mall there is a manicurist, Kim Ly (Ken Jeong), mechanic Paz (Michelle Rodriguez), and Bobby (Richard Jenkins), a toy shop owner. Turbo's speed astonishes not just the humans, but the other snail racers: the leader Whiplash (Samuel L. Jackson), and his crew, Smooth Move (Snoop Dogg), Burn (Maya Rudolph), Skidmark (Ben Schwartz), and White Shadow (Michael Patrick Bell).
Tito gets the incredible idea of using Turbo as a draw to the Dos Bros, which appalls Angelo. Even more horrifying, Tito (with Turbo's subtle suggestion) gets the idea of entering Turbo in the Indianapolis 500! Somehow, Tito gets Bobby, Paz, and Kim Ly to go along with this and put up the entry fee, while a frustrated Angelo is left waiting for his brother and the taco truck. After some opposition, Indy 500 officials, with Guy's help, get Turbo entered. Of course, we find that Guy is not worthy of Turbo's hero worship, and with Chet looking on, the race between the snail and the Frog goes down to the wire.
Who will win?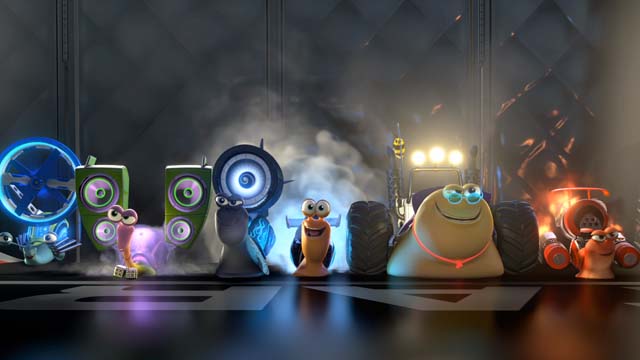 Turbo
wants nothing more than to please, and I suppose if I were not too demanding, it does. It is very pretty-looking. In particular there is the opening sequence when Turbo dreams of racing, and when he looks down on the Interstate. Visually
Turbo
has a lot of pretty colors which I found entertaining.
In terms of story Darren Lemke, Robert D. Siegel, and director David Soren made some questionable choices. One thing that did bother me was the stereotypes we were treated to. In particular there was Jeong's 'little old Korean manicurist lady', complete with thick accent. While the Dos Bros didn't go into stereotyping Hispanics, the idea of the Mexicans selling tacos and being in a slum part of California didn't sit too well with me. It wasn't terrible or insulting, so that's a plus. However, the duality of the Tito/Angelo and Turbo/Chet storyline wasn't as fully explored as perhaps it could have been.
I also thought that the story had some good ideas (I chuckled at 'the Plant' and with the tea kettle serving as the work whistle) and some bad ideas (having Guy turn out to be less than heroic is clichéd). It also is a bit curious that the conversion of Theo into Turbo is deliberately reminiscent of
Spider-Man
, or at least it works out to evoke it so much that it must have been deliberate.
In terms of performances, I like Reynolds as Turbo. He was appropriately cute and eager as the snail who dreams of being more than he (and the other snails) think he should be. Giamatti plays his typical nervous man but does it well. I enjoy Hader and think he's extremely talented, but I don't think Turbo challenged him that well. However, it is nice to a.) see Jackson come close to spoofing his persona, particularly in a family film (as does Rodriguez), and b.) see Snoop Dogg show a lighter side, showing he is in on the joke.
Turbo
is not taxing, and kids will enjoy the colors and the positive message to pursue your dreams regardless of obstacles. It's a pretty, cute film, and those with kids will be pleased with it. It isn't terribly original, or terribly deep, but for a pleasant afternoon and a way to keep kids entertained,
Turbo
is a winner.
DECISION: C+