Yeah, yeah. I know I'm a year behind, but since I never got around to it and have some free time I decided to have my Ten Best Films of 2012. Again, a ranking of all 92 films seen from that year so far. Sadly, I still haven't gotten to some of the screeners from last year. I felt so overwhelmed with them that I was simply unable to watch them all.
All films were given a grade of A to F, then separated from within each grade. With that, here we go.
Num. 10
Life of Pi
was suppose to be unfilmable. That I do not know not having read the novel. The actual film itself is a beautiful-looking one, with amazing special effects (only rarely do we think 'Richard Parker' is not an actual tiger). The film holds together remarkably well and flows (no pun intended) to being both believable and beautiful. I know some people dislike the more mystical elements in
Life of Pi
(in particular the 'so it is with God' explanation for Pi's adventures), but on the whole I found it all so beautiful and bright.
Num. 9
I have never been a fan of Wes Anderson, finding his films self-consciously whimsical to the point of idiocy. However,
Moonrise Kingdom
won me over, particularly because it is from a child's point of view. Granted, the two children are a bit too intellectual for their age, but given how nutty the adults were, they came across as the more rational of the two groups.
Moonrise Kingdom
embraces its own wonderfully weird world and even Anderson's quarks (his horizontal camera work, his centering of the characters) didn't get on my nerves.
Num. 8
Ruby Sparks
is a variation of the Pygmalion myth, but it is held together by its own whimsy and the performances of Paul Dano and Ruby Sparks' writer Zoe Kazan. It's an offbeat love story that despite its oddball premise (a writer literally and unwittingly creates his own dream girl) the whole thing works due to both the acting and the genuinely sweet, I daresay realistic love story of how sometimes the people we fall in love with are more images of what we'd like than the actuality of who they are.
Num. 7
For someone who has a reputation of finding romantic comedies unappealing, I notice that a lot of the Top Ten List has at least three of them.
Salmon Fishing in the Yemen
enchanted me from its beginning, as Ewan McGregor and Emily Blunt (one of my favorite actors and someone who is hit and miss) share beautiful and believable moments where we see these two genuinely nice, ordinary people fall in love. Kristin Scott Thomas here is also capable of handling gentle comedy. It's interesting that Scott Thomas is someone who is as good as her material and director. In
Salmon Fishing in the Yemen
, she is wonderful. In
Only God Forgives
, she is unforgivable. While the story is again a bit far-fetched (the title says it all), it feels so natural that you believe it all and for myself, I genuinely liked the characters, and once you like the characters, you root for them and are drawn to the story.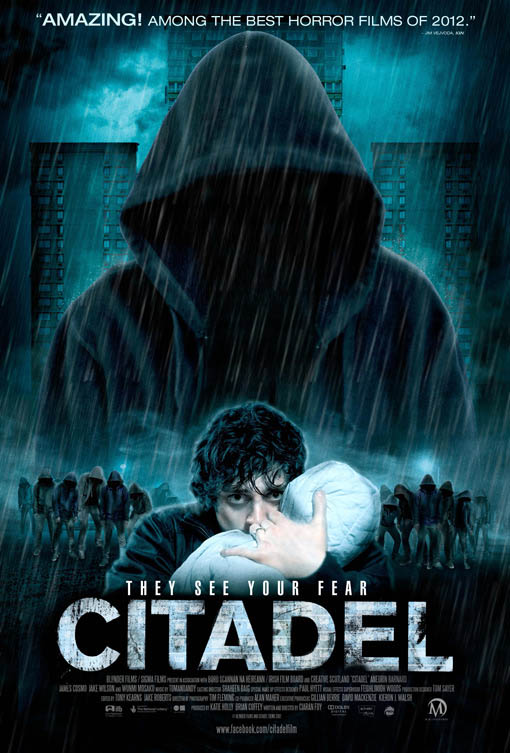 Num. 6
Citadel
was trashed by critics and the public at large, but I don't understand why. I tend to dislike horror films, but I saw
Citadel
not just as a horror film, but as a smart allegory about the crumbling inner city and the fear of random crime. The main character is so crippled by fear that it is only when his only child is threatened by the crime and horror that surrounds him that he has to rise above his fear. I was so caught up in the whole thing that when we got that big twist where we find that they really were demons, I was simply too engrossed in the film to be as stunned and terrified as I ended up being. I thought
Citadel
worked as both a horror film and a tale of subtle brilliance.
Num. 5
The first of two documentaries to end up on my list,
Jiro Dreams of Sushi
is more than a tale of an old man making raw fish.
Jiro Dreams of Sushi
is about the pursuit of perfection, of working constantly to be and do the very best and how the Master will never be outshined, even by his sons that will work to carry his legacy. I was mesmerized by how something as simple as sushi could be made into art, and how anything done with great love and attention can be something to be proud of.
Num. 4
The controversy over whether
Zero Dark Thirty
justified or endorsed torture probably cost it a few Oscars, given Hollywood's extreme liberalism. However, I found
Zero Dark Thirty
did what should have been done: offer no easy answers about the war on terror. The film refuses to tell us how or what to think about whether the ends justify the means, and rather than celebrate the leaders of this enterprise (Presidents George W. Bush and/or Barack Obama), we see that the ten year hunt for Osama bin Laden was a painstaking progress done by unknown figures.
Zero Dark Thirty
also shows that terrible cost it took on so many to find this monster, and the final half hour that chronicles the actual raid on bin Laden's compound are frightening and intense, celebrating Seal Team Six's courage without being a flag-waving spectacle. The end still haunts me: Jessica Chastain's Maya, now come to the end of the hunt, sits alone on the military plane, overwhelmed with emotions that reflect America's feelings: exhaustion, relief, and confusion as to what to do next.
Num. 3
I struggled when looking at
Argo
. Try as I might the idea that non-Hispanic Ben Affleck thought he was a good enough actor to play Tony Mendez shows that despite Hollywood's and Affleck's own extreme liberalism, the industry is still remarkably bigoted. Affleck's ego was too great to allow anyone else, in particular an actual Hispanic actor, to play the lead. He had no problem not playing the lead in his first directorial effort
Gone Baby Gone
, but then again, his younger brother Casey was the lead in that film. Minus that (although it is a big minus),
Argo
is a sharp, fast-paced, and intense film about the American Embassy staff trapped in the Canadian Ambassador's residence in Tehran, and the efforts to get them out. It even throws in a few bits of skewering of Hollywood, and the final moments of whether they escape are incredible.
Num. 2
The second documentary to make my Top Ten and the first film of 2013 that earned an A,
Ai Weiwei: Never Sorry
paints a fascinating portrait of the artist as a defiant man. Ai Weiwei is no saint: he is open about his illegitimate son and the mistress that bore him, but we see that to Weiwei, the truth is more important that Ming vases. He constantly challenges the Chinese Communist rules with his art, pushing things as far as he can and even a bit farther, challenging them with his work. Gleefully dismissive of the restrictions placed on him by the dictators who sweep away the deaths of children due to shoddy construction work and corruption, Ai Weiwei is in terms brave and irascible, unafraid to speak (or in his case, paint or sculpt) truth to power.
And now, of the 92 films I have seen so far from 2012, my Top Film is...
Num. 1
The Sessions
has it all: comedy, romance, and intelligence. John Hawkes' failure to earn a Best Actor Oscar nomination (I imagine
Silver Linings Playbook
's Bradley Cooper all but stole it from Hawkes) is a black mark on the Academy because he made Mark O'Brien a true figure: bright, witty, and now desirous of experiencing physical pleasure via sex. Never was the subject of losing one's virginity and nudity handled with intelligence and warmth, avoiding any sensationalism or lurid undertones. It also respects O'Brien's Catholic faith, as he goes to his priest for guidance between the morality of sex outside marriage and the particular situation his polio paralysis put him in. Witty, sweet, and ultimately uplifting,
The Sessions
is charming and respectful.