THE BOYS:
THE SHERMAN BROTHERS' STORY
And I Think To Myself, It's A Small World After All...
The recent death of Robert Sherman made me contemplate the work of the Sherman Brothers, the musical songwriting team responsible for many of the Disney film songs in their first Golden Age.
The Boys: The Sherman Brothers' Story
, is the documentary of their life and work.
It's no surprise that these two musical siblings had discord along with the sweet sounds of the songs we still sing. What was surprising was that it wasn't a major event that brought about their ultimate break. Rather, it was a slow progression between two brothers who loved each other but simply could not be together because they were simply too different.
The Boys
is not just about the life and times of Richard and Robert Sherman. It also is the story of the next generation of the Sherman family, trying to find both why their fathers drifted apart, and perhaps, to have them join together.
Greg Sherman (Richard's son) and Jeff Sherman (Robert's son) worked together on
The Boys
, which was a curious thing because for most of their lives they did not mix. This was because their parents opted not to socialize with each other despite living near each other. As the Sherman cousins interview Dick and Bob, we get the stories of their lives and work.
The Sherman Brothers came from a musical family: their father Al was a songwriter from Tin Pan Alley who found his way to Hollywood. Almost from the start the brothers were very different: Robert, the older brother, was more serious while Richard more optimistic.
Their experiences played a role of shaping their world views: Robert joined the Army at seventeen, and we learn in
The Boys
that he was both injured (requiring the use of a cane for the rest of his life) and he was among the first American troops to enter Dachau. Richard, on the other hand, never saw combat during the Korean conflict.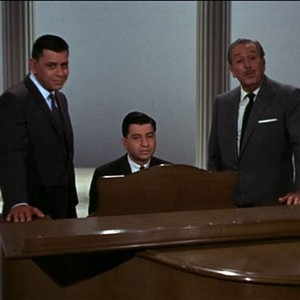 While the brothers had different interests and experiences, it almost seemed that they were bound to be partners. The war forced them to go to college at the same time, and their specialties appeared to make a perfect fit. Robert yearned to write novels and plays, while Richard found a passion for writing music. Eventually, they wandered into following their father's steps in being songwriters.
Keeping to their father's advise on making a good song via The Three S's: keep it singable, simple, sincere (along with original), they soon start having hits, eventually writing for Disney studios ingenue Annette Funicello; their songs caught the attention of Walt Disney himself. Disney soon hired them to be the in-house songwriters, a moment that even all the years later still moved both brothers to tears.
Soon they start writing songs for Disney, and a good part of
The Boys
goes over the joys and difficulties of writing their Oscar-winning music for
Mary Poppins
. Robert and Richard remember without fond memories having to deal with
Poppins
writer P.L. Travers ("a witch", Robert calls her, though you get the sense he wanted to use a stronger rhyme). Negative memories of Travers are countered with positive ones in working for Disney and with Julie Andrews and Dick Van Dyke, whom they remained fond of.
We also see their work extended past the films. Asked to write songs for theme rides in Disneyland, the Shermans are responsible for
The Tiki Room
(one of my personal favorites) and
It's A Small World After All
(a song that divides people: some love it, some loath it. I'm in the former category).
However, there is a growing rift between the brothers personally. Their personalities were so different (the
bon vivant
Richard versus the more somber Robert) that the strains of being with each other at work and at home became far too much.
The advise that they were given from comedy teams (never let the wives socialize with each other) was pretty much impossible when the partners were brothers, and soon they just drifted apart. Add to that the fact that once Walt Disney died, a memory that causes even the generally upbeat Richard to break down in tears, their cache at the studio went.
Striking on their own, they write songs for of all things, an Ian Fleming adaptation:
Chitty Chitty Bang Bang
. While they do return to Disney for
Bedknobs and Broomsticks
and
The Aristocats
, it just wasn't the same. They kept working, but after Robert's wife Joyce passes away, he opts to move to London.
Jeff and Greg had hoped that their fathers would have a great reunion at the conclusion of
The Boys
, when they attend the opening of the Broadway version of
Mary Poppins
. Unfortunately, that did not occur. They exchanged a quick hello between them before keeping to their tradition of their respective families sitting on opposite sides of the theater.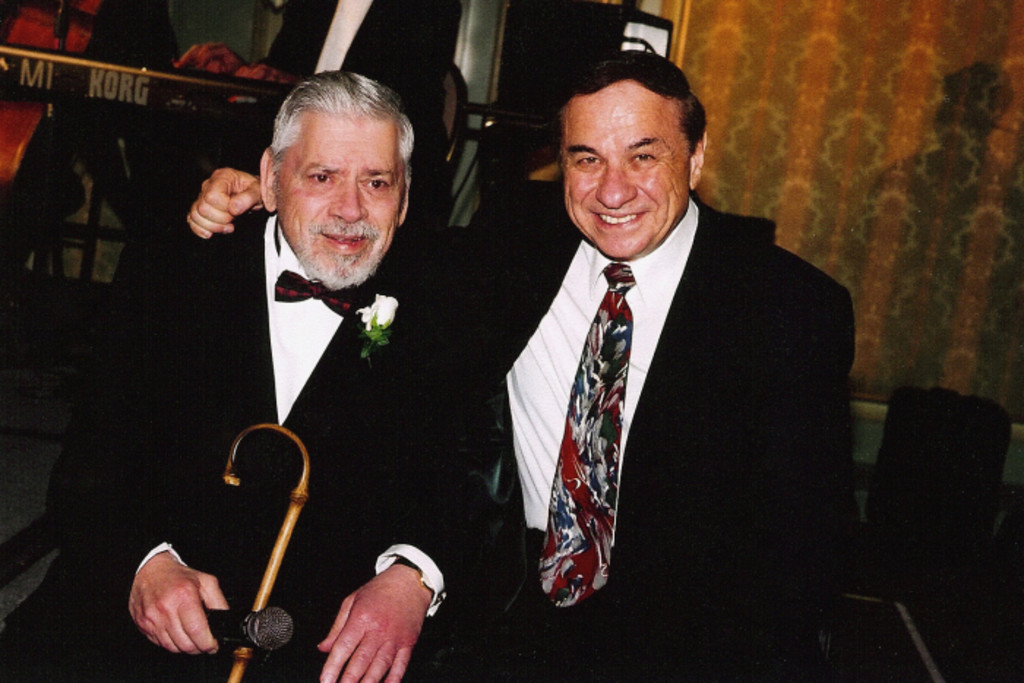 The Boys
is a labor of love for the Sherman cousins, not just to their fathers but to their extraordinary body of work.
It is only now that people can appreciate how Richard, a subject of the Sun, and Robert, a subject of the Moon, brought their own talents and individual views to meld together to bring out songs that are part of childhood. Interviews from other musicians (ranging from future Disney film songwriter Alan Menken to cinema score icon John Williams) pay tribute to how the Sherman Brothers' music is quite accomplished.
Menken recalls that while his friend and songwriting partner Howard Ashman was dying of AIDS, the theme to
Winnie-the-Pooh
was a balm onto his heart.
The songs of the Sherman Brothers might be dismissed as children's music, a charge that both siblings dismiss, and which isn't fully valid. The movies they wrote music for may have been targeted or thought of as children's films, such as
Charlotte's Web,
but there was an underlying sense of darkness within some of the music.
Their Oscar-winning song
Chim-Chim-Che-ree
from
Mary Poppins
has an undertone of something dark when the music slows down and the lyrics speak of life within the smoke and clouds. "Where there's 'ardly no day/nor 'ardly no night/there's things 'alf in shadow/and 'alfway in light" are hardly upbeat lyrics. The Shermans lyrics also drew from an extensive vocabulary and even added to it, offering a rebuff to the idea that their songs were simple or simplistic.
As it is, it might be tempting to see the Sherman Brothers as the musical version of Olivia De Havilland and Joan Fontaine, two siblings who have kept a rivalry for over half a century, not having spoken to each other in over thirty years.
Unlike Fontaine and De Havilland, who appear to truly despise each other, the Shermans still loved each other. We see this when the more joyful Richard is brought to tears looking over a gift Robert had made for him for his 50th birthday.
It's just that their individual views on life were incompatible, and they just drifted apart. There was no outward animosity or lingering resentments. Instead, it's just that while they were brothers, they were also different in terms of temperament that they just could work together, but not spend outside time together.
In this, Robert and Richard Sherman are no different from other siblings who share parents but who due to life experiences and world views just grow to be different people. There are siblings that can grow up in the same family but end up with different political views, or religious views, or go into radically different careers.
The difference is that the Sherman Brothers had the burden of both creating music that is part of the American experience and that most of those songs are thought of as being about family, cheer, and joy. It may not fit that the writers of
It's A Small World After All
found the world too small for them to share, but such is life.
The Boys
is a beautiful film that is a perfect tribute to the Sherman Brothers and their work, filled with their songs, home movies showing how they were the same but different, and the brothers themselves, recognizing their value but still showing the rivalry has not dissipated.
When they both made cameos in
Beverly Hills Cop III
, director John Landis recalls that while both were thrilled to make an appearance, Robert was more thrilled that Richard's cameo was much shorter than his own appearance in the film.
The Boys
is a great tribute to two songwriters, two brothers, and the legacies they left behind: their music and their families.
Robert Sherman (left): 1925-2012
Richard Sherman (center): born 1928
DECISION: A-