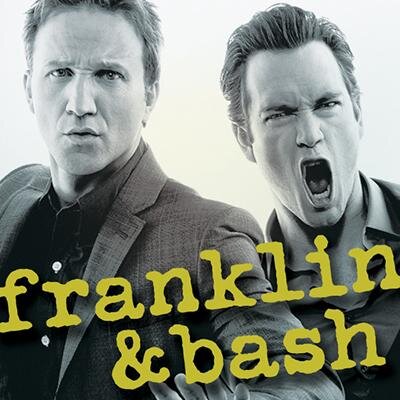 FRANKLIN & BASH:
THE COMPLETE FOURTH SEASON
And The Misses Just Keep Coming...
In the back of my mind I imagine Mark-Paul Gosselaar to be a genuinely nice guy. I also imagine Breckin Meyer to be a total jerk. This may be my own imagination and the truth may be completely different. I say this because I truly cannot imagine
Franklin & Bash
being renewed for another season of two 'heterosexual' men in their forties continuing with juvenile hijinks. As someone who loved Season One of
F&B
I can't shake the idea that the show continues to slide downwards in terms of stories and audience respect.
I was proven right:
Franklin & Bash
was mercifully cancelled, with only Season One ever released on DVD. Thus, the public will be left with only ten episodes to remember a show that started out well and almost as quickly not just fell apart but descended into rank idiocy and delighted in insulting our intelligence. Is it fair to bash
Franklin & Bash
now that at least Freckin Meyer is unemployed (since both Gosselaar and Malcolm McDowell have rebounded quickly)?
Sure, why not. That's what the boys would do if they were in our situation.
Looking at the series as a whole, Season One (so far) has been the best. It was only after Season Two that the whole thing went chaotically down. Let's take a look at the average score for the ten episode-seasons.
Season Two: 4.6
Season Three: 4
Season Four: 3.2
Again, for three seasons they couldn't muster even an average score. Still, I hung on, hoping that the ship would right itself. It didn't, and I think the reason was that
F&B
's co-creators Kevin Falls and Bill Chais forgot that it was the mix of wit and silly that was the show's main selling point, not the idiocy of the two leads or their vaguely homoerotic relationship.
I think His Royal Highness Elmo, Duke of Landingshire waking up in bed with his partner Peter Bash would be more realistic than HRH waking up in bed with Peter Bash's MOTHER. Talk about transference...
The First Thing We Do,
Let's Kill All the Lawyers...
Well, let's look over the episodes, from Best to Worst.
Deep Throat
: 6
Good Cop/Bad Cop
: 4
Spirits in the Material World
: 4
Dance the Night Away
: 4
Falcon's Nest
: 3
Red or Black
: 3
Love is the Drug
: 3
Honor Thy Mother
: 2
Kershaw v. Lincecum
: 2
The Curse of Hor-Aha
: 1
Only ONE story was above-average, an appalling record.
Here, let's look at WHY
Franklin & Bash
so spectacularly crashed to where a formerly fun show grew to be a repulsive piece of trash. Here's an idea: the stories were dumb, the leads played it as if it were beneath them (given what they were working with, that's saying a lot), the secondary characters were either terrible (Danny Mundy made a poor Pindar/Carmen mix, despite Anthony Ordonez's best efforts) or underused (Reed Diamond really should have a career more worthy than what he has). However, above all else it is Mark-Paul Gosselaar and Breckin Meyer's Jared and Peter who grew from fun but intelligent to simply horrible, nasty, narcissistic idiots that killed what had been a fun, breezy show into an exercise in horror.
Maybe that's why
Franklin & Bash
not only crashed, but grew to be genuinely hated. These two guys started out as hip but with a heart. Then came Season Two, and they just became mean-spirited, narcissistic, emotionally sterile, entitled, self-absorbed, mentally immature asses. Each season they grew dumber and dumber, nastier and nastier, more shallow and simply unpleasant. I felt bad for not just the actors but the characters, who were by the end so repulsive that you wanted them to fail.
It was hubris all around, of the writer/producers and the characters that killed
Franklin & Bash
. It's a shame really, because if it had kept the breezy fun of Season One we would have had more seasons. Instead, we were treated to two stupid men-child obsessed with sex (with others and perhaps with each other), drugs, and rock & roll to make them either likeable or relatable.
I grew to hate everything about
Franklin & Bash
. I'm glad to see it cancelled. One thing is certain: the douche nature of Jared Franklin, aka Elmo Franklin, aka His Royal Highness Elmo, Duke of Landingshire, won't help dispel the douche reputation of Breckin Meyer.
Good riddance, Jared and Peter.
PERSONAL REFLECTIONS ON FRANKLIN & BASH'S CANCELLATION

Oh look, Zack. The Kennedy Center Honors are calling...