BATES MOTEL: THE IMMUTABLE TRUTH
Hush, Hush, Sweet Norman..
.
Now the truth is all out...up to a point. With
The Immutable Truth
,
Bates Motel
's Season Two finale, we get all our ducks in a row. The drug war is over (thank Heaven) and we now see the poor break from reality that Norman Bates experiences that will become part of the legend.
After the traumatic abduction of Norman Bates (Freddie Highmore) by Nick Ford, his half-brother/uncle Dylan Massett (Max Thieriot) begins a desperate search for him when he comes across Sheriff Alex Romero (Nestor Carbonell). Norman is rescued, and a distraught Norma Bates (Vera Farmiga) is so thrilled, not just because her namesake is alive, but because she sees Dylan again.
However, there can be no peace for Mother Bates. Romero is determined to get Norman to have the polygraph test, which makes things extremely difficult for Norma because to her horror, Norman tells her he remembers killing the luscious Miss Watson after or during having sex with her. Whether Norma really believes this or just doesn't want to believe it (even if she knows it to be true) I cannot say. Norma cooks up a scheme to flee to Montreal, but she has three tickets. She tells Dylan that he should come with them. Dylan tells her she cannot do this and that the best thing for Norman is for him to be sent to a mental institution.
Dylan has his own worries. He still has to kill Zane (Michael Eklund) because Zane's sister Jodi (Kathleen Robinson) knows Zane is totally out of control. However, as he was too well-guarded to take out, he will have to be lured to his death. This is accomplished, but not without casualties. In the end, Romero would like Dylan to be the main guy in charge, tolerating the practice so long as there is peace.
At last, Norman takes the polygraph test, and here, 'Mother' steps in. In his diseased mind, Norman sees 'Mother' admit
she
killed the luscious Miss Watson, and thus he can 'tell the truth' when asked if
he
killed the luscious Miss Watson. After all, there is a difference between Norman Bates and his 'Mother'...
The Immutable Truth
is logical but highly frightening. We now get that disassociation that Norman has which will get him through more killings. So far, we have his father Sam, his luscious teacher, and Cody's father (though the last one was an accident). How many more will he dispatch with Mother's help?
We can't go without marking Farmiga, who has done the impossible: make Mother Bates into a tragic figure. I have thought that she is in many ways the author of her own destruction: in her neediness, in her stranglehold over her son, and in her recklessness. However, she is also a very complex and very human character: not someone who started out as a monster or who even is a monster. Norma Bates is an extremely flawed and tragic woman, who wants to 'choose the right' (a little Mormon lingo I picked up while in Salt Lake City) but who no matter what she does almost always finds herself in one horror after another.
We see a highly vulnerable and caring person too. Her scenes with both Highmore and Thieriot had me almost crying (and I'm someone who shrinks from emotional outbursts while watching television). My heart broke as Norma, perhaps too late, attempts to atone for all the mistakes she's made with Dylan and Norman, but who perhaps now simply is in no position to alter the course both her sons will be taking.
In other matters of equal importance, with the drug war now over (and coming to a shocking conclusion), I can only hope that now Dylan will have something better to do with his time. If he does end up the kingpin of White Pine Bay, it might mean more drug stories, but at least a story that until recently was dragging the series down managed to right itself.
The Immutable Truth
gave us strong twists and turns, closed out some stories, left poor Emma (Olivia Cooke) out to dry for the most part (though when Norman trusts her with the terrible family secret it all but broke my heart again) and did what any great television series does.
It left us asking for more.
At least now I cannot wait for
Bates Motel
Season Three and more murder, madness and mayhem.
All the good things about family...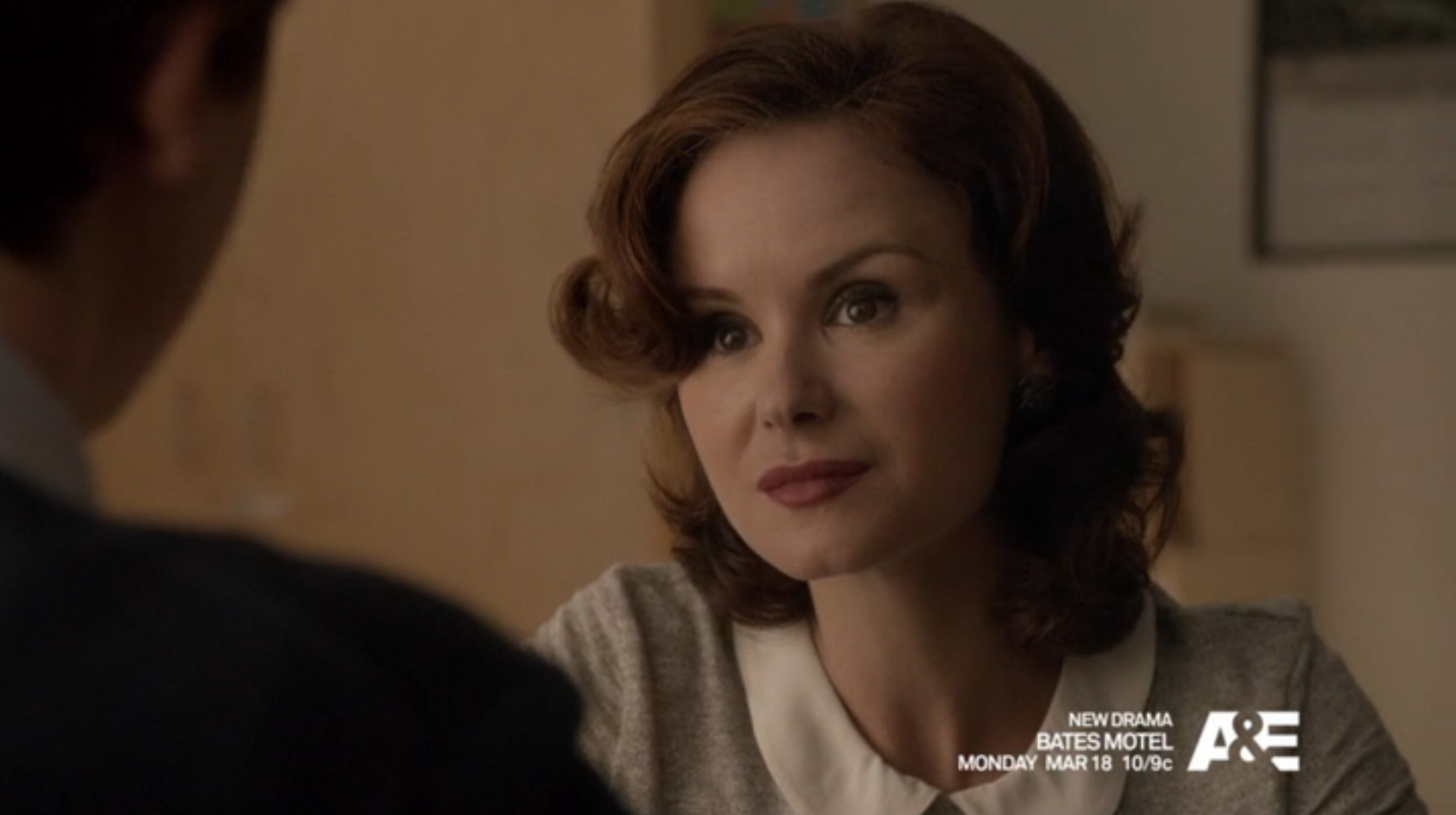 In Memoriam...
10/10
Bates Motel Season Two Overview