It seems almost funny, if it weren't all so sad, so very, very sad.
In 1978, the first Kennedy Center Honors were presented to opera diva Marian Anderson, actor/dancer Fred Astaire, choreographer George Balanchine, Broadway composer Richard Rodgers, and pianist Arthur Rubinstein. Astaire is the only name to have built his career primarily in Hollywood features, but I don't think anyone would question his mastery of dance on film or say he wasn't among the greatest performers of his time in any medium.
A mere 39 years later, the Kennedy Center has decided that rapper LL Cool J is on the same level as Ella Fitzgerald, Ray Charles, Aaron Copland and Van Cliburn. The last four I would say are musical geniuses. I'm not sold on the first one being in the same ranks.
The list of 2017 Kennedy Center Honorees shows that whatever goals the Center had when creating these awards have all but been forgotten. This trend away from 'traditional' arts: theater, dance, classical music performing/composing and more towards pop culture: actors, pop singers, even rock/pop bands, has been going on for at least the past five to ten years. What was once heralded as 'a celebration of the performing arts' now appears to be 'a desperate effort to get ratings'.
I don't oppose honoring people who are popular. I've firmly held that Betty White should be an Honoree given the lifetime of work she has produced. I would argue that honoring Tom Hanks was too soon but I would have figured he would get one.
I also don't oppose some of this year's nominees. I have suggested both Gloria Estefan and Lionel Richie in the past (though I'm beginning to have my doubts). I don't even oppose Norman Lear's selection, though to be fair, I've never seen any of his programs save
The Jeffersons
: not
All in the Family
, not
Maude
, not
Good Times
, not
One Day at a Time
(original or remake).
As a digression, again with the exception of
The Jeffersons
, no one in my family has either, though my mother still goes on about how
One Day at a Time
is 'the one where the mother had an affair with the plumber'. I think her memory on this subject is hazy at best.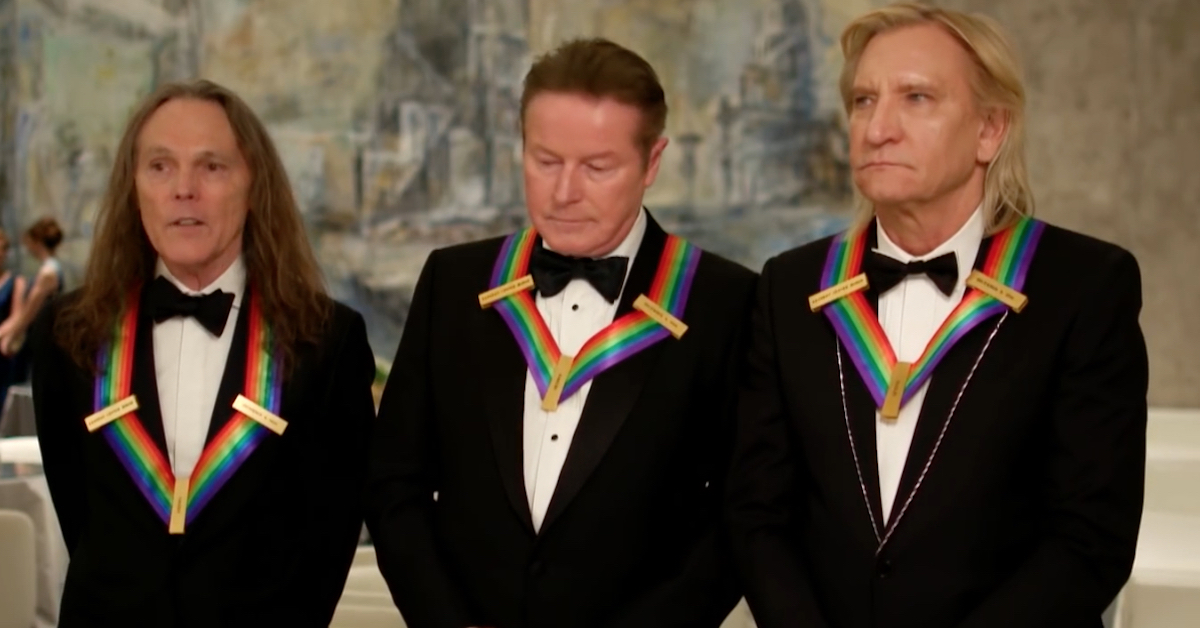 I do question the inclusion of Ladies Love Cool James for two reasons. One, at 49 he is the youngest Honoree since Stevie Wonder and I do wonder whether they could have found someone older to have been honored this year in place of him: say a 95-year-old White, a 96-year-old Carol Channing, a 78-year-old Tommy Tune, a 71-year-old Liza Minnelli, a 65-year-old George Strait, a 78-year-old Shirley Caesar, a 70-year-old José Carreras, an 80-year-old Philip Glass, a 70-year-old John Adams, a 69-year-old Bernadette Peters, a 73-year-old Kiri Te Kanawa, an 87-year-old Gene Hackman, a 92-year-old Hal Holbrook, and a 102-year-old Norman Lloyd and 101-year-old Olivia de Havilland.
It's not like the Kennedy Center is starved for people twice or even thrice LL Cool J's age.
Two, I'm a bit at a loss to understand what high cultural impact LL Cool J has had. Unlike Wonder, I don't know if any of his songs have become standards that will be played long after his death. I know only two songs of his:
I Need Love
(which I used many a time to woo a young maiden, failing spectacularly each time) and
Mama Said Knock You Out
(which I used many a time when I spectacularly failed to woo a young maiden to pump myself up). I also know he's on one of those
NCIS
or
CSI
shows that I haven't seen. Apart from that, has LL Cool J really had
that
great of an impact on American arts and culture to equal that of a Tennessee Williams, a Count Basie, a Lena Horne or Mikhail Baryshnikov?
I'd like to hear the case that his artistic output matches that of a Leontyne Price, an Arthur Miller, or a Quincy Jones. I'd also like to hear the case for Oprah Winfrey, David Letterman, The Who, The Eagles and Led Zeppelin too. It's not that I don't like The Who, The Eagles, or the Led. I think they are all wonderful.
I just think there is a distinction between Led Zeppelin and Zubin Mehta.
For these past ten years, probably more, the Kennedy Center Honors have turned away from anything that reeks of 'artistic' and shifted to more contemporary trends. There's an unofficial quota where one slot is saved for 'artists' from those 'elite' areas: opera, classical, theater, dance. This year it's choreographer and dancer Carmen de Lavallade. Last year, it was pianist Martha Argerich, and before her there were conductor Seiji Ozawa, ballet dancer Patricia McBride, opera diva Martina Arroyo, ballet dancer Natalia Makarova, cellist Yo-Yo Ma, and dancer/choreographer Bill T. Jones.
As late as 1999, the year Wonder became the youngest-ever Honoree, more 'traditional' artists outnumbered the 'big names'. Only one name was a film star (Sean Connery). The others were a pianist/humorist (Victor Borge), a dancer/choreographer (Judith Jamison) and one who went between film and Broadway (Jason Robards). While it's hard to pinpoint exactly when the Honors started moving away from 'the arts', 2007 seems a good a year as any.
Out of the five Honorees that year, Leon Fleisher is the only one who wouldn't be considered a pop artist. He had the enviable duty of finding his piano virtuosity lumped in with Diana Ross, Steve Martin and Brian Wilson. From 2007 onward, the Honorees were more well-known but dubious, with a dearth of artists that didn't have hit films or Rock & Roll Hall of Fame memberships.
Again, I don't mean to suggest that people like Bruce Springsteen or Carole King weren't worthy recipients (Sting, I'm still unsure about though). I do think that the Kennedy Center Honors, perceived as stuffy, elitist, and boring, has swung the pendulum too far the other way, all but ignoring performing arts and Golden Age television/film performers in favor of rock stars and those whose artistic body of work is scant.
They found time to honor David Letterman, but neither Milton Berle or Sid Caesar ever got the call. They managed to laud LL Cool J before he sheds his mortal coil, but Debbie Reynolds and Maureen O'Hara went unheralded. George Lucas is, judging by Kennedy Center Honors standards, a far more important artist than Peter O'Toole. Oprah Winfrey has done more for television, it seems, than Mary Tyler Moore.
Should there be any confusion, let me state it as clearly as I can. I don't object to having more 'popular' names in music, film or television honored. I don't object to having pop artists selected. I love James Taylor as much as anyone. I just think the Kennedy Center Honors should keep a balance between so-called 'high' art/culture and 'pop' culture. There's no reason why LL Cool J (still the most questionable selection) and/or Estefan (59) could have been selected another year to allow pianist Emanuel Ax (68) or classical guitarist Christopher Parkening (69) to be selected. You'd then have two 'classical' artists and three contemporary artists, a better balance.
Doubtful any of them would be
honored nowadays.
Will we ever see a time when film/television stars are outnumbered by artists whose work can transcend American-centered culture? Will the Kennedy Center Honors continue to select those who are more popular over what is more artistic or will they opt to return to their roots to encompass a wider group of 'arts'?